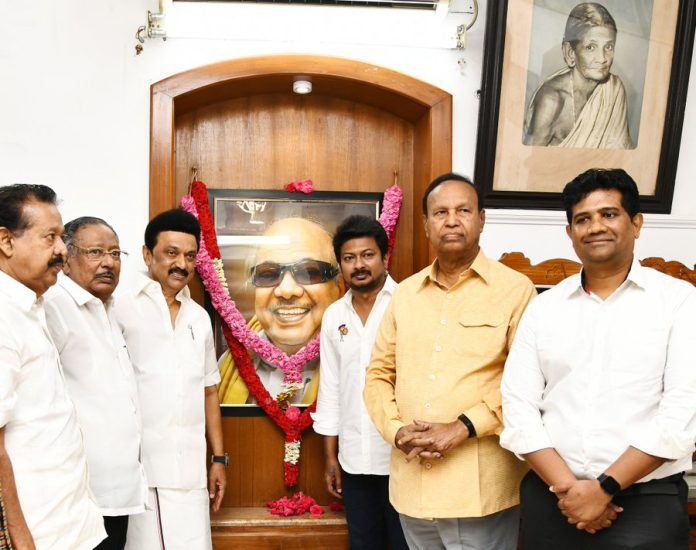 Tamil Nadu Chief Minister MK Stalin (3rd from left) garlanding a portrait of his late father, M Karunandhi, on the completion of two years in office. Image: Twitter
This government is for all – those who voted for it and those who did not, said DMK president MK Stalin when he took over the reins of Tamil Nadu a couple of years ago. As the Stalin-led DMK government in Tamil Nadu turns two on May 7, The Federal takes a look at its highs and the lows.
Also read: 'Dravidian model' the governance formula for all states: Stalin's rejoinder to Governor Ravi
Highs
Stalin was able to position himself as the national rallying point for anti-BJP political forces. Many of his moves curtailing the BJP's attempts to step into state matters received support from non-BJP chief ministers. His recent efforts to stitch together a united Oppposition to the BJP ahead of the 2024 Lok Sabha elections have also given his national stature.
The DMK government is seen to have stabilised Tamil Nadu's economy, bringing down the fiscal deficit. It has to be acknowledged that the state achieved it despite antagonising the Union government on many fronts, and combating COVID-led stress from Day 1 of its regime.
The Stalin-led government was able to meet some of its populist electoral promises such as Rs 1,000 per month for homemakers. The government pushed ahead with various other welfare schemes such as morning breakfast in government schools.
Tamil Nadu has managed not to falter in meeting its ever increasing power demand. Even though electricity consumption was at an all-time high crossing 19,000 MW, the government managed without any significant power cuts.
The Tamil Nadu government was able to garner investments to the tune of Rs 2.7 lakh crore, positioning the state as one of the ideal places of industrial growth. The government hopes that the trickledown effect will help create lots of jobs and strengthen the state's exchequer.
Lows
The DMK government errored in in rushing through many pieces of  legislation. The state had to eat humble pie by withdrawing the legislation making it optional for factories to offer a 12-hour-work shift after stiff opposition from allies. A party which promised closing down TASMAC liquor vending shops once was found in a tight spot by bringing in a special licence scheme allowing liquor in marriage halls and convention centres. The government was forced to blink on both these counts.
Rising criminal activities, including the killing of a village administrative officer (VAO) in his office, and murders of leaders of a few political parties, reflected poorly on the DMK government. The alleged custodial torture by IPS officer Balveer Singh and Vengaivayal Dalit atrocity too tested the government on delivery of justice.
Various ministers brought in embarrassment for Stalin with their utterances in the public domain, which he acknowledged in the general council meeting too. The self-defeating speeches of these ministers, even ridiculing beneficiaries of some of the DMK's flagship schemes, put the party under pressure. Similarly, the recent I-T searches of the premises of G-Square, a real estate firm linked to Tamil Nadu's first family, have raised allegations of corruption.
An audio 'leak', purported to be of state Finance Minister Palanivel Thiaga Rajan (PTR), who was leading the DMK's fight against the BJP on various forums, brought some grief to the party. The voice, which the BJP said was PTR's, made some damning statements about the functioning of the DMK government, especially Stalin's son Udhayanidhi and son-in-law Sabareesan. Even though PTR clarified it twice saying those were doctored with AI technology, the controversy refuses to die down.
DMK found it difficult in dealing with its alliance partners over a few issues. Alliance partner CPM was critical of the 12-hour-work legislation. Senior CPM leader TK Rangarajan claimed that Stalin is ill advised by bureaucrats, leading to a strong statement in the DMK's mouthpiece Murasoli. DMK was also aghast that a CPM leader released a book which criticised DMK's pet slogan 'Dravidian Model'. The Vengaivayal issue put the relationship with alliance partner VCK under strain.
Also read | TN far better than BJP-ruled states but not role model: Economist Athreya