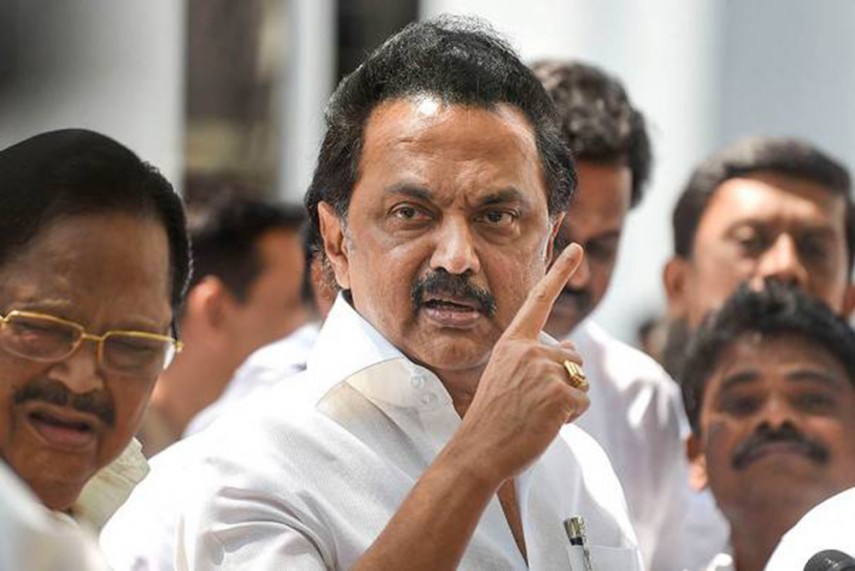 Tamil Nadu Chief Minister MK Stalin on Monday (May 1) broke his silence on the controversy around state Finance Minister Palanivel Thiaga Rajan, and accused BJP state chief K Annamalai of "indulging in cheap politics."
Annamalai recently released two audio clips in which PTR is purportedly heard spilling the beans about corruption in the Stalin government.
Also read: 'DMK Files': Udhayanidhi slaps legal notice on Annamalai, seeks ₹50cr as damages
Stalin said while PTR has already clarified on the clips twice, he doesn't want to speak further on the matter to give publicity to those who are doing cheap politics.
"PTR himself clarified twice and I do not want to talk anything further on this and give publicity to those indulging in cheap politics," says Tamil Nadu CM MK Stalin on State Finance Minister Palanivel Thiaga Rajan's alleged audio file

(file pic) pic.twitter.com/PkoaungqDo

— ANI (@ANI) May 2, 2023
"He himself has given two detailed explanations on the matter. I have time only to do my duties for people. I do not want talk further on this and give publicity to those indulging in 'cheap politics'," Stalin said in his regular "Ungalil Oruvan" question and answer series.
Also read: 'DMK Files': Party demands Rs 500 cr in damages; ready for legal action, says Annamalai
Earlier on Monday, the chief minister had a meeting with PTR. While there have been reports that PTR is likely to be dropped from Stalin's cabinet which is up for a reshuffle, reports quoting DMK sources have said that the finance minister will likely retain his portfolio.
Annamalai recently released two audio files in which PTR purportedly talks about corruption in the DMK government and remarks about Stalin's son Udhayanidhi and son-in-law V Sabareesan. In one of the clips, he is allegedly heard divulging details of an amount of ₹30,000 crore being allegedly earned through corrupt means by Stalin's son Udhayanidhi Stalin.
PTR who has rubbished the allegations and termed them "malicious" and "fabricated," on April 22 posted screenshots from the audio clips' forensic analysis and claimed they were doctored using Deepfake.
On April 26, PTR strongly denied that the second audio clip shared by Annamalai on social media had his voice, as claimed by the state BJP chief.
Stating that he had never said anything about Chief Minister Stalin, his son Udhayanidhi or his son-in-law Sabareesan, PTR said Annamalai's attempts show him in poor light.
Also read: DMK Files: Annamalai claims 27 leaders have assets worth ₹2L Cr
He also shared a video clip on Twitter to explain how Artificial Intelligence can be used to impersonate people, citing cases of BJP leader Manoj Tiwari and former US president Barack Obama.
In the 57-second audio second clip shared by Annamalai, PTR is purportedly heard saying that the "CM's son and son-in-law take away a bulk of the spoils," and praising the BJP's 'one-man one-post rule'.
'BJP's grudge on minorities'
During the Ungalil Oruvan briefing, responding to a question on Union Home Minister Amit Shah's recent remarks in Telangana that Muslim reservation will be done away with if the party came to power there, Stalin said it showed "a grudge on minorities."
"He has spoken so for electoral gains. The BJP leadership has an imagination that only spewing hatred on Muslims will satisfy Hindus. It is not true. The majority of our electorate that did not vote for BJP are actually Hindus. They wish for peace and brotherhood. The BJP attempts to impose its hate agenda on some sections and project it as the sentiments of the majority," he alleged.
Stalin charged the BJP's "social media troll army accounts" act as the propaganda machine to spread lies and fake news and also claimed certain media organisations "have turned to be the mouthpiece of " the saffron party.
"The BJP pushes its hate politics with the help of such factors. In a country that has secularism in the preamble of its Constitution, the home minister speaking like this is a breach of Constitution. People are watching everything," he added.
(With inputs from agencies)