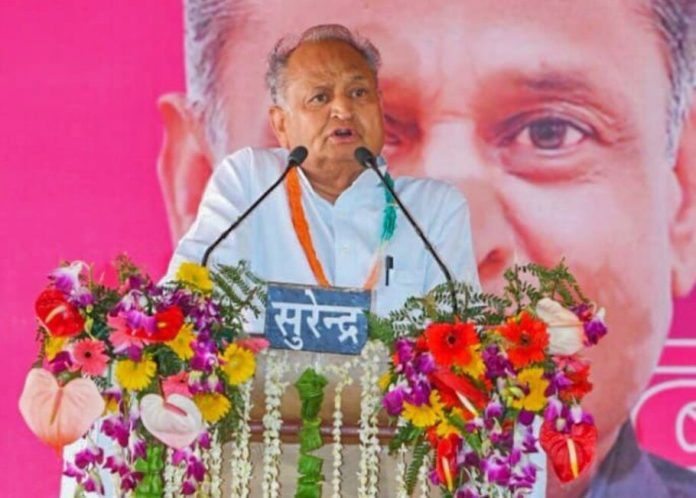 Rajasthan Chief Minister Ashok Gehlot claimed on Sunday (May 7) that Vasundhara Raje and two other BJP leaders had helped save his government during the 2020 revolt by his party MLAs.
Addressing a programme in Rajasthan's Dholpur — Raje's home turf — Gehlot also took potshots at the rebel Congress MLAs led by Sachin Pilot, saying they should "return the money they had taken from the BJP" so that they can carry out their duty without any pressure.
Gehlot's then deputy, Pilot, and 18 other Congress MLAs had revolted against his leadership in July 2020. The month-long crisis had ended after the intervention of the party high command. Pilot was removed from the post of deputy chief minister and state Congress president.
Also read: 'Don't make people fight': Gehlot tells media amid power tussle with Pilot
How the trio helped
Gehlot said his government could be saved because of the support of three BJP leaders — former chief minister Vasundhara Raje, former Assembly Speaker Kailash Meghwal, and MLA Shobharani Kushwah.
"(Union ministers) Amit Shah, Gajendra Singh Shekhawat, and Dharmendra Pradhan conspired together to topple my government. They distributed money in Rajasthan, and they are not taking the money back now. I am surprised why they are not demanding the money back from them (the MLAs)," he claimed.
Gehlot said he, as the state party chief, did not support the toppling of the BJP government led by Bhairon Singh Shekhawat, as it was unfair. In the same manner, Raje and Meghwal did not support the toppling of the Congress government in 2020.
He said BJP MLA Shobharani Kushwah also listened to them and did not support the party.
Also read: We are all united: Rajasthan Cong chief on Gehlot-Pilot issue
On Amit Shah
"I have even told the MLAs that whatever money they have taken, Rs 10 crore or Rs 20 crore, if they spent anything, I will give that part or I will get it from AICC (All India Congress Committee)," he said.
Gehlot alleged that if the MLAs did not return the money, they will always be under pressure from Amit Shah. "He is the Union home minister; he will intimidate…in Maharashtra, he divided Shiv Sena," Gehlot alleged.
He said his party made him the chief minister for a third time and it was his duty to take everyone along forgetting the past, and ensure the return of the party to power in the Assembly elections slated for later this year.
Also read: Pilot-Gehlot fight in Rajasthan a tussle for chair: Vasundhara Raje
Friends in need
Gehlot and Raje have often been accused by their detractors in their own parties of "going soft" on each other, especially when it came to allegations of corruption.
The two leaders have denied any such understanding. A few days ago, Raje had rejected allegations of collusion with Gehlot as a lie, saying milk and lemon juice never mix.
Dholpur MLA Kushwah had cross-voted in favour of the Congress candidate in Rajya Sabha elections last year and was subsequently suspended from the party.
Gehlot also praised Congress MLAs Rohit Bohra, Chetan Dudi, and Danish Abrar for alerting him about the revolt against his government in 2020.
He said these three MLAs, BSP-turned-Congress MLAs, and independent MLAs who had supported him and saved his government during the political crisis in 2020 deserved to be made ministers in his government, but he could not do so due to political reasons and was sad about it.
(With agency inputs)