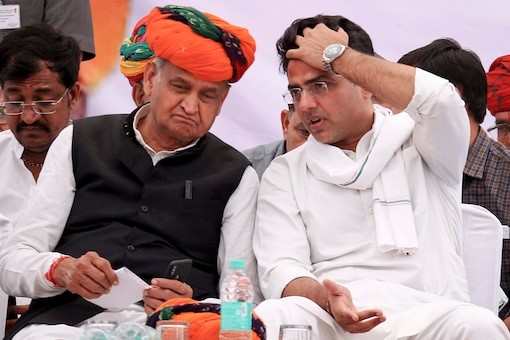 Rajasthan Congress chief Govind Singh Dotasara on Friday downplayed the ongoing tussle between Chief Minister Ashok Gehlot and his former deputy Sachin Pilot, saying "we are all united".
He also said if a leader is not found popular in his constituency in the partys pre-poll survey, he should not get a ticket even if it is him.
"I am a man of the organisation and will take all people of the organisation along. Today, I can say that we are all united and are strengthening the Congress," he told reporters here.
"Pilot has already said that he has conveyed his point to the high command and at the same time, the AICC in-charge for Rajasthan Sukhjinder Singh Randhawa has also conveyed his point to the high command," the PCC chief said.
"Then a third person should not comment on this." On the chances of a Cabinet reshuffle before elections, he said, "This is the prerogative of the chief minister, but there are always possibilities." On the allotment of tickets in elections, he said the party would give chances to those who are popular among the public. "Those who go among them and serve them will get the ticket." The state assembly elections are due later this year.
Last week, Pilot opened a front against chief minister Gehlot.
Pilot said the Congress raised the issue of corruption when the party was in opposition during the BJP rule — from 2013 to 2018 — and promised in the 2018 assembly polls that action would be taken in the matter if the party forms the government in Rajasthan.
However, no action was taken in over four years of the Congress government, he added. On this issue, he held a day long dharna at Shaheed Smarak in Jaipur last week.
AICC in charge for Rajasthan Sukhjinder Singh Randhawa called it an act against the party discipline. He also said that Pilot, who is an MLA, should have raised his demand for action in corruption cases in the Rajasthan Assembly, instead of holding the fast.       With just a few months left for the assembly elections, the party held a one-on-one dialogue with MLAs and those who are supporting it and held a one-day workshop this week. Pilot skipped these programmes. However, on Thursday he went to a dharna here led by BJPs Rajya Sabah MP Kirodi Lal Meena with the family members of a man who committed suicide, blaming Cabinet minister Mahesh Joshi and others for the extreme step.
He demanded a fair investigation in the case.
---
(Except for the headline, this story has not been edited by The Federal staff and is auto-published from a syndicated feed.)