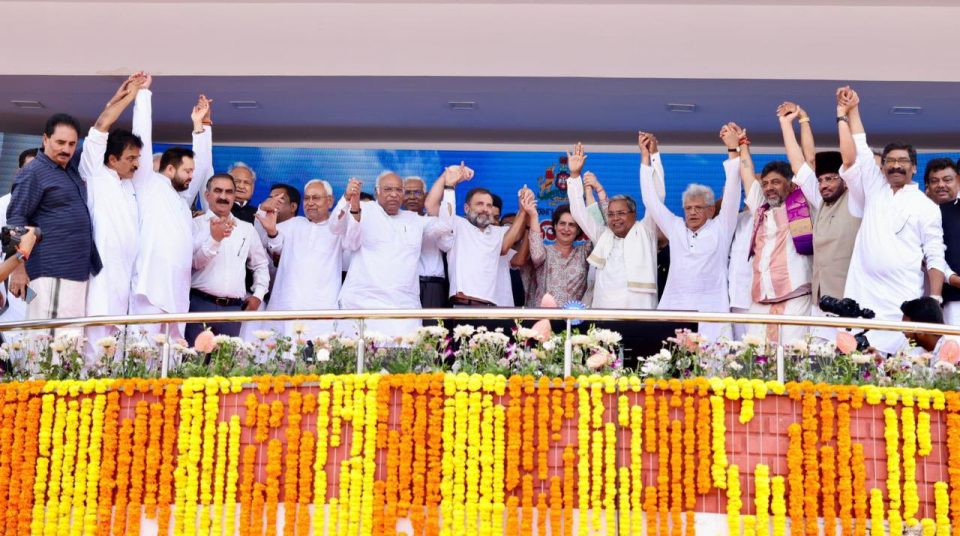 Eternal optimists among the BJP's rivals have lost no time in hailing the inauguration of the new Karnataka government at Bengaluru's Kanteerava stadium, on Saturday (May 20), as a "show of strength" by Opposition outfits. Yet, what seemed more apparent at the event, which the Congress craftily converted into a political rally with Mallikarjun Kharge and Rahul Gandhi attacking the BJP and the Narendra Modi government, was not just the fragility of Opposition unity but also the hype being built around it.
Déjà vu moment
If the swearing-in ceremony of chief minister Siddaramaiah, deputy chief minister DK Shivakumar and their eight cabinet colleagues evoked a sense of nagging déjà vu, it wasn't without reason. Five years ago, amid a similar chorus for Opposition unity against the BJP, the Congress displayed uncharacteristic political agility and pragmatism when the state threw up a hung verdict with the BJP emerging as the single largest party with 104 seats but the Congress and HD Deve Gowda's Janata Dal (Secular) securing just enough seats to enter into a post-poll alliance.
Also read: Opposition stalwarts throng Karnataka swearing-in, some keep away
To keep the BJP out of power, Siddaramaiah and other party leaders had then agreed to install Gowda's son, HD Kumaraswamy, as the chief minister even though the JD(S) had won just 37 seats in the 224-member Vidhan Soudha against the Congress's 80. The swearing-in ceremony of Kumaraswamy and deputy chief minister G Parameshwara too was pegged as a show of strength by a "united Opposition".
For Walter Mitties fantasizing about the electoral damage that a united Opposition will inflict upon the BJP come General Election, 2024, it would be hugely instructive to recall Kumaraswamy's swearing-in ceremony and what followed it, both in Karnataka and nationally in the 2019 Lok Sabha polls.
The scale and avowed substance of the unity displayed by Opposition leaders on the steps of the Vidhan Soudha on May 23, 2018 was far grander than the one witnessed at the Kanteerava Stadium on May 20, 2023.
Also read: Congress victory in Karnataka shows Modi is not invincible: Opposition leaders
Kumaraswamy's inauguration had in attendance practically the entire top rung of the so-called anti-BJP bloc. Congress's Sonia Gandhi and Rahul Gandhi, NCP chief Sharad Pawar, Samajwadi Party's Akhilesh Yadav, Bahujan Samaj Party supremo Mayawati, AAP convenor Arvind Kejriwal, CPI(M)'s Sitaram Yechury and Pinarayi Vijayan, Trinamool Congress chief Mamata Banerjee, then RLD chief Ajit Singh, RJD's Tejashwi Yadav, TDP president N Chandrababu Naidu, CPI's D Raja and PK Kunhalikutty of the IUML were all present at that ceremony in 2018.
What made the event of May 2018 stand out also was the rare public display of camaraderie between Sonia and Mayawati – they knocked heads, held hands and waved to a guffawing public – and the even rarer spectacle of Mamata Banerjee agreeing to share a public stage with CPI(M)'s Yechury and Vijayan, though admittedly with enough space – and leaders – separating them. Grand declarations of an anti-BJP federal front taking shape were made then too as were predictions about the electoral doom this would spell for Modi's party.
All those promises and projections came crashing down a year later when the BJP not only stormed back to power at the Centre, but did so with an even greater mandate than the one it got in 2014. The grand federal alliance that was promised from the Vidhan Soudha never really took shape. Wherever it did, it either collapsed prematurely, as in the case of the Congress-TDP-Left alliance that crumbled by January 2019, or failed miserably short of causing any real electoral damage to the BJP, as was the case with the highly publicised SP-BSP alliance in Uttar Pradesh.
Also read: BJP cannot afford to be a behemoth as Opposition unity emerges on horizon
Some snubbed, some absent
Several of those satraps who were seen sharing stage – and ambitions – at the Vidhan Soudha in 2018 either chose to stay away from the Opposition's jamboree at Kanteerava Stadium on May 20 because of their altered political affiliations or, as in the case of Banerjee, chose to depute inconsequential emissaries. Ties between the Congress and Gowda's JD(S) had estranged while the two parties were in alliance and once Kumaraswamy's government fell in July 2019, the two never reconciled. Predictably, Kumaraswamy, whose party was routed in the recent assembly polls and saw its vote share switch substantially to the Congress, was not at Siddaramaiah's swearing-in.
What was also hard to ignore was the absence of Sonia Gandhi, who was instrumental in making Shivakumar yield to her party's decision of anointing Siddaramaiah as chief minister, despite the immense political significance that the Karnataka victory has for her party. A video message from Sonia to the people of Karnataka was released by the party later in the day. Yet, her absence from the ceremony at a time when the Congress hopes to leverage the assembly poll victory to regain its centrality within the broader Opposition space is bound to trigger talks of a schism, imaginary or otherwise, that her party could have avoided.
Also read: Opposition parties may meet in Patna to chalk out 2024 strategy: Nitish
By excluding Kejriwal and KCR from its list of invitees, the Congress has also expressed its scepticism over Nitish Kumar's plans of including the AAP and BRS in the Opposition unity project. Though Kejriwal and KCR would have had their own reservations against attending a Congress-led Opposition carnival, the Grand Old Party needn't have given them reason to feel slighted. The Congress's coordinators for the ceremony could have acted with humility and invited not just the two leaders whose parties rule Delhi, Telangana and Punjab (collectively a block of 17 Lok Sabha seats) but also by seeking the blessings of Deve Gowda for the success of the Siddaramaiah government.
18 Opposition parties show up
Nonetheless, the Opposition unity show at Kanteerava Stadium had in attendance leaders of 18 Opposition parties other than the Congress. There were existing Congress allies such as DMK president and Tamil Nadu Chief Minister MK Stalin, JMM president and Jharkhand Chief Minister Hemant Soren, NCP chief Sharad Pawar, Shiv Sena's Priyanka Chaturvedi, RSP's NK Premchandran, IUML's Abdul Samdani, CPI-ML's Dipankar Bhattacharya, VCK's Thol Thirumavalan, RJD's Tejashwi Yadav and Bihar Chief Minister Nitish Kumar, who is currently leading the Opposition Unity dialogue with parties that aren't seemingly favourably disposed to having this discussion directly with the Congress leadership.
Also present at the event were National Conference's Farooq Abdullah, PDP's Mehbooba Mufti, RLD's Jayant Chaudhary and usual suspects Yechury and D Raja from the CPI(M) and CPI, respectively. However, the party's failure to invite Kerala Chief Minister Vijayan, who was among the invitees to Kumaraswamy's swearing-in ceremony back in 2018, has already irked Left leaders from Kerala where the ruling LDF is now showcasing the Congress's faux pas as a slight to the state. This is certainly not the message that the Congress would have liked to relay in a state that elected Rahul Gandhi to the Lok Sabha when his family seat of Amethi ousted him.
Also read: 2024 polls: Opposition unity a facade, won't work, says poll strategist Prashant Kishor
Trinamool Congress chief Mamata Banerjee gave the ceremony a miss but the choice of her emissary was intriguing. That the West Bengal Chief Minister did not even nominate Sudip Bandopadhyay or Derek O'Brien – Trinamool's floor leaders in the Lok Sabha and Rajya Sabha, respectively – to stand in for her. Instead, she dispatched party MP Kakoli Ghosh Dastidar, showing the importance – or rather the lack of it – she places on any Opposition unity show that has the Congress as its pole. Even Uddhav Thackeray's faction of the Shiv Sena wasn't represented by its leader or his son, Aditya Thackeray, but by Chaturvedi, a former Congress spokesperson.
While an invitation to Mayawati wasn't apparently not sent because the Congress leadership, sources said, felt that the BSP supremo had "already surrendered to the BJP", Samajwadi Party chief Akhilesh Yadav's decision to not just skip the event but to not send a representative is an ominous sign for the Congress in Uttar Pradesh. Though Akhilesh has, of late, softened his stand against the Congress's centrality to a federal Opposition alliance, his absence indicates that he may still not be willing to yield seats to the Grand Old Party in Uttar Pradesh.
That's bad news for the Congress in a state that accounts for 80 Lok Sabha seats and where the party has a lone MP – Sonia Gandhi in Rae Bareli – since Rahul's Amethi defeat. The SP rebuffing an alliance with the Congress and the BSP and BJP turning the fight in Uttar Pradesh a four-cornered one, the Grand Old Party may even find retaining Rae Bareli difficult in 2024. This won't augur well for the Congress and the Gandhis, particularly Priyanka who has been unsuccessfully trying to revive her party in the state, or for the wider Opposition.
Opposition unity a mirage?
Nitish Kumar has declared that a wide array of Opposition leaders will gather in Patna very soon to discuss possibilities of a federal alliance against the BJP. By all indications, the attendance of Opposition leaders at that meeting is likely to be better than the one at Kanteerava Stadium, perhaps, also because the Patna Conclave won't have the Congress as its principal organiser.
The electoral strategy that Kumar has reportedly been discussing with sundry Opposition satraps, including Congress president Kharge, Mamata Banerjee, Arvind Kejriwal, K Chandrasekhar Rao, and others, is to somehow ensure that BJP candidates are pitted in direct contest against one consensus Opposition nominee in over 400 of the 543 Lok Sabha seats next year.
Theoretically, this makes for sound strategy as it would prevent any splitting of anti-BJP votes. A pre-condition to this theory being put into practice is that all so-called like-minded Opposition parties come on-board with this plan. If the May 20 event is any indicator, the improbability of such an eventuality is already apparent.
Also read: Congress says no Opposition unity possible without it, Raipur plenary to give direction
In five months, the Congress would face the BJP in direct electoral contests in Madhya Pradesh, Rajasthan and Chhattisgarh while it would be caught in a triangular fight with the BRS and the BJP in Telangana. Congress insiders and other Opposition leaders hopeful of a Karnataka-like win in Chhattisgarh and Madhya Pradesh and a miracle that would retain the party's government in Rajasthan despite the worsening Ashok Gehlot-Sachin Pilot turf war, have already begun to speculating that if such results were to come to pass, the Grand Old Party would return to its "Big Brother" attitude in Opposition talks; something that is almost certain to rock the already shaky unity dialogue.