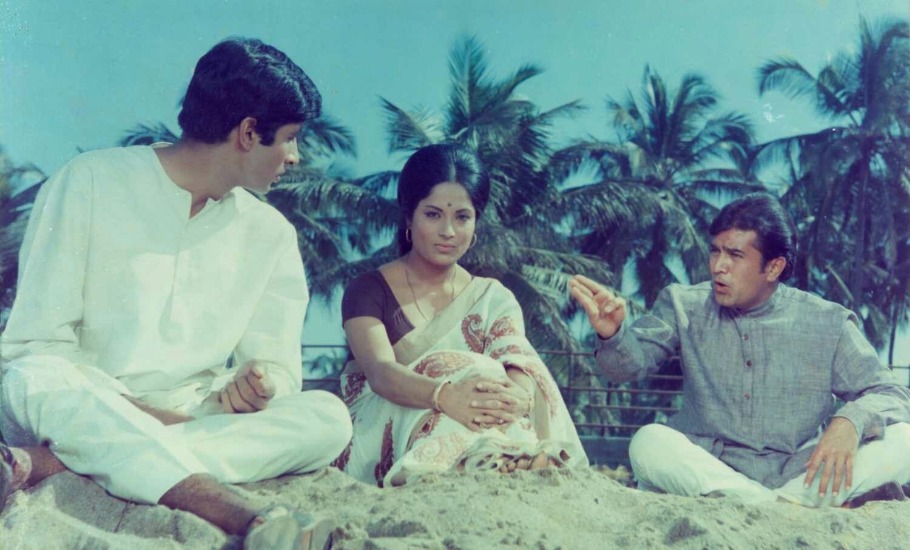 Anand: A film that celebrated life and living it to the fullest
One of the classics by the genius filmmaker Hrishikesh Mukherjee, Anand discovered the essence of life through the lead character played by Rajesh Khanna's philosophy of zindagi badi honi chahiye, lambi nahi (life should be big, not long).
A man and woman next-door, a friendly family doctor, and an advocate guide were some of the many endearing characters the all-time favourite movie Anand gifted movie fanatics with.
One of the classics by the genius filmmaker Hrishikesh Mukherjee, Anand discovered the essence of life through the lead character played by Rajesh Khanna's philosophy of zindagi badi honi chahiye, lambi nahi (life should be big, not long).
Related stories: 55 years of Guide: A film that broke societal rules
The March 12, 1971 release, starring Khanna and Amitabh Bachchan, alongside a supporting cast including Lalita Pawar, Johnny Walker, Ramesh Deo and Seema Deo, was a film with characters who were all grounded with an innocence.
Anand, the hero of the film, was a man struggling to fight an almost lost battle with a disease, however, helping others around him see life in a new light for it may be short or long, but make the most of it.
The do-gooder
Be it Guddi, Bawarchi, Mili or Gol Maal, Mukherjee crafted characters, that was utopian, even in that era. They were guileless and went about spreading positivity and hope. These were the protagonists and the impresario or the sutradhar (narrators), who brought people together with their good intentions while often meeting in the teeming metropolis of Bombay, walking the beaches and reflecting on each other's lives.
In Anand, Mukherjee makes the protagonist a do-gooder. The character Anand Saigal (Khanna), a Punjabi who migrated to Delhi after the Partition, shifts to Bombay, soon after discovering his terminal illness — lymphosarcoma (a type of cancer).
Related stories: Kozhikode's deep bond with Rafi kept alive over the years
While his main point of contact is Dr Prakash Kulkarni (Ramesh Deo, a Marathi doctor), he soon comes in touch with his friend, Dr Bhaskar Bannerjee, a stoic Bengali doctor, who is fed up of seeing people die due to poverty.
Dr Bhaskar, who is cold and enigmatic for a cheerful Anand at first, later breaks the ice and moves in with him. He fondly calls the doctor as Babu Moshai (gentleman in Bengali), however, when he learns about his failed relationship with Renu (Sumita Sanyal), he takes it upon himself to bring them together. His affable nature brings him close to Suman (Seema Deo), the wife of Dr Prakash, who considers him her elder brother.
The neighbourly love that is professed by the characters uniformly in all Mukherjee films makes an appearance as well, albeit in the form of strangers, who become friends with Anand. Matron D' Sa (Pawar), a Christian nurse in Dr Prakash's clinic and Isa Bhai Suratwala (Walker), a Gujarati-Muslim stage artiste whom Anand bumps into on the road, adore him and grow fond of him. They complete the pan-India picture of unity in diversity, as Anand recollects, citing a line from the National Anthem, 'Punjab, Sindh, Gujarat, Maratha, Dravida, Utkala, Banga'.
Related stories: Pati, Patni Aur Woh — a film that mirrored today's world, 40 years ago
Anand while touching all their lives with his warm affection, hides the sadness about his imminent end behind his sunny smile. After much prodding by Renu, he reveals that he parted ways with his lover, a Bengali beauty, before coming to Bombay.
With several poignant revelations, Mukherjee steers carefully without making it a tear-jerker. It is only in the end that he leaves the audience in tears with a dramatic climax of Anand's death, when Bhaskar is reminded of celebrating the passing away like a poetry through his own verses, Maut tu ek kavita hai (Death, you are a poem).
All things Anand is memorable for
With a "post-Aradhana" Khanna in the lead, a "pre-angry young man" Amitabh Bachchan adeptly slipped perfectly into his role of a brooding and idealistic doctor. While there were many names from Kishore Kumar to Mehmood, Shashi Kapoor and Saumitra Chatterjee making the rounds, the final cast of Khanna and Bachchan was undoubtedly perfect. Anand gave them both roles that were much in contrast to their regular avatars.
Related stories: Kamal Haasan's Hey Ram: An excavation of uncomfortable, honest truths
Gulzar, who wrote the screenplay, also wrote lyrics for a few songs in the film, but Anand turned the spotlight on lyricist Yogesh for his moving and philosophical Kahin door jab din dhal jaye sung by Mukesh and Zindagi kaisi hai paheli brought to life by Manna Dey.
Music director Salil Chowdhary chose the voices of Mukesh and Dey for Khanna, although composers like RD Burman cast Kishore Kumar in many Khanna films. And yet, Chowdhary was successful in making the songs memorable.
A masterpiece
Apart from many things that you can associate a Mukherjee-flick with — like the simple and ordinary characters he etched — his work was subtly steeped in ideologies and cultural commentaries.
In Anand, Mukherjee also pits a Left-leaning Bhasker, who questions his own helplessness in alleviating poverty, against a capitalist Dr Prakash, who milks hypochondriac rich patients to take care of the poor.
Related stories: Sholay was not meant to be remade, it could not have been
Anand is a typical Punjabi who loves food, while a Bengali Dr Bhasker is inclined to poetry and an archetypal hospitable Marathi Dr Prakash always believes in treating his guests with good food.
Seldom do we come across films that get it all right and that is what makes Anand immortal, as Dr Bhaskar says in the end after writing his book on his inspiration—Anand mara nahi, Anand marte nahi (Anand hasn't died, people like Anand don't die).