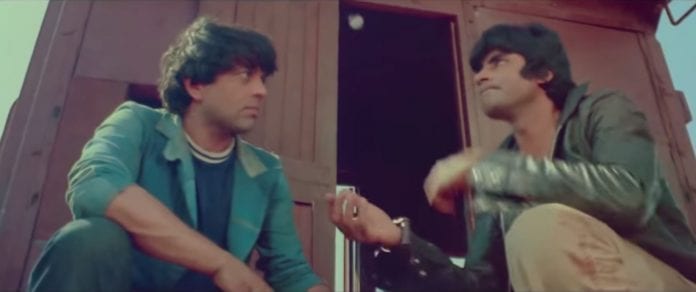 A quaint village with a rocky terrain serving as a happy hunting ground for a band of dacoits who mercilessly gun down villagers refusing to yield to their demands for grains and cattle. A vengeful landlord who wants to take on the gang leader to avenge the murder of five of his family, including his three children. Two habitual jail breakers who take up the task of rounding up the gang leader and handing him over to the landlord. All three make for excellent ingredients and a runaway hit, as illustrated by Sholay that released exactly 44 years ago on Independence Day.
The perfect ensemble
Sholay was not the first or the last dacoit western. Mehboob Khan's Mother India and Dilip Kumar's Ganga Jumna had dabbled in that region much before Sholay was even conceived. Broadly inspired by Akira Kurosawa's Seven Samurai, the film was a trendsetter as a multi-starrer, with a formidable cast that had Amitabh Bachchan, Dharmendra, Sanjeev Kumar, Hema Malini, Jaya Bhaduri — all in the prime of their careers. An equally packed supporting cast that had popular names like Asrani, Iftekhar, Satyen Kappu, Jagdeep, AK Hangal and Sachin. Well-timed humour and an array of punch dialogues, apart from foot-tapping music by RD Burman and an item dance by Helen, revved up the blockbuster.
It was this perfection that probably made other filmmakers wary of going for a remake.
The 70s was a time when the Tamil industry was seeing the rise of a superstar called Rajinikanth. Early in his career, he was often seen teaming up with Kamal Haasan who had already taken over the mantle as a bankable and powerful performer.
Following in the footsteps of Amitabh, who had set the trend of films centered on the 'angry young man', Rajini's popularity rose from the early 80s when Amitabh's halcyon days were drawing to an end.
Also read: In defence of Kabir Singh, a man flawed like many around us
Following Zanjeer, Amitabh had repeatedly and successfully rebooted the angst ridden avtar in Majboor and Deewar. Solely riding on his popularity, he also had stories with a generous dose of humour like in Laawaris, Don, Namak Halal and Khuddar. All were remade in Tamil with Rajinikanth starring in their remakes like Thee (Deewar), Billa (Don) Panakkaran (Laawaris), Velaikaaran (Namak Halal) and Padikathavan (Khuddar). Top grossing with storylines styled to suit the distinct mannerisms of the actor, these films in the 80s etched a strong position for him in the industry.
While even Manmohan Desai's Amar Akbar Anthony captivated the imagination of Tamil film goers as Shankar Salim Simon and Ram Robert Rahim (originally made in Telugu and dubbed in Tamil) — both starring Rajinikanth — Sholay was never even attempted.
One wonders why? After all, one could have brought together Rajini, Kamal and the towering Sivaji Ganesan as Jai, Veeru and Thakur Saab respectively, with the other Hindi heartland elements, devoid of urban milieu.
Ramgarh village in Sholay was actually set in Ramanagaram, just 30 kilometres from Bengaluru, and it wouldn't have been difficult to transpose the setting to a rural village in southern Tamil Nadu.
However, the original script by Salim-Javed had several layers of the Hindi land laced in it — dacoits terrorising villagers or tongas and the Holi festival. It also cleverly borrowed the water tanker scene, where Veeru or Dharmendra threatens to commit suicide, from 'The Secret of Santa Vittoria', starring Anthony Quinn. However, it has been cleverly adapted to appeal to the Indian audiences who love drama.
Besides this, it had an array of dialogues — "Gabbar se keh dena ki Ramgarhwaalon ne paagal kutton ke saamne roti daalna band kar diya hai", "Kitne aadmi the", "Sardar, maine aapka namak khaya hai", "Bahut yaarana lagta hai", "Tumhara naam kya hai Basanti" — to name a few, but which were the perfect binding force.
Also read: Dear Comrade rises above Arjun Reddy, keeps the fight on till the end
It would have been a huge challenge for even the most talented crop of filmmakers in Tamil Nadu and across south to localise all the elements and yet be true to the storyline.
Contextualising Sholay in modern times is all the more challenging, as well. For, how does one relate to dacoits running amok in a nondescript village? Or, with the parallel romance between Jai and Radha, which was dominated by silence sans any overt admission or expression?
Most blockbusters' success have to be interpreted, considering the time when they were made. And, that is why Sholay cannot be transposed or based in a different realm — be it time or space.