Part- I
(After a month-long ordeal of being herded from one place to another, a few of the 59 Bangladeshi ragpickers who were detained in raids on October 26 in Bengaluru, have finally made it home. But not the way the police promised them. Without prior intimation, they were secretly dropped at the border in the dead of the night and asked to find their way across. While many, frightened yet braving the darkness and the wild, managed to reach civilization and later home, the news about the others is still awaited. The Federal touched base with a few of them who recounted a journey they would never forget.)  
By Friday night, it seemed like the time had come to give up this quest. That we might never know what became of the 59 undocumented Bangladeshi ragpickers who were nabbed in citywide raids by the Bengaluru police on October 26 and brought to West Bengal to be deported.
Through the day, there were rumours that the group had been secretly moved out of the shelters provided by the West Bengal police and pushed across the border the previous night. But no official was willing to confirm it. Since Thursday (November 28) morning, the phones of the Bangladeshi women who were in touch with us were switched off. We had lost all contact with them. The local news outlets were still going with the story that the Bangladesh Deputy High Commission would oversee the safe passage of the detainees; there would be no secret deportation.
Ravi Ranjan, the South Bengal Frontier spokesperson for the Border Security Force (BSF) went on record to deny claims of illegal deportation. He told journalists on Friday that the BSF was getting information on the case from the media and hadn't heard from the Bengal or Bengaluru police about a pushback.
No journalist had managed to go near the hall next to the Nischinda police station in Howrah where the women and children were kept since they arrived since November 23. Three rings of security were put around the building and we were not allowed to stand for too long on the opposite road.
Also read | Train with 'illegal' Bangladeshis reaches Howrah; protests erupt
Botched operation, but under wraps
At 9.04 pm on Friday, the phone suddenly lit up with an unknown Bangladeshi number. "Dada (brother), police aamader chede diyecche (the police have released us)…Aamra baadi eshegechi (we have reached home)…Bangladesh!" said a happy sounding woman at the other end.
It was 25-year-old Reshma, one of the women we have been in touch with us ever since she was picked up in the October 26 raids. She had tipped us off even on November 21 when the group was moved from the government women's shelter in Bengaluru to Puttaparathi in Andhra Pradesh from where they travelled the next day in the Howrah Express to Kolkata.
Thanks to Reshma, The Federal is now in a position to share details of the operation that officials in Karnataka, West Bengal and Bangladesh – the respective police departments, ministers of the ruling BJP in Karnataka and Trinamool Congress (TMC) in West Bengal and top officers of the Border Security Force (BSF) – were so keen to keep under wraps. We also tried without success to get a comment from the Bangladesh Deputy High Commission in Kolkata after the BBC reported on November 26 that they had received a dossier from their Indian counterparts on the group of 59.
Despite their competing interests and obvious lack of coordination, they were all united in their resolve to keep details of this operation a secret. After listening to Reshma's account, it's easy to see why the truth would dent the reputation of all the agencies involved.
Stealthily chased off
Reshma says the detainees on Thursday evening were moved in a West Bengal police van from the hall near the Nischinda police station and abandoned at a lonely forest road in the middle of the night near the Indo-Bangladesh border. From there they were instructed to walk.
"We were four women, three children and one very old man," Reshma told The Federal, "We walked for two hours on that road until we reached a village."
A few hours before being put in the van, the Bangladeshis were divided into groups and given strict instructions not to speak to any journalists outside, said Reshma. "I tried to call you and tell you that they were moving us but just then they took away my phone. When we stepped outside the hall on Thursday evening, there were no journalists," she said.
After several hours of travel, the van stopped near a BSF border checkpost in the dead of the night. "We sat still in the bus near the checkpost for a long time. In the distance we could see a Bangladeshi checkpost as well," Reshma recalled.
"The BSF and Bangladeshi guards kept flashing torches at us as we sat inside the bus. None of them approached or spoke to us. Finally, the bus started again. We travelled for an hour and stopped. This place was even darker. It had no checkposts and lights. After a few minutes, the lady sub-inspector who came with us from Bengaluru, asked us four women, our three children and the old man to get off the bus and start walking in a particular direction. It was 2 am."
Also read | Who will get Roshanara Begum and Raziya Sultana home to Bangladesh?
Reshma said that their escorts did not tell them even at this point what was going to happen.
"When they asked us to start walking, we got really scared. In whatever little Hindi I knew I started pleading with the lady police to tell us what they were going to do to us. But she asked us to keep walking," Reshma said, "All of us were sobbing with fear."
The Bengaluru police escorts walked with them for about half an hour and then turned back. "They asked us to head in a particular direction and simply turned around. Until then, we were scared that we would be shot dead. We had heard stories from other migrants who had been pushed back that both the BSF and the Bangladesh troops had shot at people during such operations," Reshma said.
Abandoned in the dead of the night in a jungle with three children and without even a torch, Reshma and her companions were left with the only option of walking towards the instructed direction. Until they reached the nearest village.
Reshma said that she had to carry her three-year-old son for the most part of the hike as he was weak and dehydrated. "When we reached the village, I was barely able to walk. Many curious villagers gathered around us. I fell at their feet with my son and begged them to get us home."
The people of the village escorted the women to the nearest bus stop and bought them tickets. "Everybody went in different directions. I don't know if they reached home. I reached my home in Khulna (district of Bangladesh) around evening."
Also read | Train with 'illegal' Bangladeshis reaches Howrah; protests erupt
A Hindu among Muslim migrants
We asked Reshma about the elderly man and if she knew his name. "He got lost in the jungle. He was walking very slowly and struggling to keep up with us. At one point we looked back and he wasn't there. We even walked back a little to look for him but gave up, it was too dark," she said, "I don't know his name but he was the Hindu man you were talking to when we were in the train."
If Reshma is right, that man is 83-year-old Kamal Mistry. He was the only Hindu in the group of 59 Bangladeshis.
It would be people like Mistry who would be the prospective beneficiaries if the Parliament passes the Citizenship Amendment Bill 2016, which assures Indian citizenship to persecuted non-Muslim immigrants from Bangladesh, Pakistan, and Afghanistan.
Throughout the train journey from Puttaparthi to Howrah, every time we went up to their compartment to talk to them, Mistry would try to convey something to us secretly but put it off for later.
"I am not like the others, Dada. I can't tell you in front of them, I'll tell you later," he would say pointing to the others in the coach, "You have to save me."
He finally opened up when the train reached Howrah. "I am Bangladeshi but I am a Hindu. I have no documents in Bangladesh. I don't know where my home in Bangladesh is. I don't know what I'll do when I get there," he said, "Save me."
Mistry possibly has age related memory issues. He could not tell us when he moved to India or how he came here. All he could tell us is that a Bangladeshi garbage contractor used to give him food and shelter in Bengaluru for segregating dry waste.
He gave us only one clue and pleaded with us to trace his family. "My brother's name is Jadhav Mistry. He lives in Bangladesh. My father's name is Bijoy Mistry, he died long ago."
Also read | 61 Bangladeshi waste pickers begin their journey for deportation
Ones who haven't made it home
Shortly after Reshma, we got another call from a man named Bilal whose mother, wife, and child were among the 59. He had managed to narrowly escape the October 26 raids.
As the train with the 59 made its way to Kolkata, Bilal took a parallel route and slipped into Bangladesh from where he repeatedly called us for updates about his family.
This time, Bilal had an update for us.
"Dada, they have crossed over safely. The police released them on Thursday night near Rangpur (district of Bangladesh). It will take a day for them to reach our home in Khulna. They called me from somebody's phone. They are on their way here," he said.
From his call, it became clear that the group of 59 were released at different points along the border.
On Saturday, we received a call from Majida, one of four women who was released along with Reshma. "My mother-in-law, sister-in-law and her two-year-old child were not released with us.  We pleaded with the police to keep the family together but they didn't listen to us. Now I don't know where they are. It has been so many hours but we haven't heard from them," she said.
Also read | Bengaluru's Bangladeshi labourers should be proud; the shame is ours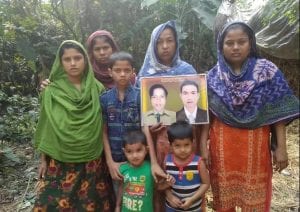 Majida (right) is reunited with her family. They are holding up the photo of Majida's two brothers. The man on the right is Mohibullah who is in a jail in Bengaluru on charges of human trafficking
Majida was also worried about her brother who is one of the four Bangladeshi men against whom the Bengaluru police have filed cases of human trafficking. "The police have booked him in a case because on the day of the raids he argued with them. He is innocent and not a dalal (trafficker). He used to segregate trash just like us," she said, "please send him home."
(This article is the first of a three-part series on the deportation of undocumented Bangladeshi immigrants to their country of origin.)