The first time she tried to speak to The Federal, Roshanara Begum couldn't contain her emotions and only managed to blurt out a few incoherent sentences.
That chance encounter with her happened on November 14 when The Federal visited the state-run shelter for women in Bengaluru to meet the Bangladeshi women who had been taken into custody in the October 26 police raids across the city. She wasn't among the latest group of detainees and was brought to the centre much earlier.
The only thing clear in what she was saying on that day was, "Aami Roshanara (I am Roshanara) Aamake bachao (Save me)." She also kept referring to a young girl, who she said was her sister's daughter, "Oar naam Raziya (her name is Raziya) kochi boish (she's very young) kicchu jaanena (she knows nothing). Okhe bachao (save her)."
The other women lodged with her at the centre said that Roshanara had been there for at least 8 months and that Raziya was kept in a separate facility. The two women hadn't spoken ever since they were placed in detention.
Also read: Train with 'illegal' Bangladeshi labourers reaches Howrah; protests erupt
Bengaluru based human rights lawyer, Aarti Mundkur, who was also present during the November 14 visit, is trying to rescue Roshanara and Raziya. She said that their case is registered in Anekal, a district neighbouring Bengaluru.
"We need some documentation showing where these two women are from," Mundkur said. "Without documents showing that they're Bangladeshi, we cannot even move an application seeking their repatriation."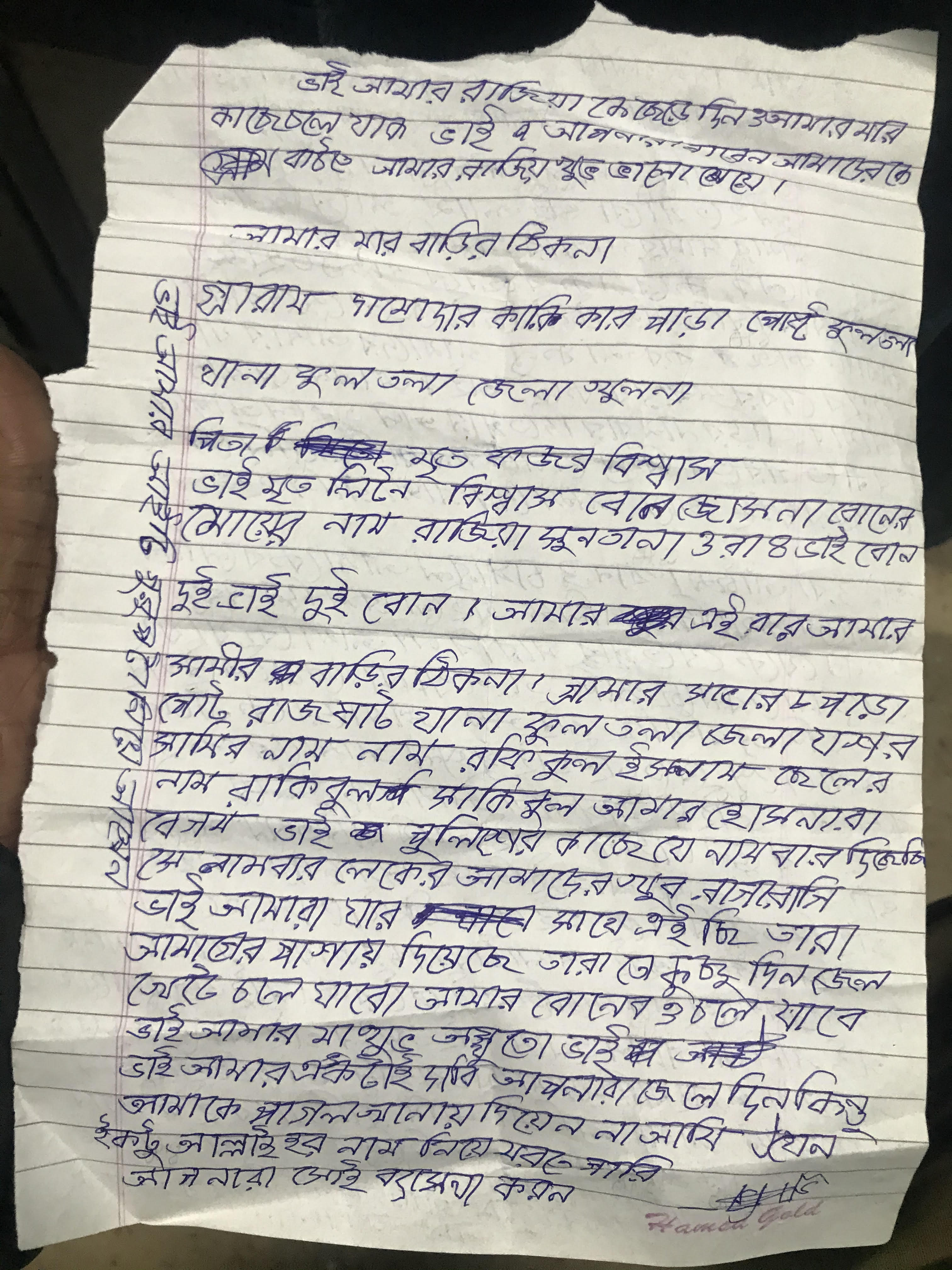 The Bangladeshi women at the shelter who had heard bits of the story from her told The Federal that Raziya and Roshanara had most likely been trafficked into the sex industry. They said that Roshanara wasn't mentally stable and often ranted loudly in the shelter's corridors.
The Federal is now in a position to piece together some parts of the two women's stories based on a letter Roshanara has written to this reporter.
Also read: All know we are here, why the drama? ask arrested Bangladeshis in B'luru
The letter was given to The Federal at the Vijayawada railway station by one of the Bangladeshi women who's being deported. "Now that we have left, Roshanara will go mad," the woman said. "She sent me this letter for you when I told her that you will be on the train with us."
Roshanara opens the letter with an appeal and the addresses of her mother and husband in Bangladesh.
"Please send Raziya home. She is a good girl. My husband's name is Rafiqul Islam. I have two sons, Raquibul and Shaquibul."
She then proceeds to tell her story which goes back and forth through a series of disjointed sentences.
"Brother, those who have trapped us will stay in jail for a few days and be free. I am very unwell. I have only one request. Make sure they don't send me to the mental hospital. I would like to die in peace taking Allah's name; please arrange for that."
Also read: 61 Bangladeshi waste pickers begin their journey for deportation
"Brother, please bring me my ID card. I am not telling lies. I have not sold Raziya. She's my sister's daughter. She's like my daughter."
"I am not very educated. I used to live in Delhi with my husband. I came here with only 10,000 (rupees). I worked with my children. I don't have a house. I don't have the (phone) numbers of my family (in Bangladesh)."
She then writes about the men, most likely sex traffickers, who smuggled them into Bengaluru. From her account, they appear dangerous.
"The people who brought us here are very angry with us. Their names are Ajmal Khan and Jabbarul. They told me that if I talk about them, we will never leave India. That's why I lied to the police. Please save us. We want to go home."
Also read: Bengaluru's Bangladeshi labourers should be proud; the shame is ours
It's also clear from her letter that she has no information about her legal status. Roshanara believes that the police is prosecuting her. Fact, however, is that there's no criminal case against her. If there was a case, she would have been in jail and not in a women's shelter. Although built like a jail, the women's shelter is actually to house destitute women in distress.
Roshanara says in her letter, "The police has mistaken us. You please don't mistake us. I am not lying."
"My mother (in Bangladesh) is very ill. They (Ajmal Khan and Jabbarul) brought us here saying they will give us a job. My stomach is burning. I will go mad. Raziya has been sold. My sidebag (handbag) has been stolen."
It's not clear how or when Roshanara and Raziya Sultana will be able to go home. The case, in all likelihood, will hang until somebody traces her family in Bangladesh and procures her ID.
Meanwhile, undocumented Bangladeshi women, the only people who could understand Roshanara, are hundreds of miles away on a train home.
Back at the shelter, the atmosphere is eerie, not in the least because of the poor lighting even during the day, but also due to the permanent swarm of mosquitoes, roaches and rats.
Among women who sought help, were three women from Punjab who were bar dancers in Bengaluru. They contested the police's claims that they were commercial sex workers.
Another Kannada speaking woman said that she was put in the shelter after her family disowned her. An African woman, who tried to meet The Federal, was physically held back. So she shouted out from a distance: "Cameroon, Africa. Get me home. I'm not a prostitute."
It was ironic to see the desperation of the women at the shelter considering the stated reason for their presence there is women's safety. They are not criminals but find themselves in a veritable jail.