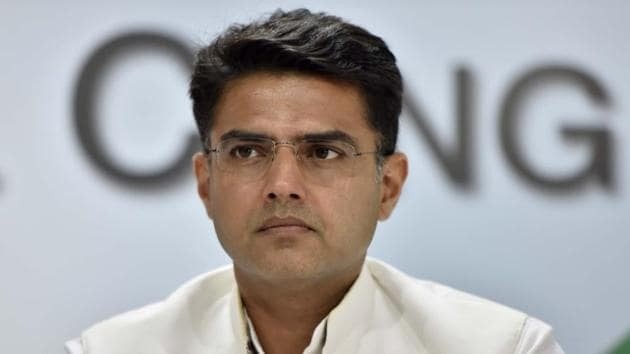 With Rajasthan Congress leader Sachin Pilot refusing to budge from his decision to go on a fast against alleged corruption, the Congress on Monday night issued him a stern warning, saying any such action on his part would amount to anti-party activity.
Sources close to Pilot said he would go ahead with his daylong fast on Tuesday to press for action against corruption during the previous BJP government in Rajasthan.
Taking strong objection to the proposed dharna by Pilot, All India Congress Committee (AICC) in-charge of the state Sukhjinder Singh Randhawa said any such protest against its government clearly amounts to anti-party activity and goes against the party's interest.
Demand for probe into alleged corruption
Pilot on Sunday announced that he will hold a day-long fast on April 11 to press the Ashok Gehlot-led government to probe alleged cases of corruption during the BJP rule in the state. Pilot also accused the Gehlot government of failing to investigate these cases.
The move by Pilot to open a new front against Gehlot amid the factional fighting is seen as an attempt to pressure the party high command to resolve the leadership issue ahead of the year-end polls.
Also read: Rajasthan: Sachin Pilot to go ahead with fast
Randhawa said he talked to Pilot during the day and told him to raise issues at party platforms instead of going public against its own government.
"Pilot's day-long fast is against the party's interests. If there is any issue with his own government, it can be discussed in party forums instead of in the media and public," Randhawa said in a statement.
Randhawa said he has been an AICC in-charge for the last five months and Pilot never discussed the issue with him.
"This is clear anti-party activity. I am in touch with him and I still appeal for calm dialogue since he is an indisputable asset to the Congress," Randhawa said.
"I personally called Sachin Pilot and asked him to raise such matters at party platforms instead of going public like this," he told PTI when asked if he had discussed Pilots proposed fast with him.
Randhawa said any such action or fast is not justified and all matters should be raised within the party platforms and not publicly like this.
He said the two letters Pilot was referring to for action against graft by the previous Vasundhara Raje government have never been raised before him despite several talks and discussions.
Sources close to Pilot, however, have said while both he and Randhawa spoke over the phone, the AICC in-charge of the state never asked the former deputy chief minister to call off the fast.
They said his fight is against graft under the Vasundhara Raje regime and does not target at anyone else.
The sources close to the former Rajasthan deputy chief minister also said that while Rahul Gandhi was fighting on the Adani issue of alleged corruption, likewise Pilot was taking up the issue to hold the previous Raje dispensation accountable.
Pilot to sit on 'maun vrat': Sources
Sources said Pilot claimed that he would sit on a "maun vrat" and not speak against the government.
Congress spokesperson Pawan Khera sought to downplay Pilot's remarks and said it is "wrong" to say that the Ashok Gehlot dispensation is not acting against graft.
He said a probe against senior BJP leader from Rajasthan Gajendra Singh Shekhawat is on in the Sanjeevani scam and the Union minister has also filed a defamation case against Chief Minister Gehlot.
"A probe is underway on how the BJP conspired to topple our elected government in Rajasthan and tried to buy our MLAs," he told reporters when asked about Pilot's remarks that the Congress government in Rajasthan was not against graft cases during the previous BJP government in the state.
Also read: Rajasthan: Pilot targets Gehlot again; asks why no action against Raje in 'corruption cases'
"It is wrong to say that a probe is not on, as an investigation is being carried out and if anyone has a complaint, he should bring it to the notice of the AICC in-charge," Khera said.
The Congress spokesperson also said that more information will come out in the next few months on the probe against Shekhawat and every aspect of the conspiracy to topple the Congress government in Rajasthan is being probed.
A Rajasthan cabinet minister on Monday asked the party workers to not give support to those who are trying to sabotage the work done by the Ashok Gehlot government.
No MLA or minister is expected to join Pilot during the fast but thousands of his supporters from various parts of the state are likely to come to Shaheed Smarak where he will be sitting on the fast on Tuesday.
Without naming anyone, Revenue Minister Ramlal Jat said that those in the race to the chief minister post should think that it is the party high command who made Gehlot the chief minister of Rajasthan.
The Congress earlier threw its weight behind Gehlot and said that its government has implemented schemes that have benefited people and the party will seek a renewed mandate later this year "on the strength of these landmark achievements and the collective efforts of our organisation".
In a statement on Sunday, Congress general secretary Jairam Ramesh said the Congress government in Rajasthan with Ashok Gehlot as CM has implemented a large number of schemes and taken many new initiatives that have impacted the people profoundly.
Also read: Gehlot-Pilot tussle pushing Rajasthan backwards: Vasundhara Raje
"This has given the state a leadership position in governance in our country. The Bharat Jodo Yatra in Rajasthan was an outstanding success made possible by the dedication and determination of the party organisation in the state," he said.
"Later in the year, the Congress will seek a renewed mandate from the people on the strength of these landmark achievements and the collective efforts of our organisation," Ramesh said.
(With inputs from agencies)