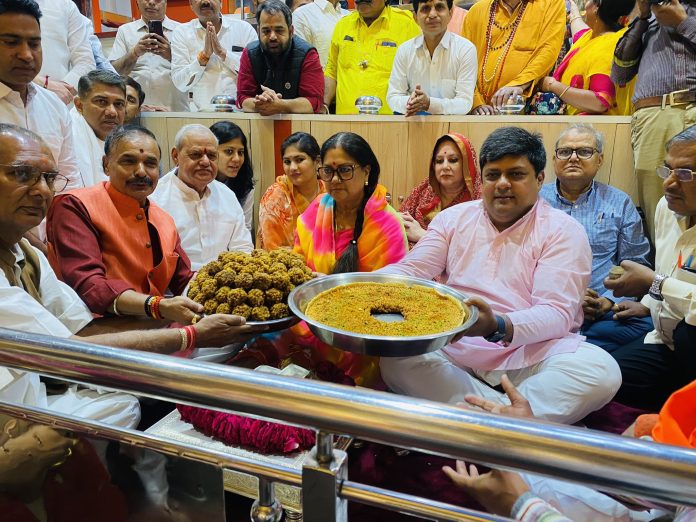 On Saturday, Vasundhara Raje, a BJP leader and former chief minister, criticised the Congress government in Rajasthan. She accused them of allowing corruption to thrive under their rule and stated that the power struggle between CM Ashok Gehlot and his former deputy Sachin Pilot has set the state back.
Addressing a public gathering after offering prayers at Salasar Balaji temple in Churu district with her son and MP Dushyant Singh, she alleged that Gehlot and Pilot have left no stone unturned in targeting each other. In their tussle, they pushed Rajasthan backwards, she added.
Also Read: Rajasthan baby death reignites debate over solution to stray dog attacks
Gehlot and Pilot have been at loggerheads publicly for more than two years. In 2020, Pilot had led a rebellion in the party for a change of leadership in the state. However, Gehlot managed to survive and Pilot and some of his loyalists were later ousted from the state cabinet.
Their conflict has simmered since, with both the senior Congress leaders using sharp words against each other publicly, including when Rahul Gandhi's Bharat Jodo Yatra had entered the state in December last year.
Raje's public meeting was organised to mark her birthday, which falls on March 8. As Holi, also known as Dhulandi in parts of Rajasthan, will be celebrated that day, Raje decided to hold a show of strength on Saturday.
Also Read: Accomplice of gangsters Bishnoi, Godara arrested in Rajasthan
The meeting, organised at an individual level by Raje, was attended by several BJP leaders including Ashok Parnami, Rajpal Singh and Yunus Khan. Separately BJP Yuva Morcha held a mass protest against the state government in Jaipur, which was attended by the state party president Satish Poonia, Deputy Leader of Opposition Rajendra Rathore and others.
Hitting out at the Gehlot government over corruption and illegal mining, Raje claimed a CAG audit has pointed out illegal mining in the state.
She also highlighted the achievements of her previous government and called on the people to bring the party to power in the next election.
(With agency inputs)