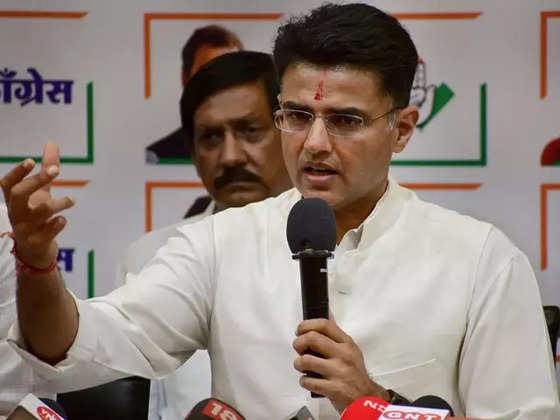 Sachin Pilot held a press conference at his home on Sunday and lashed out at the Gehlot government for not taking any action against the corruption by the previous BJP regime
Congress leader Sachin Pilot will go ahead and observe a daylong fast on Tuesday (April 11) to demand action against corruption during the previous BJP rule in Rajasthan. His fight is against graft, which happened under the Vasundhara Raje regime and not targeted at anyone else.
The sources close to the former Rajasthan deputy chief minister also said that while Rahul Gandhi was fighting Adani over alleged corruption, similarly Pilot was taking up the issue to hold the previous Raje dispensation accountable.
The Congress has been strongly raising its voice against corruption in the country, be it on the Adani matter or on charges against the Karnataka government. If action is not taken against those responsible for graft under the Raje government, then why would people take us seriously, a source close to Pilot said.
Not targetted at anyone in Congress
The source said Pilot's fast was not targeted at anyone in the Congress but was a "fight against corruption". Sources close to Pilot drove home this point after many saw his move of going on a fast as an attempt to pressurise the high command to resolve the leadership issue ahead of the polls this year-end.
Also read: Cong must decide on Rajasthan leadership soon, says Sachin Pilot
Other party sources also Pilot had not been approached by anyone in the Congress to dissuade him from holding the fast.
Pilot on Sunday alleged that the Ashok Gehlot-led government failed to investigate cases of alleged corruption during the BJP rule in Rajasthan and announced a day-long fast to press for action.
Without referring to Pilot's demand, the Congress issued a statement in Delhi that its government with Ashok Gehlot as chief minister has implemented schemes that have benefited people and the party will seek a renewed mandate later this year "on the strength of these landmark achievements and the collective efforts of our organisation".
The All India Congress Committee (AICC) in-charge of state, Sukhjinder Singh Randhawa, said it was "not appropriate" for Pilot to hold a press conference in this manner and that he should have raised the issue with him first.
Pilot has said he will observe a day-long fast at Shaheed Smarak in Jaipur on April 11, the birth anniversary of Mahatma Jyotiba Phule, who was from the Saini community to which Gehlot belongs.
Also read: Sachin Pilot takes flight, Rajasthan Congress hits turbulence
Call for action against corruption
At a press conference at his residence in Jaipur on Sunday, Pilot had said, "No action was taken (by the Gehlot government) on the corruption by the previous Vasundhara Raje government. While in the Opposition, we promised an inquiry into the mines scam of ₹ 45,000 crore."
He said he wrote to Gehlot last year on March 28 and November 2 on the issue but did not get any answer to his letters.
"With six seven months left for the elections, the opponents can spread an illusion that there is some collusion. Therefore, action will have to be taken soon so that the Congress workers feel that there is no difference between our words and actions," he had said.