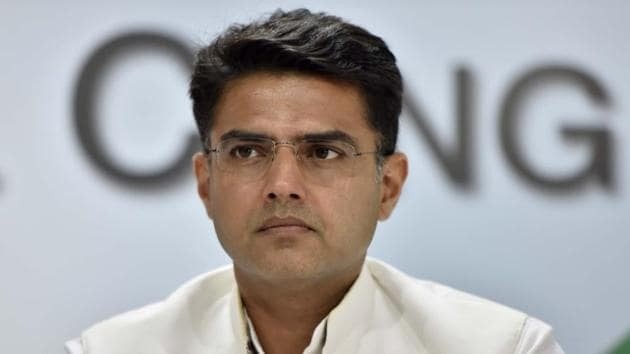 The factional infighting in Rajasthan unit of Congress has raised its head again. Congress leader Sachin Pilot fired a fresh salvo at Chief Minister Ashok Gehlot on Sunday, saying that he's hand in glove with BJP leader and former Rajasthan CM Vasundhara Raje.
In a press conference, Pilot accused Gehlot government of not taking any action against Vasundhara Raje over corruption cases.
Also read: Sachin Pilot takes flight, Rajasthan Congress hits turbulence
One-day fast
"Due to inaction by Ashok Gehlot government against corruption cases during Vasundhara Raje regime, our opponents can question whether they are hand in glove," the former Rajasthan deputy CM said.
Pilot said that to "ensure that investigation is done on issues of corruption," he will go on a one-day fast on April 11 on the anniversary of Jyotiba Phule.
#WATCH | Rajasthan: On April 11, I will do a one-day hunger strike to mark my words that action should be taken against corruption in the state so that the public does not feel that we are not doing any work or we have not fulfilled any of our promises: Sachin Pilot, Congress MLA pic.twitter.com/SNmwTDLdJq

— ANI MP/CG/Rajasthan (@ANI_MP_CG_RJ) April 9, 2023
"We had fought hard while being in Opposition due to which we came to power. While in Opposition, we raised several issues of corruption during Vasundhara Raje government's regime," the Congress MLA said.
Also read: Cong must decide on Rajasthan leadership soon, says Sachin Pilot
Question of credibility
Our credibility depends on taking action against the Raje government on the charges we raised while in Opposition, Pilot said adding that both he and Gehlot had raised corruption issues then.
#WATCH | Rajasthan: I wrote a letter to CM Ashok Gehlot and said that elections are coming and we must show the public that there is no difference between our promises and our work. But I have not received any answer from the CM yet…In Rajasthan, we are neither using them nor… pic.twitter.com/sIsQwgA9AL

— ANI MP/CG/Rajasthan (@ANI_MP_CG_RJ) April 9, 2023
"I had written letters to Rajasthan Chief Minister Ashok Gehlot on March 28, 2022. However, I did not receive any reply. I again wrote a letter on November 2, 2022 seeking action in those cases of corruption," Pilot said.