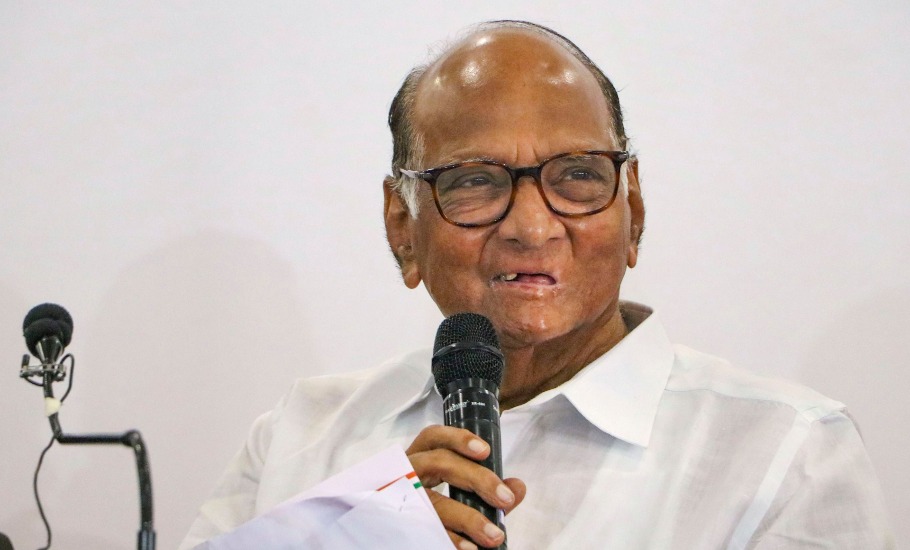 Shrewd, wily, calculating, Machiavellian, and a litany of other synonymous adjectives have often been used for Sharad Pawar in his over-six-decades-long career in active politics. How terribly short these labels fall to get the full measure of the octogenarian Maratha politician could be gauged on Tuesday (May 2) from the shock and suspicion that Pawar triggered with his resignation as president of the Nationalist Congress Party (NCP).
The reaction to Pawar's announcement, which was immediately met with appeals by his party members to reconsider the decision, was almost unanimous.
Watch: Sharad Pawar's decision could be a strategy to prevent split in NCP
None took Pawar's word at face value, given the former four-term Maharashtra chief minister's reputation for hoodwinking friends and rivals alike. Leaders across the political spectrum, publicly or privately, asserted that the resignation was "part of plan" and that Pawar was "up to something", though none could predict with any degree of certainty what this could be.
Classic case of 'Pawar Play'
Among political commentators, this was a classic case of 'Pawar Play' – the old warhorse of power politics was, once again, keeping everyone guessing about his next move. What added weight to these suspicions was the timing of Pawar's announcement and the events that immediately preceded it. Congress general secretary Tariq Anwar, who in 1999 had co-founded the NCP with Pawar and PA Sangma – all three had been expelled from the Congress for asserting that Sonia Gandhi's 'foreign origin' made her unfit for leading the Grand Old Party – was, perhaps, on point when he told reporters that the Maratha strongman "would have a plan".
Also read: Ajit's revolt was not restricted to party, it was family affair: Sharad Pawar
Pawar's decision to constitute a panel of senior NCP leaders to build consensus over his likely successor comes amid growing speculation about his nephew Ajit Pawar, the Leader of Opposition in the Maharashtra assembly, plotting to effect a split in the NCP, like the one suffered by the Shiv Sena last year, and walking away with his faction to ally with the BJP. Though Pawar and Ajit have individually denied such an eventuality, the rumours have only grown louder.
Interestingly, when Pawar's surprise announcement triggered predictable "reconsider the decision" demands by NCP members, Ajit vociferously insisted that his uncle should "not be pressurised" to stay on and even forbade Pawar's daughter and Baramati MP Supriya Sule from sharing her views on the issue.
Ajit Pawar's ambition to become CM
Ajit's dreams to lead the NCP as Pawar's successor and to become Maharashtra's CM sooner than later are well known. He has been obliquely hinting for some time now that "elders (read Pawar) need to step aside and give the younger people a chance" at leadership.
Sources in the NCP claim that Ajit, with several corruption allegations stacked against him, has been trying to convince his uncle for a long time to snap his party's alliance with the Uddhav Thackeray-led faction of the Shiv Sena and the Congress and join hands with the BJP. The senior Pawar, sources say, has repeatedly rejected Ajit's proposal not simply because he is averse to an alliance with the BJP but because he believes that doing so would strengthen Ajit's grip over the party and, in time, leave Sule's political future at the mercy of her cousin.
Pawar wants his daughter to be his successor
Pawar, those close to him say, wants Sule and not Ajit to succeed him as the NCP chief. Unlike Ajit, who is amenable to allying with the BJP and compromising the NCP's secular credentials as long as doing so pushes him closer to realising his dream of leading his uncle's party and further away from troubles with the CBI or the ED, Sule, sources told The Federal, is "resolutely against any tie-up with the BJP".
This tug of war within Pawar's family has threatened to split the NCP down the middle. Ajit has already had a bitter experience of defying his uncle in the past and, in the process, has lost much of his command over the party cadre. In the early hours of November 23, 2019, Ajit had been sworn-in as deputy CM of Maharashtra, with the BJP's Devendra Fadnavis taking oath as the CM.
Also read: Sharad Pawar steps downs as NCP chief; won't retire from active politics
A day earlier, Pawar had made it clear that the NCP would not ally with the BJP to form the state's government. Pawar stuck to his stand and ensured that 53 of the NCP's 54 newly-elected MLAs followed his writ. Ajit was forced to resign within 80 hours of taking his oath of office. The BJP too was left humiliated as its government collapsed even before it could be fully formed.
Ajit was cut to size
In the days that followed, Pawar managed the unthinkable by forming the Maha Vikas Aghadi – an alliance of the NCP, Congress, and an ideologically-incompatible Shiv Sena – and installing Uddhav Thackeray as CM. After leaving Ajit out in the cold for some time, Pawar finally allowed his mercurial nephew's political rehabilitation by getting him inducted as deputy CM. Sources say this was Pawar's way of showing Ajit that he continues to be the final word in the NCP and that Ajit would do well to "fall in line".
The fall of the MVA government after the BJP managed to split the Shiv Sena with the help of Eknath Shinde and the subsequent tensions between Shinde and Fadnavis in the BJP-Sena (Shinde faction) government seem to have given Ajit the confidence of once again exploring an alliance with the saffron party.
Also read: Sharad Pawar told Uddhav that NCP will never join hands with BJP, claims Raut
However, with Sule and other NCP veterans such as the party's Maharashtra unit chief Jayant Patil, Chhagan Bhujbal, Anil Deshmukh, Dilip Walse-Patil, and others stridently opposing any pact with the BJP and insisting that the MVA's electoral prospects in the 2024 Lok Sabha polls are getting brighter amid the growing trust deficit between the Shinde-led Sena faction and the BJP, sources say, Pawar wants to blunt Ajit's plans.
First of two 'political earthquakes' predicted by Sule
On April 19, Sule had predicted that two "political earthquakes" would shake Maharashtra "in the next 15 days". Commentators who were left guessing what Sule was alluding to believe the first of these earthquakes hit Maharashtra with Pawar's shock announcement.
The second, many believe, could come before May 15 when the Supreme Court pronounces its judgment on a clutch of petitions seeking to disqualify the Shinde-faction MLAs for their rebellion against the parent Shiv Sena of Uddhav Thackeray during the MVA regime and also derecognise the floor test in the Maharashtra assembly that had paved the way for the BJP and Shinde Sena to form the state government.
Growing anger against BJP in Maharashtra
The MVA leaders are hopeful that the SC judgment will be in their favour. If it indeed is, the judgment would destabilise the Shinde-Fadnavis government. With the recently-concluded agriculture produce market committee (APMC) polls across Maharashtra pointing towards growing anger against the BJP and a favourable wave for the MVA among the state's electorally-formidable agrarian community, Ajit too may not want to go against the public mood to split his party.
Also read: Will ensure MVA contests Maha assembly and Lok Sabha polls together: Sharad Pawar
Pawar certainly would have factored in all of this, and more, when he declared his resignation. That he had softened his stance was evident by Tuesday evening (May 2) itself when Ajit and Sule, after meeting Pawar, declared that the NCP patriarch had "agreed to rethink" his decision but wanted "two or three days" before he would make his views known.
Sources told The Federal that Pawar has already indicated to Sule, Praful Patel, and another senior leader that he would eventually agree to stay on as NCP chief, at least until the 2024 Lok Sabha polls, but that he doesn't wish to make the announcement immediately. He'd rather let Ajit stew a bit longer in the humiliation of another failed bid to wrest control of the party.
'There is politics in everything Sharad Pawar does'
His NCP colleagues aside, other Opposition parties as well as the BJP would also be keenly awaiting Pawar's final decision. Over the past month, Pawar has kept both sides of the political divide on tenterhooks. Pawar had stumped the Congress and other Opposition parties by publicly disagreeing with their demand for a Joint Parliamentary Committee probe against the beleaguered industrialist Gautam Adani. But then, he baffled the BJP equally with his strong pitch for Opposition unity in the 2024 Lok Sabha polls.
Also read: Sharad Pawar's decision could be a strategy to prevent split in NCP
The late DP Tripathi, a close aide of Pawar and former Rajya Sabha MP from the NCP, would often jokingly remark that "there is politics in everything Sharad Pawar does; he is a compulsive politician – even if he sneezes, you are compelled to think there is an elaborate political strategy behind it".
It is this image of the 82-year-old Pawar that makes it so difficult for anyone to believe that the ambitious political veteran of 63 long years would simply walk into the sunset at a time when his competing heirs-apparent were pulling his party into opposite directions and while he too had unfinished business in the 'Opposition Unity' project. Can this really be the last chapter of 'On My Terms', Pawar's instructive autobiography – originally published in 2015 – a revised version of which he launched on Tuesday (May 2) shortly before announcing his resignation.