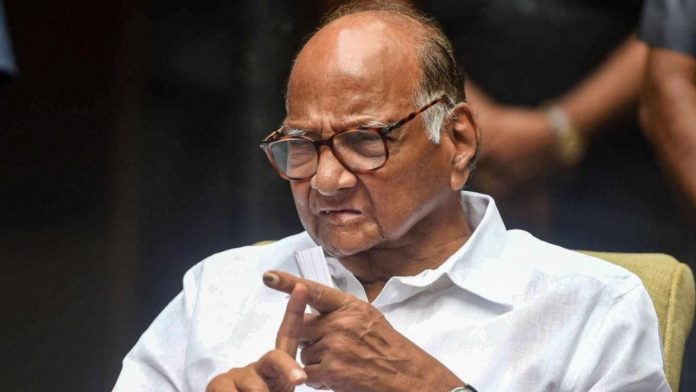 In a major political development in Maharashtra, Maratha strongman Sharad Pawar on Tuesday announced that he is stepping down as the president of the Nationalist Congress Party (NCP). However, he won't retire from active politics.
Watch: Sharad Pawar's decision could be a strategy to prevent split in NCP
Significantly, he has made this move amid speculations of his nephew Ajit Pawar warming up to the ruling BJP. Announcing his decision, Pawar said, "I have decided to stop working as the president of the NCP. I will continue working in the political, social and cultural life hence forth." Addressing a gathering at the launch of second edition of his autobiography Lok Maze Sangati in Mumbai, the NCP patriarch said, "I have three years tenure remaining in Rajya Sabha. I will not contest elections henceforth. In these three years, I will more concentrate on issues concerned to state and the country. I will not take any additional responsibilities."
Also read: Sharad Pawar told Uddhav that NCP will never join hands with BJP, claims Raut
#WATCH | NCP leader Jayant Patil breaks down after party chief Sharad Pawar announces that he will step down as party president. pic.twitter.com/nDCu9iX2OG

— ANI (@ANI) May 2, 2023

Looking back, Pawar, who helmed the party since its inception in 1999, said, "I started my political career on May 1, 1960. Yesterday we celebrated May Day. After this prolonged political career, one must think about stopping somewhere. One must not be greedy. I will never take a position of sticking to a post after so many years. Therefore, you might feel uneasy. But I have decided to retire from the post of the NCP chief.
A committee will be formed to decide who should be given the responsibility to lead the party, Pawar said. He said the panel should have senior members including Supriya Sule, Ajit Pawar, Praful Patel, Jayant Patil, Anil Deshmukh, Rajesh Tope, Chhagan Bhujbal and others.
#WATCH | Supporters of NCP chief Sharad Pawar protest against his announcement to step down as the national president of NCP. pic.twitter.com/LsCV601EYs

— ANI (@ANI) May 2, 2023
Also read: Will ensure MVA contests Maha assembly and Lok Sabha polls together: Sharad Pawar
"My colleagues, even though I am stepping down from the post of president, I am not retiring from public life. 'Constant travel' has become an integral part of my life. I will continue attending public events, meetings. Whether I am in Pune, Mumbai, Baramati, Delhi or any other part of India, I will be available to all of you as usual," Pawar told the NCP workers. As soon as the veteran leader announced his decision, the NCP workers in the auditorium demanded that Pawar withdraw his decision, saying they won't leave the auditorium till he does so.
Pawar is one of the top Opposition leaders in the country. He played a major role in forging an unlikely alliance in the form of Maha Vikas Aghadi in Maharashtra comprising Shiv Sena (UBT), NCP and Congress.