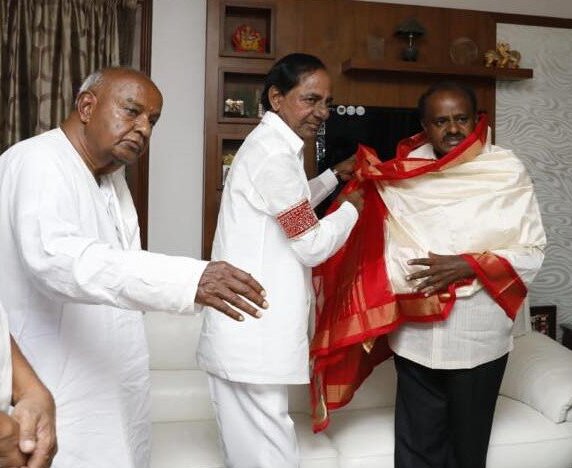 Telangana Chief Minister K Chandrashekhar Rao with former Karnataka Chief Minister HD Kumaraswamy (right) in a file photo. Former Prime Minister HD Deve Gowda is to the left.
Why Telangana Chief Minister and Bharata Rashtra Samiti (BRS) chief K Chandrasekhar Rao (KCR) is not going to campaign for Janata Dal-Secular (JD-S) in Karnataka?
KCR has cordial relations with the JD(S) patriarch and former Prime Minister HD Deve Gowda. He called on senior Gowda many times to seek his blessings for his efforts to cobble up a federal front against BJP earlier. And, on every important occasion related to BRS, the son of Deve Gowda and former Karnataka Chief Minister HD Kumaraswamy was the guest of honour.
Past dalliance
Once it was thought that the newly formed BRS would field candidates in the Kalyana Karnataka region in a tie-up with JD(S), which has a sizeable number of Telugu-speaking people. To cap it tall, emerging from the BRS founding celebrations last year, Kumaraswamy himself announced that KCR would campaign for JD(S) in Telugu-speaking areas.
Also read: BRS puts on a big show in Nanded with KCR's new slogan: "Ab ki baar, kisan sarkar"
But, so far, there has been no indication from the BRS on KCR's campaign in Karnataka. Participating in an iftar party at Siddipet last week where JD(S) leader and former Union minister CM Ibrahim was also present, Telangana Finance and Health Minister T Harish Rao only hinted at a BRS team campaigning in Karnataka. He did not indicate whether CM KCR would campaign in the poll-bound state.
Though there is a pressing need for the BRS to contain BJP in Karnataka, which the saffron party sees as the gateway to Telangana, KCR finds himself busy organizing meetings in Maharashtra rather than concentrating on Karnataka, giving rise to wild speculation. Karnataka is going to the polls on May 10.
Wary KCR
According to one argument, KCR is wary of campaigning for JD(S) because there is no guarantee that it would not join the BJP to form the government in case a hung assembly is thrown up. Another argument is that KCR is foreseeing a situation where he might have to tie up with the Congress in Telangana to weather the BJP challenge. So, any over-enthusiasm in favour of JD(S) may upset the plan. The import of both arguments is clear: a possible alliance between BRS and the Congress.
For a week, Telangana BJP has been going overboard in peddling a theory that BRS will have a tie-up with the Congress and they will join hands after, if not before, the Assembly elections scheduled in December.
According to BJP leaders, KCR and Congress have been working in tandem to defeat BJP since the Munugode byelection held in November 2022.
BJP's charge
BJP senior leader and MLA Eatala Rajender levelled a serious charge last Friday that KCR had given Rs 25 crore to Congress to ensure BJP defeat in Munugode. The charge, which clearly targeted PCC president A Revanth Reddy, sent a chill down the spine of faction-ridden Congress.
Also read: 'KCR will pay heavily for his sins': BJP gen sec after Telangana police detain Bandi Sanjay
The next day Revanth had to rush to the BJP's Bhagyalakshmi Temple near the Charminar to take a vow to disprove the charge of bribe-taking. With tears welling in his eyes Revanth said he won't compromise on his fight with KCR and BJP even if he is financially ruined.
Eatala charges created an earthquake of sorts in Telangana politics. BJP president Bandi Sanjay said KCR had been cosying up to Congress for quite some time. "Whenever there was any trouble for Congress or Rahul Gandhi, it was KCR who first reacted to support Rahul. KCR demanded the sacking of Assam CM Himanta Biswa over the latter's comments on Rahul Gandhi. Similarly, KCR personally issued a strong statement condemning PM Modi for disqualifying Rahul following a court verdict in a defamation case. KCR was all praise of the UPA rule. Examples galore to show how KCR and Congress are coming together," he said, adding that KCR was financing Congress in many elections to defeat BJP.
Telangana Congress senior vice-president, former MP Dr Mallu Ravi, dismissed the BJP charge of bribery as mischievous. "BJP doesn't want a triangular contest in the state where Congress is in second position. BJP leaders are targeting Congress to lower the image of the party in the eyes of the public with a delusion that it would reap all the anti-KCR votes if Congress is not there around. The bribery charge shows a kind of frustration that crept into the BJP.  But their frustration won't alter Congress' position in the hearts of Telangana people," Dr Mallu said.
Also read: KCR attacks Modi for silence on Adani, calls him 'most inefficient PM ever'
Will BRS and Congress come close?
Prof E Venkateshu of the Political Science Department, Hyderabad Central University, says chances of BRS and Congress having an alliance are bleak. "They have to address three issues such as how to erase the bitter past, PCC president Revanth Reddy's personal enmity towards KCR and according primacy to defeat BJP at the national level to come closer. An alliance between the two parties doesn't benefit BRS in Telangana much," he said.
An aide of chief minister KCR also ruled out the chances of an alliance between BRS and Congress. "That BJP is emerging as a force is illusory. After some electoral gains, the BJP has been trying to push the idea that it is the real alternative to BRS into the minds of the people. The real fight in Telangana is between the BRS and Congress. Chief Minister KCR's reaction in support of Rahul should be taken in a democratic spirit," the aide who wants to remain anonymous told The Federal.
Still, there is no dearth of people who believe KCR and Congress have no option but to join hands if they are serious about the BJP surge in Telangana.
Forgetting the past and winning a tough election is not a new concept for chief minister KCR. He had an alliance with his arch-rival and target of the Telangana movement, TDP's N Chandrababu Naidu, in 2009. BRS' recent overtures to Congress, including skipping the campaign in favour of JD(S) in Karnataka, are not without a political message, they say.
Also read: Will form govt at Centre, says KCR after unveiling India's tallest Ambedkar statue
According to noted commentator Dr Pentapati Pullarao, BRS-Congress alliance is possible. He says the alliance is both beneficial and injurious to the partners. "A BRS-Congress alliance will send a positive vibe across India. At the same time, it is likely to generate an avalanche of discontent among ticket seekers in both parties, especially in Congress. These rebels may gravitate to BJP. Congress cannot afford to ignore the damage the rebels would cause to the party," Dr Rao opined.