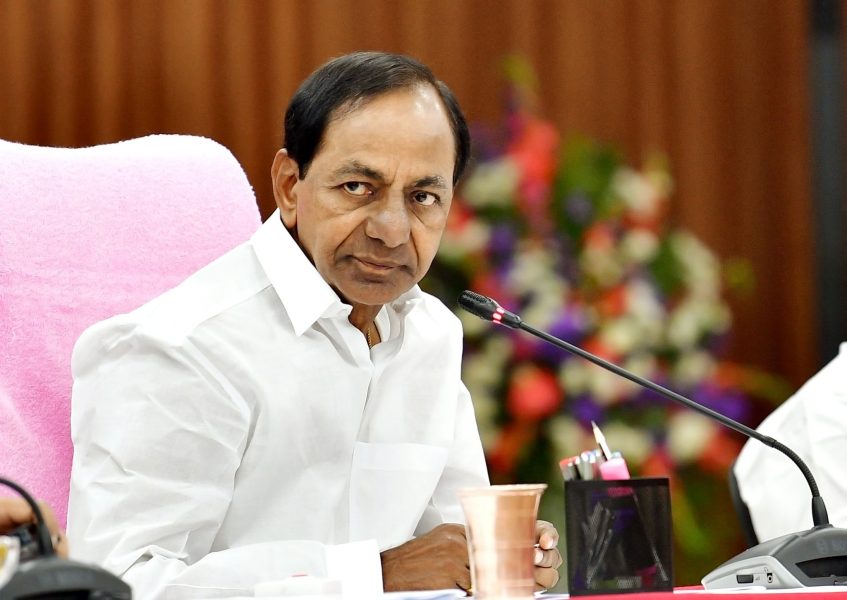 On Sunday, BRS President and Telangana Chief Minister K Chandrashekhar Rao spoke at a well-attended public meeting in Nanded, Maharashtra. Several local leaders and followers, including sarpanches, joined the party in KCR's presence.
KCR rallied the crowd with the slogan "Ab ki baar, kisan sarkar" and raised important questions about the state of farmers in the country, advocating improved working conditions for them.
Following the first public meeting in Khammam on January 18, this gathering marks the party's second event. It also marks the first time the party, previously known as Telangana Rashtra Samithi (TRS), has held a meeting outside of Telangana after changing its name to Bharat Rashtra Samithi (BRS).
Also Read: KCR's BRS gets massive boost after Odisha leaders join en masse
During his address, KCR, accompanied by his daughter and MLC K Kavita, stated that BRS has become a national alternative in Indian politics with the aim of bringing about positive change and progress for the country.
According to the BRS Chief, no other party in the country has made the call for "Ab ki baar, kisan sarkar". He said it's necessary to reflect on why farmers are in such a dire situation, with many being forced to take their own lives.
He posited that providing water for irrigation and free power to farmers is possible, but successive governments have failed to take action. To make a "kisan sarkar" a reality, the BRS Chief said farmers must take on the role of lawmakers and create laws that are beneficial to their community.
Also Read: TRS is now Bharat Rashtra Samithi (BRS) officially; KCR unfurls party flag
Minister Indrakaran Reddy, MP B B Patil, government whip Balla Suman, and MLA Jogu Ramanna spent over a week in Nanded and worked to turn the area into a sea of pink, the BRS party's color, with large hoardings, balloons, and stickers.
Reddy mentioned that BRS leaders went to the villages and engaged in discussions with sarpanches and other local officials, inviting them to attend the public meeting. They shared information about the development and welfare programs being carried out in Telangana under the guidance of KCR.
KCR emphasized the importance of providing farmers with enough water for irrigation and ensuring that the public has access to clean drinking water. He pointed out that even smaller countries with fewer resources have built large water reservoirs. He also criticized the "Make in India" initiative by Prime Minister Narendra Modi, questioning why "China bazaars" still exist if the initiative was successful.
Also Read: KCR's TRS turns BRS: Masterstroke or misadventure?
KCR, the Telangana chief minister, stated that a BRS government would supply drinking water to every household in Maharashtra. He noted that his government was able to transform the water and power crisis faced in Telangana eight years ago and now provides an abundance of free water without any tax to farmers, as well as 24-hour power supply.
He expressed a desire for the suicides of farmers to stop and highlighted his government's successful programs, including Rythu Bandhu (agriculture investment support), Rythu Bhima (farmers insurance), and Dalit Bandhu (financial aid for Dalits).
The public meeting was attended by members of various political organizations from various villages and towns, including Nanded South and North, Bhokar, Naigam, Mukhed, Deglur, Loha constituencies, Kinwat, Dharmabad, Mudked, Naigam, Biloli, Umri, and Himayat Nagar in Nanded district.