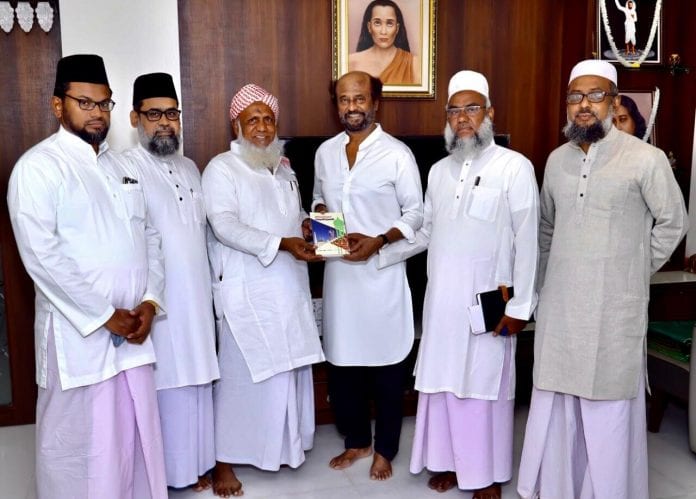 Tamil Nadu Jama'athul Ulama Sabai on Sunday (March 1) claimed that actor Rajinikanth understood the unknown dangers of the contentious Citizenship Amendment Act (CAA) after holding discussions with them. However, the actor hasn't issued any statement regarding changes in his support towards the law.
While speaking to The Federal, the Muslim body which had a deliberation with the actor at his residence revealed that the religious leaders made him understand that the amended citizenship law is not only against Muslims but also against Indians.
"Earlier he had issued a statement that some of the Muslim religious leaders are instigating the people but when we put forth our side of arguments, he listened to us in an affable manner," said Dr VS Anwar Badhushah Ulavi, general secretary of Tamil Nadu Jama'athul Ulama Sabai.
He said, "The Muslims didn't demand that someone should have mercy on them. This is the problem of Indians. It is wrong to consider it as a problem of Muslims."
Related news: Muslim clerics meet Rajinikanth, apprise him of CAA-NRC-NPR effect
He further added that it is their duty to explain to those who have misunderstood the Act.
"It is our duty to explain, if one has misunderstood the Act. Either we should fight with the person terming him or her as a BJP or RSS supporter or we should make an attempt to clear his misconceptions. We chose the second way," added Anwar.
Interestingly, the actor, who openly voiced his opinion of dealing with the northeast Delhi riots which claimed 46 lives and injured about 200 people with an "iron fist", did not make any statements over the violence which took place in Washermanpet area in Chennai on February 14.
When asked about whether the Muslim body asked Rajini to visit the place, which has now earned the sobriquet of 'Chennai's Shaheen Bagh', the members said that they have not discussed about that protest.
Related news: Delhi violence: Kamal Haasan praises Rajinikanth for his remarks
"We did not spoke about that protests. He had a misconception that CAA and NRC are good. We explained to him with evidence that how far those moves can affect the people. Either he was given false information about the Act by someone or really he could have misunderstood the Act. After we explained, he said to us that he will stand by us in all the activities to make the people aware about the Act and can do whatever needed within his ability," said PA Khaja Mohinudeen Bagavi, president of the Ulama Sabai.
The veteran film star also took to Twitter after the meeting and said that he would whatever he can within his ability.
"I am happy that I met functionaries of Tamil Nadu Jama'athul Ulama Sabai today and heard their opinions. I agree with their view that a country's primary aim should be of love, unity and peace. I am always ready to do whatever I can do within my capacity, to ensure peace in the country," he tweeted.
— Rajinikanth (@rajinikanth) March 1, 2020
However, political observer Kumaresan begs to differ on his statement. He said that though Rajini hasn't launched his party till now, his words still have some weightage in the top political circles.
"I think he means that. He needs to say something positive, something consoling since he met the top members of the community which bore the brunt largely. Rajini could have also thought that by supporting the Act, he may be painted as a BJP man and that will affect his political future. As an act of damage control, he spelt out such words," he said.
He also added that people didn't expect Rajini to come out and stand with them at the place of protest, but questioned why he chooses to avoids meeting the leaders.
"To the least, he could have met the senior journalists, of whom he accused of painting him as a BJP man, over CAA and cleared his doubts," opined Kumaresan.
Meanwhile, on Sunday (March 1) night, Narayanan Tirupathy, one of the spokespersons of Tamil Nadu state BJP, met Rajinikanth at his residence and even posted a picture of the two on his official Twitter handle.
Met Shri.Rajinikanth @rajinikanth today.

திரு.ரஜினிகாந்த் அவர்களை சந்தித்தேன். pic.twitter.com/0BpEGzRFv5

— Narayanan Thirupathy (@Narayanan3) March 1, 2020
Tirupathy told The Federal that his meeting with the actor was a 'courtesy visit'.
"Many ask whether there is any political undercurrent behind this meeting, since I met him on the same day, when Muslim religious leaders met, that itself is a communal view. Rajini meets many people on the same day. Finding a political reason behind such casual meetings are baseless," he said.
"The actor knows that the CAA will not affect anyone. He also knows that the Act cannot be withdrawn at any cost. He just heard what the other side says on this issue," said Tirupathy.
Related news: Rajinikanth says Delhi riots should have been dealt with an iron fist
"There will be no difference of opinion that protests like Washermanpet are unnecessary. It is all instigated by the opposition parties in the state," he added.
On the contrary, the Ulama Sabai's meeting with Rajini has created a division among Muslim political parties and some outfits but it looks like the majority are welcoming the meet.
An office-bearer of the Social Democratic Party of India (SDPI) has said that though there is no immediate benefit in this meeting, at least the actor could have realised that the religious leaders are not indulging in any instigation that leads to violence.
"After the meeting there were rumours on social media that Rajini will take part in an anti-CAA meeting organised by Muslim outfits. There is no grain of truth in that. By this meeting, the people could have understood that there is no relation between the violence and Ulamas," he said.