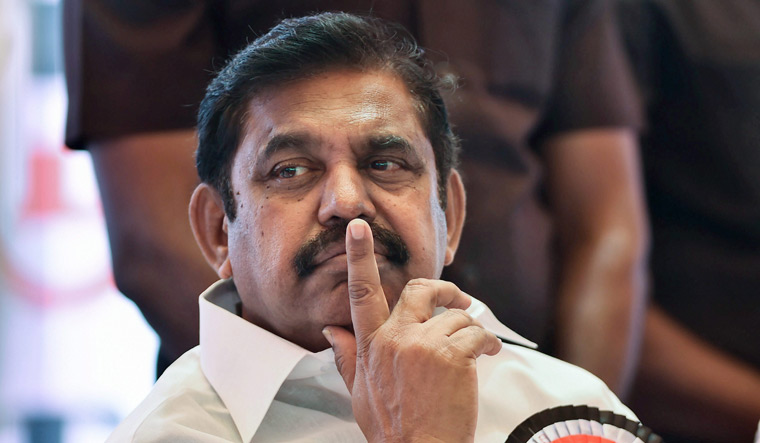 Tamil Nadu Opposition party, the AIADMK has taken up the issue of the PTR audio clips row with Union home minister Amit Shah and demanded a central probe into the matter.
Stepping up the pressure on the ruling DMK in Tamil Nadu (TN) over the PTR audio clips issue, AIADMK general secretary Edappadi K Palaniswami (EPS) flagged the controversial PTR audio clip issue with Union home minister Amit Shah during his visit to New Delhi.
According to EPS, TN's Leader of Opposition, "the issue cannot be ignored" since the matter involved state finance minister Palanivel Thiaga Rajan (PTR). The issue has to be probed since PTR insists that they are fabricated audio tapes, EPS told reporters in New Delhi on Thursday (April 27).
EPS met Shah and BJP national president J P Nadda late on Wednesday at the national capital.
When a scribe asked him if the PTR issue figured in his meeting with Shah on Wednesday night, Palaniwami replied in the affirmative.
"We told (Shah) about this. It is a big issue, not some ordinary matter. Shocking details have emerged from this audio. There are reports claiming that Tamil Nadu's finance minister has made some remarks in the audio," Palaniswami said.
Also read: PTR slams Annamalai, says second audio clip is yet again deep fake
PTR dismisses audio clips
PTR has dismissed the two audio clips released so far, both by state BJP chief K Annamalai, alleging that advanced technology has been used to create such material. In both the clips, he is purported to have made some comments about the assets of Chief Minister M K Stalin's son Udhayanidhi and son-in-law V Sabareesan, which Rajan has categorically denied.
Palaniswami further said that since PTR purportedly named the two persons, "this matter should be thoroughly probed."
"He has said it is all cut-paste job (digital alterations), which we are not aware of. We had not responded to the matter earlier as well. But now he (PTR) is issuing media statements and now there seems to be some issue in this. This is dangerous," Palaniswami added.
Also read: Palaniswami meets Amit Shah in Delhi
Whether there is truth about the assets of the DMK leaders concerned or PTR's insistence "that he did not speak" in the audio should be investigated and the Centre should take action, he said.
"This matter should not be ignored," since the TN finance minister is involved, EPS said, adding the matter was brought to the attention of Shah during their meeting last night.
Palaniswami said Shah told him he was also aware of the issue.
Also read: PTR pooh-poohs audio clip; Annamalai to meet Governor, seek forensic audit
"We have told him this (issue) should be probed and people should be told the truth," the AIADMK chief added. Palaniswami also sought to know why Chief Minister M K Stalin has not responded to the matter so far.