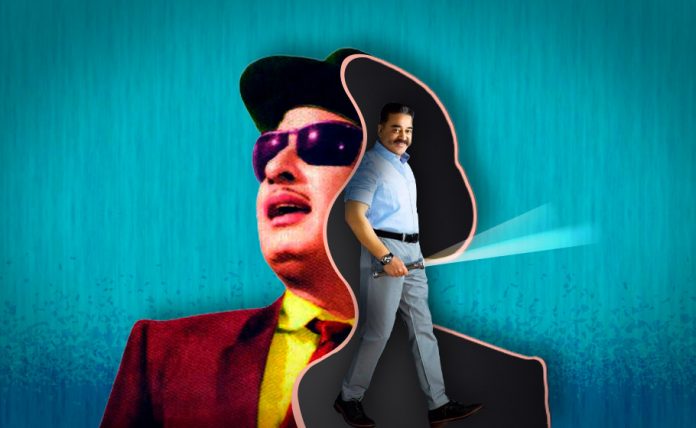 When Kamal Haasan kicked off his campaign from Madurai on December 13, he fondly recalled MGR, the matinee idol and AIADMK founder who ruled Tamil Nadu for a decade. Kamal said he would make Madurai the second capital of the state, as "MGR wanted". Clearly, Kamal is priming himself for taking over the MGR legacy as his party, the Makkal Needhi Maiam (MNM), strategizes for the state polls due next year.
AIADMK leaders have retorted, asserting that MGR is their leader, so, no one can claim him. Kamal tweeted, saying that while most current ministers have not even seen MGR, he grew up in his lap. The tweet was also accompanied by a video, showing MGR wrapping a shawl around Kamal, presenting him an award and planting a kiss on his forehead.
But this is not the first time that Kamal spoke about MGR or hinted at taking over his legacy. He has reminisced about the incidents involving MGR and him. Those were his personal moments.
Politically, in 2018, during his party meeting at Namakkal district, Kamal countered the criticism that he was a "part-time politician". He asked whether people could keep MGR also in that category.
"MGR was not a part-time politician. How many MGR films have you seen where his name appeared with the title 'MLA'? He chose a way to earn and that is why he had the guts to ask the accounts of the party," he said. He also referred to an incident which created a rift between MGR and Karunanidhi, leading the former to float his own party. It is interesting that when Kamal invoked MGR's legacy then, there was no response from the AIADMK.
Choreographer for MGR
Kamal entered the film industry at the age of 6, with the release of 'Kalathur Kannamma' (1960). In 1963, Kamal starred as a child artist along with MGR in 'Ananda Jothi,' the sixth and the last film of Kamal as a child artist. He acted as a playful brother of heroine Devika, MGR's love interest.
After that film, Kamal got no opportunity to act in films for the next seven years. In the meantime, he joined the theatre group run by Avvai T.K. Shanmugam. MGR attended the plays staged by the group and after watching the acting skills of Kamal in one of the plays, he gifted him a gold chain studded with pearls.
"I had that chain for many years. Sometimes, I even enjoyed showing it to MGR himself," says Kamal in his book 'Ennul Maiam Konda Puyal'.
In 1970, at the age of 15, he had a guest appearance in 'Maanavan' where he appeared as a student in a song sequence 'Visiladichan Kunjukala'.
It was around that time Kamal joined as an assistant to choreographer K Thangappan and worked in a few films including 'Sangey Muzhangu' and 'Naan Yen Pirandhen' — both released in 1972 in which MGR starred. Kamal taught dance movements to MGR which were "toughest" for the levels of the latter, particularly the song 'Ennamma Chinna Ponnu'.
Many years later, during the award function of Kamal starrer 'Moondram Pirai' (1982), MGR quipped that "Kamal has broken my hips with difficult dance steps".
MGR as a stepping stone
Kamal's career could have ended just as a choreographer had MGR not diverted him to acting. During a film function, Kamal met MGR and they had a casual chat. MGR inquired about what Kamal was doing. He said he was working as a choreographer but would like to join as an assistant to the filmmaker K Balachander.
"Kamal has requested MGR to recommend him to Balachander (it is interesting to note that Balachander himself was brought to the industry by MGR). But MGR advised him to become an actor. Kamal had doubts whether the audience would accept him because of his lean physique. However, MGR praised him saying that "Nee Perazhagan' (you are a handsome man). That gave confidence to Kamal and he approached many filmmakers asking a chance for acting," writes Yuvakrishna, author of the book 'Pazhaiya Paper'.
Also read: Kamal Haasan's MNM to announce 30 candidates for Assembly polls in Dec
"I was an upcoming actor then. MGR was a top star. There was a function at Rajeshwari marriage hall (in Chennai). We were sitting next to each other. 'You should come up and go beyond me,' said MGR. I replied, 'It is difficult to do films matching your level'. For this MGR said, "You should think of me as a stepping stone and climb step by step and surpass me." That's just a conversation. But what surprised me was that he liked to consider himself as a step and surpassing him," writes Kamal in his book.
It is interesting to note that it was the time when MGR was criticized by some from the industry that he would not allow any younger, budding heroes to come equal to him.
According to a senior Tamil journalist Ezhumalai Venkatesan, MGR was conscious enough not to allow younger heroes to act with him in the remake of 1973 film 'Yaadon Ki Baaraat' ('Naalai Namadhey', 1975, in Tamil).
"It was initially planned that the film would have MGR as the eldest brother, with Sivakumar and Kamal playing the other two roles. But MGR chose to play the first two roles and brought a Telugu actor for the third role," he wrote in an article.
Many shades of relations
The relationship between MGR and Kamal was like that of a father and son. While MGR didn't have a biological son, there was a distance between Kamal and his biological father Srinivasan, mainly because of the former's entry into films at an early age. His continuous exposure to cinema could have reduced his time being spent with his family. However, Kamal has said in many interviews that he was more attached to his mother Rajalakshmi, who supported him in all his artistic endeavours.
But Kamal has given different shades to their relationship at various points of time. In a function organised by the film industry in 1983, Kamal has appreciated MGR by reading out a poem. While starting the poem, he considered himself as a 'Kusela', an Indian mythological figure who was a friend of Lord Krishna, but he ended the poem considering himself as a younger brother of MGR.
In 2017, Kamal sent out a video message in which he wished DMK patriarch M Karunanidhi for his 94th birthday. Kamal remembered about an incident which gave a different colour to MGR-Kamal relationship.
"During a function, I had said that there were three teachers who taught me Tamil and they are none other than Karunanidhi, Kannadasan and Sivaji Ganesan. The next day I got a call from MGR who appreciated me for saying Karunanidhi is my teacher. He then playfully asked, 'Am I not a teacher for you?' I replied: 'Vaathiyaarey neengalum thaan' (master, you too)".
Also read: AIADMK betraying people by supporting farm bills: Kamal Haasan
It is to be noted that MGR was fondly called 'vaathiyaar', Tamil for teacher or master.
In the same year July, while participating in a talk show on a TV channel, Kamal referred to MGR as 'Periyavar', meaning the elder.
MGR loved Kamal to an extent that, when the latter was under treatment after an accident, MGR phoned him. "He gave me an earful for taking risks in stunt scenes and advised me to take proper safety measures in future. He was a chief minister then. I was on cloud nine after that call," said Kamal during the ongoing Big Boss season 4.
Learning politics from MGR
Though MGR was not against fan clubs, he warned Kamal to be cautious. In the 80s, Kamal had organised national conference of his fan clubs. He urged his fans to build their physique and learn martial arts to protect themselves.
"After coming to know about my speech the next day, MGR called me and warned: 'What if your fans decide to take law in their hands?' he asked," said Kamal in one of his interviews. After that his fan clubs converted into welfare organizations. Kamal dedicated 'Sathya' (1988), the first film in his career in which he has touched the politics, to MGR as 'Guru Dakshina'.
"MGR had published AIADMK's party principles as a book titled 'Annaism'. He explained his party's political policies for all departments such as language, weavers and agriculture. When it was published, many ridiculed it. He dreamed to achieve many things. But those were not taken forward by the leaders who came after him," says Kamal in his book.