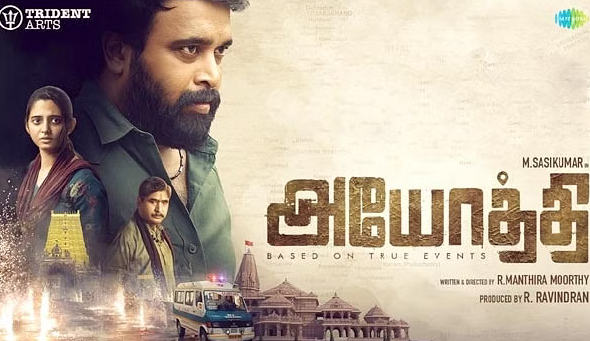 At a time when Tamil Nadu has been hit by fake news of North Indians being attacked in the state, a new Tamil film, Ayodhi, portrays how some Tamils supported a family from northern India during a car accident. But it has been caught in an unseemly row.
The movie, starring M Sasikumar and directed by Manthira Moorthy, was released in theatres on March 3. The story is about a Hindu family of four, including two children – a girl and her younger brother – which comes to Rameshwaram in Tamil Nadu on a pilgrimage from Ayodhya in Uttar Pradesh.
Also read: Cinematography is like sculpting, with reality and imagination: Theni Eashwar
After reaching Madurai by train, Balram (played by Yashpal Sharma) takes a cab to Rameshwaram. He urges its driver to speed up so that they reach the holy place before sunrise. During the journey, an altercation between Balram and the driver results in an accident which leaves Balram's wife Janaki (Anju Asrani) severely injured.
Hospital distress
The local government hospital lacks a neurosurgery department but it detects that Janaki has cerebral haemorrhage and needs to be rushed to a bigger hospital. After an alert from the driver, his friend Abdul Malik (Sasikumar) reaches the hospital with his sidekick Pandi (Pugazh).
Malik decides to help the family. Unfortunately, it is the day of Diwali and neither an ambulance with ventilator nor driver is available. So, Malik himself drives the hospital ambulance. On the way, Janaki dies.
Now, the distraught 'North Indian' family, with a language barrier and in an unfamiliar place, wants to return to Ayodhya along with the mortal remains of Janaki. They seek help from Malik and his friend. The two make arrangements for their return.
True incident
The film has been inspired by a real incident. On August 31 2011, Mathavaraj, a trade unionist and an employee of Pandyan Grama Bank in Madurai, got a distress call from Arvind Sinha, a member of All India Regional Rural Bank Employees Association, Bihar.
Sinha said one Vinod Srivatsava from Lucknow and an employee of Central Bihar Gramin Bank had come to Rameshwaram with his wife and three children where they met with a car accident. Srivatsava lost his wife on the spot. After basic medical aid, the family was stranded at the Madurai airport. They desperately needed help to return to their state.
Mathavaraj, who was then in Trichy for a meeting, asked his colleagues Suresh Babu and Samuel Jothikumar to immediately attend to the family. The two rose to the occasion, buying food for them and obtaining documents to air lift the body through Indian Airlines.
Narrating the incident to The Federal, Samuel Jothikumar says he can never forget that day.
"It was a distressing scene at the airport. Vinod Srivatsava and his family had bruises and were disoriented. Suresh bought vada and tea from the canteen. But they were unable to even chew the vada. Srivatsava held our hands and asked us to send them to Lucknow. Private airlines like Paramount and Kingfisher refused to airlift the body," he said.
Flight blues
He continued: "Though Indian Airlines agreed to do that, it wanted the accompanying family members to get a fitness certificate to fly since they were wounded. The flight was scheduled for 2 pm. It was already 11.30 am. There was a hospital near the airport. But due to a lack of scanning facilities, they turned us down. So, we rushed to Madurai to find a doctor on Ramzan day. When we returned to the airport, it was around 12.45 pm.
Also read: Dhanush-starrer 'Vaathi' rakes in Rs 50 crore worldwide over first weekend
"There was a shock waiting for us at the airport. The price of flight tickets had risen drastically. Neither Srivatsava nor we had sufficient money to get tickets for all four family members. So, we sent the second daughter with the mortal remains. On the next flight, the other members left."
Learning about the incident, Mathavaraj, who is also a writer, wrote a post on his blog Theeraadha Pakkangal, titled Azhakooda Thiraaniyatravargalaai Avargal (Those who could not even shed tears) on September 3, 2011. Later, Mathavaraj also wrote about the incident in the bank workers' Unity magazine.
After the film released, Suresh Babu brought the story to Mathavaraj's notice. The film credited a popular Tamil litterateur, S Ramakrishnan, for the story. Though both Mathavaraj and Ramakrishnan are known to each other, it appears that the latter has used the blog post of the former without informing him.
Charges, rebuttal
"He claimed it as his story as if he wrote the story from imagination. But he never wrote the story nor published it anywhere," said Mathavaraj on his social media page.
Talking to The Federal, Mathavaraj said Ramakrishnan had plagiarised his blog post.
Also read: Hindi remake of Tamil hit film 'Love Today' to release in 2024
"After we raised this issue, neither the production company nor the director and not even Ramakrishnan has challenged us. It is happy a film talking about Tamil Nadu's kindness towards North Indians has been released at this time. I am happy the film is being received well. But the makers are not even ready to accept that this is a case of story theft. The film crew could have credited Suresh Babu and Samuel Jothikumar's yeoman service," added Mathavaraj.
Ramakrishnan has told the media said that a true incident can be turned into a story by anyone.