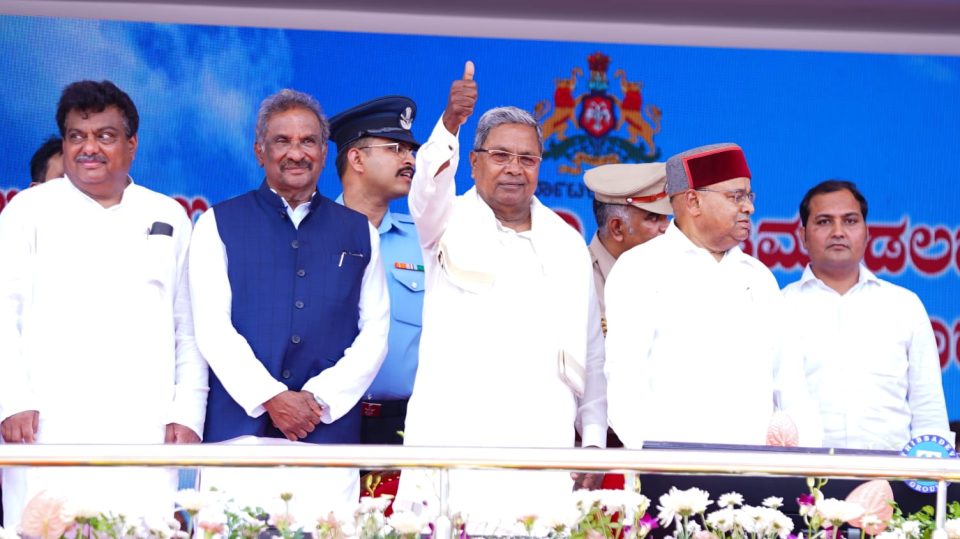 Congress leader Siddaramaiah was sworn in as Karnataka Chief Minister in a grand ceremony in Bengaluru on Saturday (May 20) and the new dispensation held its first Cabinet meeting that gave an in-principle approval to implement its poll promises, estimated to cost the exchequer about Rs 50,000 crore annually.
The new government at its maiden Cabinet meeting, soon after the swearing-in ceremony, accorded "in-principle" approval to the Congress five guarantees promised before the elections.
Also read: Opposition stalwarts throng Karnataka swearing-in, some keep away
Siddaramaiah, addressing a press conference later, cited estimates and said implementing poll assurances would cost the exchequer about Rs 50,000 crore a year. He asserted that the pre-poll assurances would be implemented notwithstanding the financial implications, if any.
Siddaramaiah, who chaired the Cabinet meeting, said the guarantees would "most likely" be implemented after the next Cabinet meeting.
Also read: Siddaramaiah blames Modi for Karnataka's missed Rs 5,495-crore grant
The Congress promised to implement "5 guarantees" of 200 units of free power to all households (Gruha Jyoti), Rs 2,000 monthly assistance to the woman head of every family (Gruha Lakshmi), 10 kg of rice free to every member of a BPL household (Anna Bhagya), Rs 3,000 every month for unemployed graduate youth and Rs 1,500 for unemployed diploma holders (both in the age group of 18-25) for two years (YuvaNidhi), and free travel for women in public transport buses (Shakti), on the very first day of assuming power in the state.
Siddaramaiah said the Assembly would be convened for three days from May 22, during which the newly elected MLAs shall be administered the oath. The Speakers election is also on the cards.
Also read: Karnataka CM Siddaramaiah has become puppet of Congress high command: BJP
In the May 10 elections to the 224-member Assembly, the Congress scored an emphatic victory by bagging 135 seats, while the ruling BJP and former Prime Minister H D Deve Gowda-led Janata Dal (Secular) secured 66 and 19 seats respectively.
(With agency inputs)