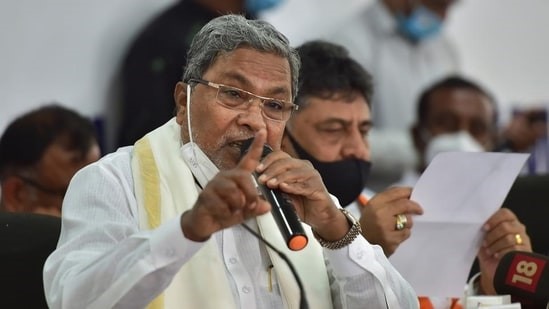 Rahul Gandhi with newly sworn-in Karnataka CM Siddaramaiah and DCM DK Shivakumar on Saturday | Pic: Twitter/KC Venugopal
Karnataka Chief Minister Siddaramaiah on Saturday (May 20) blamed Prime Minister Narendra Modi for a "loss" of Rs 5,495 crore, which the state could have got as a special grant but did not. The interim report of the 15th Finance Commission had recommended the grant but the final report did not, he told reporters hours after taking oath as chief minister.
Siddaramaiah said the previous BJP government did nothing for the state to recover its due. "In the interim report of the 15th Finance Commission, it was recommended that Karnataka should get a special grant of Rs 5,495 crore, which the BJP government in Karnataka did not take up. Was there any government which did more harm to the state?" Siddaramaiah told reporters.
"Union Finance Minister Nirmala Sitharaman removed it from the final report. And she is a Rajya Sabha member from Karnataka. Because of Narendra Modi, Karnataka suffered a loss," he charged.
Also read: Karnataka CM Siddaramaiah has become puppet of Congress high command: BJP
"BJP govt didn't ask Centre"
"We are entitled legitimately to that interim relief of Rs 5,495 crore, which is not a small amount. It's our loss. The previous BJP government in Karnataka, 25 BJP MPs, including Union Minister Pralhad Joshi, did not ask the Centre," he alleged.
According to him, Karnataka's contribution to central taxes is around Rs 4 lakh crore.
The Finance Commission is a constitutional body formed by the President to give suggestions on Centre-state financial relations, including criteria for grants, devolution of taxes, etc. The 15th Finance Commission was chaired by NK Singh and the recommendations of its report for the financial years 2021-26 period was tabled in Parliament in February 2021.
(With agency inputs)