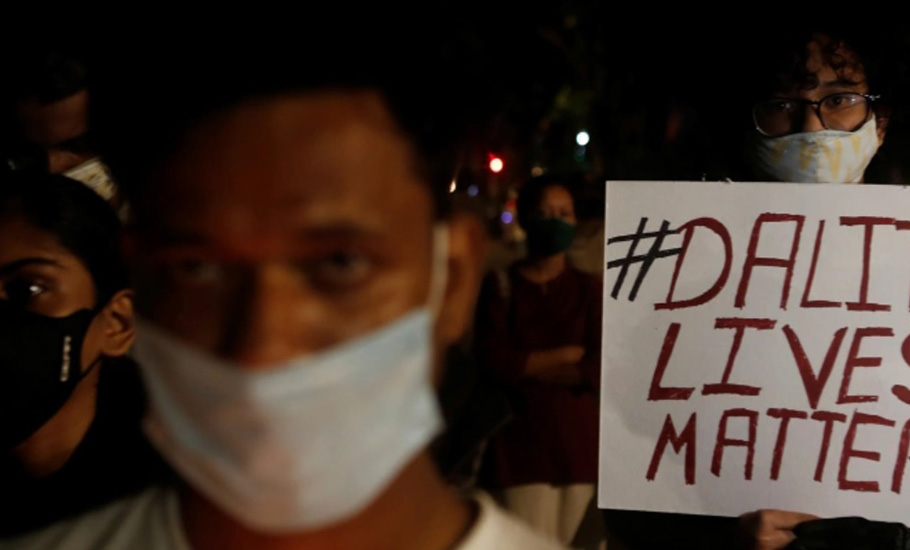 Madhya Pradesh: Dalit smeared with faeces after he touches OBC man with grease
A Dalit man in Madhya Pradesh's Chhatarpur district has alleged that a man from another caste smeared his face and body with human excreta after he accidentally touched the latter with grease.
Based on the complaint of the victim, a case has been filed against the accused, Ramkripal Patel, who belongs to an OBC community, under relevant provisions, in connection with the incident.
In his complaint filed with Maharajpur Police on Saturday (July 22), Dashrath Ahirwar, the victim, claimed the incident occurred on Friday when he was engaged in the construction of a drain for the panchayat in Bikaura village, about 35 km from the Chhatarpur district headquarters.
Also read: MP CM washes feet of urination incident victim, apologises to him
He said Patel was bathing at a nearby hand pump. Ahirwar claimed he touched Patel with the grease he was using in the construction work by mistake.
"After that, Patel brought human faeces lying nearby in a mug he was using for bathing and smeared it on my body including head and face," he said.
Ahirwar also claimed that Patel hurled casteist slurs at him.
"I reported the matter to the panchayat and called for a meeting. Instead, the panchayat imposed a fine of ₹600 on me on Friday," Ahirwar alleged.
Asked why he did not lodge a complaint with police on Friday, Ahirwar said he could not have abandoned the work midway.
"A case has been registered against Ramkripal Patel under sections 294 (punishment for obscene acts or words in public) and 506 (criminal intimidation) of the Indian Penal Code and provisions of the Scheduled Castes and Schedule Tribes (Prevention of Atrocities) Act," Sub Divisional Officer of Police Manmohan Singh Baghel said.
Also read: Gwalior man thrashed, forced to lick another person's feet in moving vehicle; two nabbed
Baghel said when Ahirwar was working with others, they were joking with Patel who was bathing nearby. "They were hurling things at each other playfully when Ahirwar put grease on Patel's hand. Thereafter, Patel picked up human excreta with hand and threw it on Ahirwar's back," the police official said.
Ahirwar approached the police on Saturday with a complaint, Baghel said. Asked about Ahirwar's claim on panchayat, Baghel said he did not have any information. The accused and the victim are in the age group of 40 to 45, according to police. Recently, an incident of a man urinating on a tribal youth in Sidhi district of MP caused a huge outrage after its video surfaced on social media.
Also read: MP: 3 held for kidnapping 2 tribal brothers, thrashing them up over altercation
(With inputs from agencies)