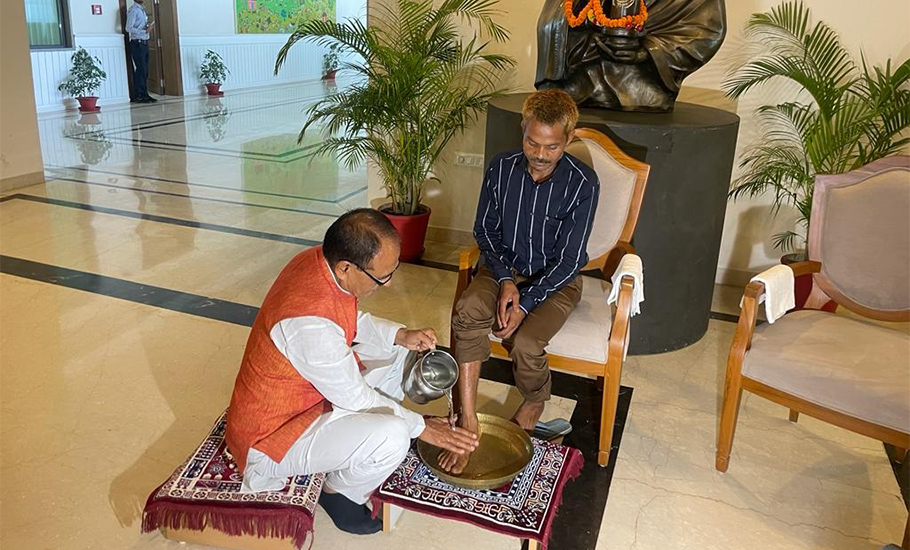 MP CM washes feet of urination incident victim, apologises to him
Madhya Pradesh Chief Minister Shivraj Singh Chouhan on Thursday (July 6) washed the feet of a tribal youth on whom a man had urinated, to express sorrow over the incident, and apologised to him.
Chouhan said he was saddened by the incident, as he washed the feet of the youth, Dashmat Rawat, while sitting on the floor at his residence in Bhopal.
Also read: MP: Man peeing on tribal youth in viral video arrested, booked under NSA
He called the youth Sudama and said, "Dashmat, you are now my friend."
Madhya Pradesh Chief Minister Shivraj Singh Chouhan meets Dashmat Rawat and washes his feet at CM House in Bhopal. In a viral video from Sidhi, accused Pravesh Shukla was seen urinating on Rawat.

Shukla was arrested on 5th July and his illegal construction was demolished by the… pic.twitter.com/YluT3Pj2Gl

— ANI (@ANI) July 6, 2023
Chouhan also discussed various issues with him on the occasion, especially to know whether benefits of different welfare schemes were reaching him, an official said.
Earlier, the chief minister and the tribal man together planted a sapling at the Smart City Park in Bhopal.
Police on Wednesday (July 5) arrested Pravesh Shukla, who is accused of urinating on the tribal man in Sidhi district. Action under the stringent National Security Act (NSA) was also initiated, an official earlier said.
Also read: MP High Court requests Centre: Lower women's consent age from 18 to 16
A video of the incident went viral on social media platforms on Tuesday (July 4), following which the police registered a case against him.
(With inputs from agencies)