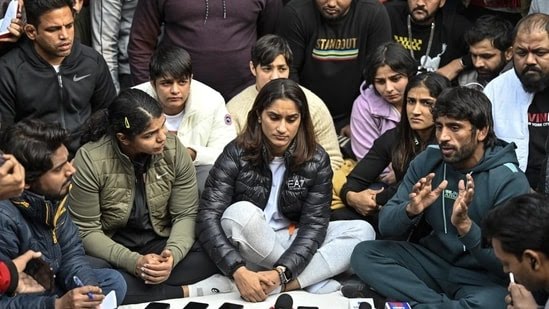 Opposition party leaders on Friday hit out at Indian Olympics Association President PT Usha for criticising the protest by wrestlers in Delhi, alleging she has become a "political mouthpiece".
Also read: Delhi Police tell SC FIR will be registered against WFI chief
The wrestlers have launched a second round of protest against Wrestling Federation of India (WFI) president Brij Bhushan Sharan Singh, accusing him sexual harassment and intimidation. Usha, who is also a Rajya Sabha MP, has condemned the protest, saying the grapplers lacked discipline in hitting the street in support of their demand. She also said their action has tarnished the image of India.
Also read: Protesting wrestlers lash out at PT Usha after IOA chief calls them 'indisciplined'
Tharoor, Moitra lead Opposition charge
Responding to Usha, Congress leader Shashi Tharoor said ignoring their pleas tarnishes the country's image, not hearing them out. "Dear @PTUshaOfficial, it is does not become you to disparage the justified protests of your fellow sportspersons in the face of repeated & wanton sexual harassment. Their standing up for their rights does not tarnish the image of the nation. Ignoring their concerns – instead of hearing them out, investigating them & taking just action – does," he said.
Dear @PTUshaOfficial, it is does not become you to disparage the justified protests of your fellow sportspersons in the face of repeated & wanton sexual harassment. Their standing up for their rights does not "tarnish the image of the nation". Ignoring their concerns — instead of…

— Shashi Tharoor (@ShashiTharoor) April 28, 2023
CPI MP Binoy Viswam blamed the sprinter's "newly found" political friends for her stand on the issue. "Usha, with utmost respect and affection, I have to say, your comments on the suffering wrestlers should have been avoided. The country and the sport lovers wish to see you as a spirited sports person. Alas! Your newly found friends want to make you their political mouthpiece," Viswam said.
TMC MP Mahua Moitra also attributed the former sportswoman's stand to her Rajya Sabha seat. "Wrestlers protesting on streets tarnishing India's image says @PTUshaOfficial. So ruling party MP chairing WFI for years accused of molestation & abuse of power against who @DelhiPolice refuses to lodge FIR in spite of SC order makes India smell of roses, does it?" tweeted Moitra.
Sports fraternity comes out in support
Meanwhile, top sportspersons of the country like champion javelin thrower Neeraj Chopra, ace boxer Nikhat Zareen, tennis star Sania Mirza, hockey player Rani Rampal, former cricketers Kapil Dev, Virender Sehwag, Harbhajan Singh, Irfan Pathan, Madan Lal and Navjot Singh Sidhu have come out in support of the wrestlers.
— Neeraj Chopra (@Neeraj_chopra1) April 28, 2023
Chopra tweeted, "It hurts me to see our athletes on the streets demanding justice. They have worked hard to represent our great nation and make us proud. As a nation, we are responsible for safeguarding the integrity and dignity of every individual, athlete or not. What's happening should never happen. This is a sensitive issue, and must be dealt with in an impartial and transparent manner. Pertaining authorities must take quick action in order to ensure that justice is served."
Also read: Protesting wrestlers to PM Modi: 'Please listen to our Mann Ki Baat'
India's first World Cup winning cricket captain, Kapil Dev, has uploaded an Instagram story asking, "Will they ever get justice?" with a photo of the protesting wrestlers.
Abhinav Bindra, who is one of two Indians to have ever won individual Olympic gold – Neeraj Chopra being the other one – had also tweeted his support for the wrestlers on April 26. "As athletes, we train hard every day to represent our country on the international stage. It is deeply concerning to see our athletes finding it necessary to protest on the streets regarding the allegations of harassment in the Indian wrestling administration. My heart goes out to all those who have been affected," he said.
बहुत दुःख की बात है की हमारे champions जिन्होंने देश का बड़ा नाम किया है , झंडा लहराया है , हम सबको इतनी ख़ुशियाँ दी हैं, उन्हें आज सड़क पर आना पड़ा है।
बड़ा संवेदनशील मामला है और इसकी निष्पक्ष जाँच होनी चाहिए। उम्मीद है खिलाड़ियों को न्याय मिलेगा। pic.twitter.com/A8KXqxbKZ4

— Virender Sehwag (@virendersehwag) April 28, 2023
Former off-spinner and AAP MP Harbhajan Singh wrote, "Sakshi, Vinesh are India's pride. I am pained as a sportsperson to find pride of our country coming out to protest on the streets. I pray that they get justice."
"Shocking that 9 women of recognition complained & no FIR is registered. It'll be a tear on the cheek of time in Indian history. Any country that insults their women icons is hurting its own pride, these women have brought laurels to the nation. They have given wings to the aspirations of millions," tweeted cricketer-turned-politician Navjot Sidhu.
Also read: Wrestlers' protest takes political colour, Supreme Court intervenes
Boxing World Champion Nikhat Zareen has also tweeted, noting that it breaks her heart to see bright sportspersons "in this state". Sania Mirza, one of India's greatest tennis players ever, has tweeted that what is unfolding has been difficult to watch as a woman and a sportsperson.
As an athlete but more as a woman this is too difficult to watch .. they've brought laurels to our country and we have all celebrated them , with them .. if you have done that then it's time to now stand with them in this difficult time too .. this is a highly sensitive matter… pic.twitter.com/7mVVyz1Dr1

— Sania Mirza (@MirzaSania) April 28, 2023
Top wrestlers, including Bajrang Punia, Sakshi Malik and Vinesh Phogat, are protesting at Jantar Mantar in Delhi, demanding that the government makes public the findings of the oversight panel that investigated sexual harassment allegations against the WFI chief.
(With Agency inputs)