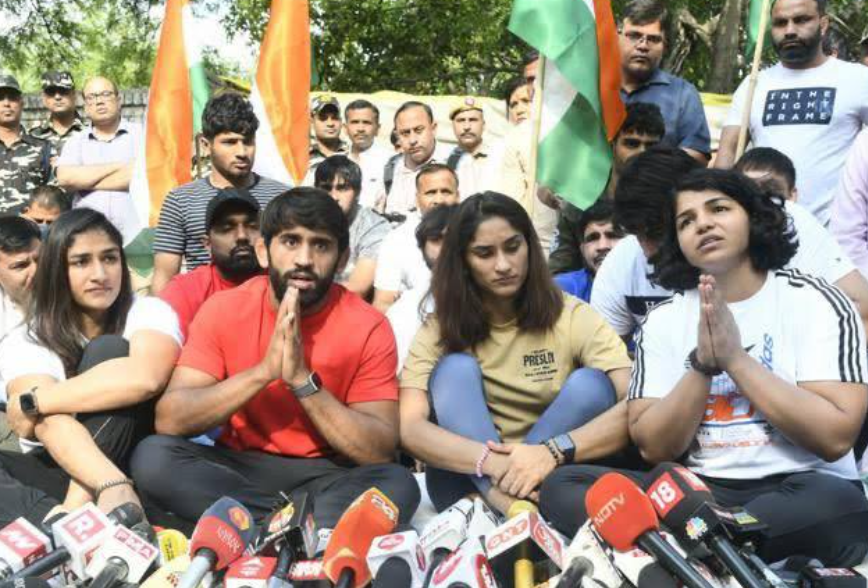 The wrestlers protesting at Delhi's Jantar Mantar demanding action against Wrestling Federation of India (WFI) chief Brij Bhusan Singh over alleged sexual abuse of athletes, have said the remarks by members of the Indian Olympic Association (IOA) including PT Usha, criticizing their agitation, was sheer disrespectful.
Also read: Protesting wrestlers tarnishing India's image: IOA chief PT Usha
IOA chief Usha on Thursday (April 27) hit out at the protesting wrestlers, saying their agitation amounted to "indiscipline" and was "tarnishing the image of the country".
Decorated wrestlers including Bajrang Punia and Vinesh Phogat, who have been leading the protests, have condemned Usha's remarks, while asserting that they will continue their agitation until justice is served.
Punia said it was disappointing that Usha was unable to empathize with female athletes despite being a woman.
"I feel sad after knowing PT Usha mam's comment because we consider her a good athlete. She didn't understand the pain of women despite being a woman. For the last three months we have been waiting for justice and now when they are calling it indiscipline I think they can't understand the pain of athletes despite being a woman. I feel sad," Punia told the media.
Phogat said the IOA chief's comment showed that she doesn't respect the feelings of wrestlers.
Also read: Protesting wrestlers to PM Modi: 'Please listen to our Mann Ki Baat'
"No one is brave enough to speak against Brij Bhusan. We spoke, came forward and we know that we have taken a big risk and it may last a lifetime. The administration, the Sports Ministry, the IOA and other federations – everyone is trying to protect one man. All crooks have come together to shield one man," Phogat said.
The wrestlers' reaction came hours after Usha and IOA joint secretary Kalyan Chaubey criticized the move by the wrestlers to take to the streets instead of approaching authorities.
"Our feeling is that for sexual harassment complaints, IOA has a committee and athletes' commission. Instead of going to the street (again), they should have come to us, but have not come at all," Usha said.
"They are sitting on a dharna and asking all political parties to join them, and that is what disappoints me," she added.
Also read: Brinda Karat meets wrestlers, says theirs is 'every woman's struggle for justice'
She made the statement while announcing a three-member ad hoc committee to run the WFI until a new body is elected.
The Supreme Court on Friday is slated to hear a petition by the wrestlers seeking an FIR against the wrestling body's chief.
Earlier this week, the apex court issued a notice to Delhi Police asking them why no FIR has been filed against Singh.
Meanwhile, reports say representatives from several khaps, women's organisations and Sanyukt Kisan Morcha will join the wrestlers in their protest at Jantar Mantar on Friday.