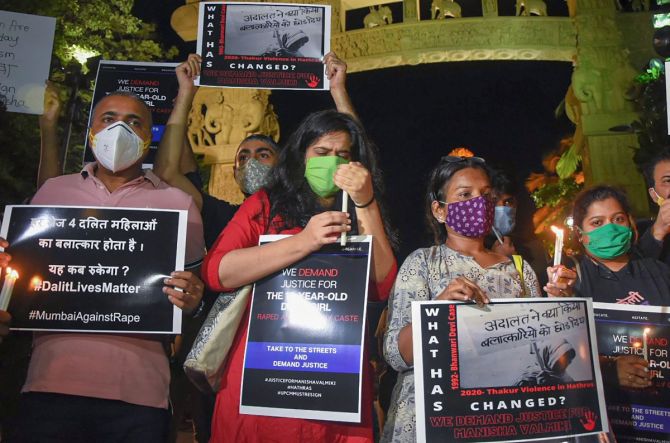 Can we now rally for Hathras victim the same way we fought for Sushant?
Once in a while, the slumbering anger against the continual acts of violence against our girls gets provoked. We all know that there was enough blatant injustice and horror meted out to this hapless Hathras Dalit girl and her family to evoke widespread outrage in the country.
Unfortunately, it takes a teenager to be battered and dragged around like a rag doll by four upper caste men to the extent of becoming paralysed to stir up the collective conscience of people in our country. But, that is our Gandhian country for you.
At last, (at least for a while) we shake off our complacency and squirm as the indescribable brutality against one of our girls gets played out in the media. Politicians also step in to milk the tragedy. Why should it always come down to this – for a 19-year-old to be gang-raped and strangulated and left naked on the fields with blood flowing from her mouth, neck and vagina? And, to cover up the fact that there were successive administrative lapses that failed the girl leading to her death, her body is plucked from her family and she's even denied a decent funeral.
Related news: Rahul, Priyanka will try yet again to meet Hathras family
Will our self-righteous social media army now come forward and take up cudgels on behalf of this Dalit girl? If only they can steer the national narrative to stay focused on this case like they have successfully done in the so-called Bollywood drug clean-up case. And, on that compelling mystery of who killed actor Sushant Singh Rajput or whether any of his girlfriends bought him drugs? Can they pour all that robust energy into evoking shame and instigate the government to conduct a CBI probe for this Dalit girl or for the proper utilization of the much-celebrated Nirbhaya Fund in the state of Uttar Pradesh?
But, we all sadly know the horror of the Hathras case will fade in a couple of days. This harsh reality was clearly driven home to the public when the Hathras district magistrate Praveen Kumar openly warned the girl's family not to give statements to the media because the press will scuttle off to their next news story tomorrow. And, the family will be left high and dry to contend on their own with Hathras district officials and the 'dabangg' police officers, who have clearly faulted in the manner in which they have handled this case. For example, why was the Dalit girl who had suffered multiple serious injuries not shifted to Safdarjung Hospital much earlier?
Women Dalit activists are already sceptical about which way the trial will go in the courts. In fact, a Dalit lawyer, Kiruba Muniswamy said in an interview with journalist Faye D'Souza, "The police are already issuing statements that there is no rape. We know the kind of questions that will come up in the courtroom and as a lawyer of 11 years, I've seen the impunity enjoyed by the perpetrators at all levels." Incidentally, the accused who had brutalized the Dalit girl was brazen enough not to flee the village after committing the crime – they were confident that the system, steeped in patriarchy and caste prejudices, will not touch them.
Related news: 5 cops including SP suspended for mismanagement in Hathras case
Reportedly, one of the motives emerging from this particular rape is that these upper caste men who had a festering feud with the girl's family committed this crime to teach them a lesson. This is the age-old story — if you want to hit someone in the gut – disrobe and rape their girl and besmirch the 'honour' of the family which resides in women's vaginas.
Deeply entrenched patriarchy is one of the primary reasons for rape, says Tara Kaushal in her book Why Men Rape, which tries to analyze why India has been ranked among the world's most unsafe countries for women. She also tries to unravel the multiple complexities in India that perpetuates sexual violence against women in our country.
Her book emphasizes the other collaborative factors that cause gender violence such as hypersexualized mainstream cinema, prejudiced media coverage of rape cases, the explosion of pornography and other historic and current factors. She concludes her book with asking to keep chipping away in small measures at this patriarchal pyramid and wait for it to crumble down to a "new dawn." But, how far do we have to travel on this bumpy, bloody road and lay to rest the shrouds of mutilated girls before there is hope?
Unfortunately, change on the ground seems to be unfolding at a snail's pace. Not much has changed in the wake of Nirbhaya-induced laws and schemes. Meting out death sentences or shooting down four men accused in the rape of a veterinarian in Hyderabad in a police encounter have not acted as a deterrent. Though, sexual violence cases are being reported more, there has been no impact on arrests and conviction rates, states an India Spend report in August 2019.
The rate of crime against women has risen by 7.3 per cent with the country recording an average of 87 rapes every day last year, according to the National Crime Records Bureau in India 2019 report. Uttar Pradesh continues to top the charts in crimes against women – with 59,853 cases — and also has the highest number of crimes against girl children under the POCSO Act with 7,444 cases.
Related news: Trinamool MPs travelling to Hathras stopped outside village
What is pertinent is that Uttar Pradesh, which recently reported a case of a 25-year-old boy who beat up and raped a 70-year-old woman, has no effective One Stop Centres or Sakhis, which was launched to address violence against women. Official figures released by the Ministry of Women and Child Development (incidentally, the minister Smriti Irani has been obstinately silent on the Hathras case) in February this year reveals that the Uttar Pradesh government was allotted nearly  ₹ 2,228.30 lakhs in 2018-19 but they have utilized only ₹  39.72 lakhs for the deployment and function of Sakhi centres so far.
These Sakhi centres could have swung into action in the Hathras case, for example, and helped to save her life. It is not just Uttar Pradesh, however. Most of the states have reportedly not utilized the Nirbhaya funds allotted to them. Time and again, the same reasons are dished out for failing to get justice for women who are victims of sexual violence: untrained, insensitive police, lack of forensic labs and overburdened and understaffed courts.
Why do we have to wait for another one of our girls to be sacrificed before there is concerted change? Let us hope, this time public momentum against the Hathras Dalit rape and murder case continues to sustain and we see some significant changes, even if they are minor, in the system. And, help our girls to step out of their homes without fear.
(The author is an independent journalist.)
(The Federal seeks to present views and opinions from all sides of the spectrum. The information, ideas or opinions in the articles are of the author and do not reflect the views of The Federal.)