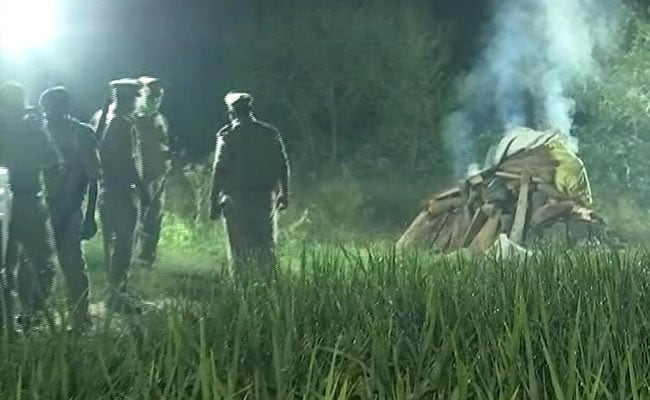 Five cops including Hathras Superintendent of Police were suspended for mismanagement on Friday (October 2) on the recommendations of the Special Investigation Team investigating the gang-rape and subsequent death of a 19-year-old Dalit girl.
The suspended policemen are Hathras SP Vikrant Veer, Sadabad circle officer Ram Shabd, station house officer Dinesh Kumar Verma, sub-inspector Jagveer Singh and head clerk Mahesh Pal. Shamli SP Vineet Jaiswal will take over as the Hathras SP.
The SIT in its preliminary report also recommended polygraph and narco tests for everyone involved in the case including the accused, the police and the victim's family.
The team formed by the state government on Wednesday, recorded statements of more than a hundred people in 48 hours.
Even as protests over the death and hurried cremation of the 19-year-old gang-rape victim by police intensified, police on Friday barricaded the village, to keep media and politicians from meeting the family of the victim.
Two roads to the house of the victim was blocked by police with six personnel stationed at one entrance and 15 others at the other pathway. Journalists who tried entering the entry points were stopped with warnings against "moving any further" and some were picked by police and dropped outside the village.
A four-member team of the Trinamool Congress – MPs Derek O'Brien, Kakoli Ghosh Dastidar, Pratima Mondal and former MP Mamata Thakur, — was stopped from entering the village. A viral video footage showed O'Brien being pushed to the ground by joint magistrate Pre Prakash Meena.
Justifying the ban on entry of media and politicians, police said the rules have been imposed in view of the ongoing investigation by the SIT.
"Media entry has been banned so the SIT investigation is not hampered. Counter-questioning is on, statements are being recorded. We will allow entry only after the probe is over," Times of India quoted Hathras additional SP Prakash Kumar as saying.
Kumar, however, said that politicians will not be allowed into the zone because of the law and order situation.
The 19-year-old woman was allegedly gang-raped by four men in the village in Hathras district of Uttar Pradesh on September 14. Having sustained severe injuries, she died a week later in a Delhi hospital. Her family alleged that police instead of handing over the body to them, forcibly cremated it at 2.30 pm on Wednesday.
Taking suo moto cognizance of the matter the Allahabad High Court on Friday summoned state government and police officials to clarify their stand on the issue.