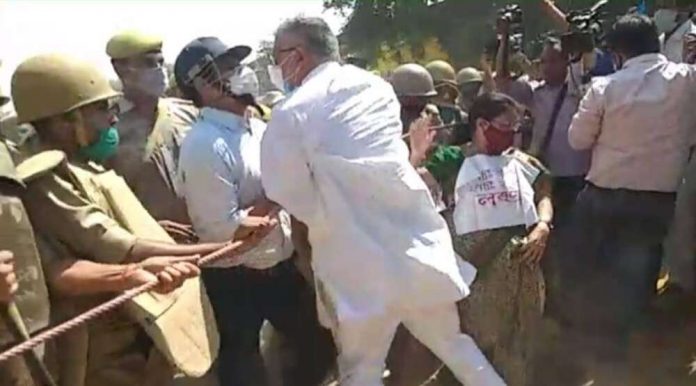 Trinamool Congress MP Derek O'Brien, along with several other MPs, were allegedly stopped on Friday (October 2) when they were on their way to Uttar Pradesh's Hathras where a 20-year-old was gang raped and tortured about two weeks ago. She died at a hospital in Delhi on Tuesday, triggering nationwide outrage.
"A delegation of Trinamool MPs traveled about 200 km from Delhi, and has been stopped by the UP Police from entering Hathras," a statement by the party said, adding they "were traveling separately to express solidarity with the grieving family and convey their condolences".
Trinamool MPs Derek O'Brien, Dr Kakoli Ghosh Dastidar, Pratima Mondal and ex-MP Mamata Thakur were stopped by the UP Police, the party alleged.
Visuals showed Trinamool Congress MPs trying to persuade local police to allow them to meet the victim's family.
"We are peacefully proceeding to Hathras to meet the family and pay our condolences. We are traveling individually and maintaining all protocols. We are not armed. Why are we stopped? What kind of jungle raj is this that elected MPs are prevented from meeting a grieving family. At this moment, we are just 1.5 km from the victim's home in Hathras," the party's statement quoted an MPs as saying.
Congress leader Rahul Gandhi was detained along with his sister Priyanka Gandhi Vadra on the way to Hathras on Thursday (Oct 1).
In a face-off with the UP Police, Rahul was pushed and he fell to the ground. Rahul and Priyanka were briefly detained for violating a ban on large gatherings amid the COVID-19 pandemic.
"I won't be afraid of anyone in the world. I won't bow to any sort of injustice. I will defeat lies with the power of truth, and will face all the struggles while fighting untruth… Heartiest greetings on Gandhi Jayanti," Rahul Gandhi tweeted in Hindi, invoking Mahatma Gandhi on his 151st birth anniversary.
'मैं दुनिया में किसी से नहीं डरूंगा… मैं किसी के अन्याय के समक्ष झुकूं नहीं, मैं असत्य को सत्य से जीतूं और असत्य का विरोध करते हुए मैं सभी कष्टों को सह सकूं।'

गाँधी जयंती की शुभकामनाएँ।#GandhiJayanti

— Rahul Gandhi (@RahulGandhi) October 2, 2020
The UP police on Thursday quoted the forensic report of the Hathras victim and said she was not raped, a claim which legal experts have condemned. Following outrage across the country, the Lucknow bench of the Allahabad High Court has summoned top government officials to appear before it on October 12.