Higher interest rates and inflation in the global financial markets have caused the world's 500 richest people to lose a combined wealth of $1.4 trillion this year, including $206 billon on Monday, revealed the Bloomberg Billionaires Index.
Among the global rich who have suffered losses are Chinese-Canadian businessman Changpeng Zhao, Tesla founder Elon Musk, American entrepreneur Jeff Bezos, Facebook founder Mark Zuckerberg and French business magnate Bernard Arnault.
The rank of the wealthy in Asia-Pacific – which has been logging a fast growth of Ultra High Net Worth individuals over the past decade – rose a meagre 4.2 per cent and was behind Europe and North America, the data said.
Also read: Alexandr Wang: Young entrepreneur, innovator and world's most influential billionaire 
Experts have ascribed the situation to a slump in global real estate business and China's crackdown on IT companies. Even though the gains in the US stock market raised the rate of cryptocurrency and property prices, an immediate reversal was seen in the form of rising inflation. Acting on it, the US Federal Reserve on Thursday cut its growth projections and aggressively raised interest rates by 75 basis points, the highest since 1994.
The fall in fortunes is in contrast to the profit the rich made last year in the midst of the raging COVID-19 pandemic.
Nearly two-thirds of HNIs are from just 4 nations
A report by Capgemini showed that the uber rich across the globe had immensely profited from the pandemic and the resultant monetary response. The US, Japan, China and Germany together account for 64 per cent of the world's high net worth wndividuals (HNIs), the report said.
According to the Capgemini data, India is home to 308 HNIs, against 7,460 in the US, 3,652 in Japan, 1,535 in China and 1,633 in Germany. None of India's neighbours other than China made it to the top list.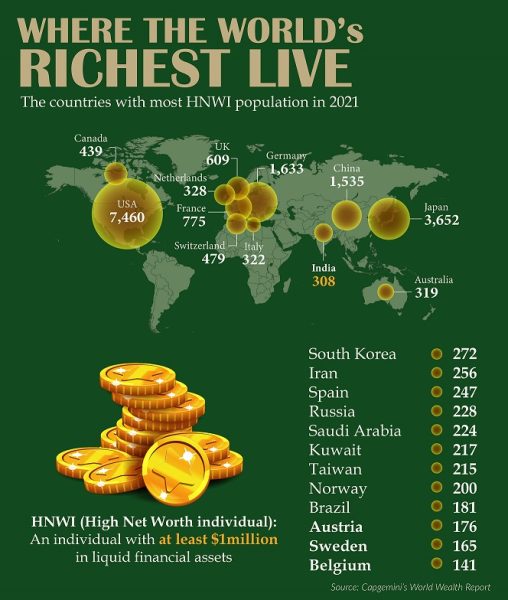 It said that the super-rich among the world's HNUIs reaped the most benefits. The rich with investable assets of over $30 million saw their wealth grow by 9.6 per cent this year, compared to 2020. The 'next door millionaires' or those with assets between $1 million and $5 million saw the least growth – at 7.8 per cent.
Also read: Satya Nadella only Indian origin person among top paid US CEOs
The report said that 70 per cent of global fortunes will be inherited by women across categories over the next two generations.
The year has also seen the emergence of young and rich individuals including in the cryptocurrency section, due to a minting of wealth from valuation of tech companies and startups. However, the new population is currently on wobbly grounds as raising new capital now would be costly at present.