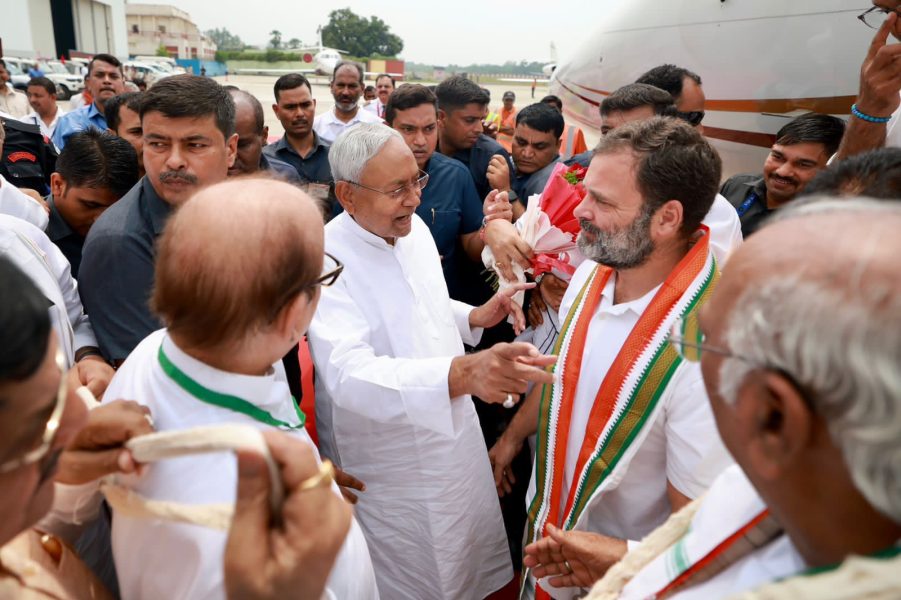 Live | 17 parties to fight together 2024 polls: Nitish at big Oppn meet in Patna
Top leaders of Opposition parties met in Patna today (June 23) to chalk out a roadmap for forming an anti-BJP front for the 2024 Lok Sabha polls. It was hosted by Bihar Chief Minister Nitish Kumar of JD(U) and his deputy Tejashwi Yadav of RJD at the former's Aney Marg residence.
After the meeting, Nitish Kumar said 17 parties decided to fight the 2024 Lok Sabha polls together and the event was productive and fruitful.
Altogether 14 parties opposed to the BJP took part in the meeting. In the current Lok Sabha the combined strength of these parties accounts for less than 200 of the 543 seats, though their leaders are hopeful of together turning the tables on the saffron party which enjoys a brute majority with a 300-plus tally.
The meeting is a starting point for the Opposition parties to unite to take on the Narendra Modi-led BJP.
Watch: PM in US, Opposition in Patna; will Modi's political rivals checkmate him?
Therefore, a basic outline and roadmap for Opposition unity are likely to be deliberated upon with the contentious issue of seat sharing and leadership questions to be avoided for now.
Congress president Mallikarjun Kharge, party leader Rahul Gandhi, West Bengal Chief Minister Mamata Banerjee, her Delhi counterpart Arvind Kejriwal, Punjab's Bhagwant Mann, Tamil Nadu's MK Stalin, Jharkhand's Hemant Soren, Samajwadi Party supremo Akhilesh Yadav, Maharashtra's former chief minister Uddhav Thackeray, and NCP president Sharad Pawar are among the leaders attending it.
Leaders of the PDP, CPI(M), CPI, CPI(ML) and the National Conference will also attend the first high-level opposition meeting.
Also read: Will fight BJP together, like a family: Mamata ahead of Opposition meet in Patna
A day before the crucial deliberations, fissures in the Opposition ranks came to the fore with Aam Aadmi Party (AAP) sources saying the party will walk out of the meeting if the Congress does not promise its support against the Centres ordinance on the control of administrative services in Delhi.
Also read: Mayawati targets political parties attending crucial Opposition meeting in Patna
Asked about the ordinance issue and AAP's ultimatum, Congress chief Kharge, before leaving for Patna on Friday morning, said his party would decide on it before the Monsoon Session of Parliament.
The Samajwadi Party is the only party from Uttar Pradesh attending the meeting with BSP supremo Mayawati not being invited and Rashtriya Lok Dal chief Jayant Chaudhary set to skip the huddle due to a family programme.
Also read: Decision on Delhi ordinance issue will be taken before Parliament session: Kharge
West Bengal Chief Minister Banerjee, who arrived in Patna on Thursday evening, met Rashtriya Janata Dal chief Lalu Yadav, former Bihar chief minister Rabri Devi and Bihar Deputy Chief Minister Tejashwi Yadav.