April has witnessed a rise in the number of COVID cases in the country. In January, India was reporting just 131 new cases with one or two deaths but by April, daily cases touched 10,000. On the upside, however, fatalities remain low with numbers ranging from 10 to 20.
Experts have ruled out that this is any cause of concern. This sudden surge is being attributed to Omicron and its sub-lineages, particularly XBB.1.16 sub-variant, whose prevalence climbed from 21.6 per cent in February to 35.8 per cent in March.
The Union Health Ministry, which has advised "caution" rather than panic, conducted mock drills in over 33,685 healthcare facilities, to ensure the country is prepared in terms of oxygen, beds and medicines.
Also read: India records 11,109 new COVID-19 cases, biggest single-day spike in 236 days
Leading scientists in the country have rejected the possibility of any cause for alarm or anxiety emerging from this 'uptick' in cases. It's older people who have to be cautious, but for others below 60 years or sans comorbidities, there is no rush to join the queue for booster jabs, they say.
COVID deaths not even a 'blip'
In an exclusive interview to The Federal, Dr Gagandeep Kang, professor of microbiology at Christian Medical College, Vellore, staunchly refuses to call this latest spike a "wave".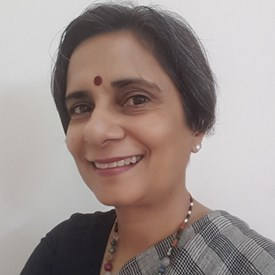 In her view, the focus should not be on the number of cases. "We should be tracking hospitalisation and deaths due to COVID. On an average, we have one or two deaths a day, maybe 11 deaths, this is not even a blip compared to deaths due to diabetes, heart attack or tuberculosis in the country."
"Four thousand people succumb to TB per day. We don't take that seriously but for 10 deaths we are crying," remarks Kang, who was a member of the WHO working group for COVID until recently and respected for her extensive work with the rotavirus vaccine and tuberculosis research.
To emphasise that the uptick is not significant, she argues that the virus had hit India in February 2021 and by April funeral pyres were burning all over the country. "This year the uptick started in January and numbers are still low. We are not at 4 lakh cases a day neither will we have bodies floating in the Ganges as people remember those horrible images. This is a different world; we all have been vaccinated. Unless we get a deadly variant…but there is no indication of that happening so far," she argues.
Soumya Swaminathan, former chief scientist at the WHO, echoes Kang's view. In an interview with Tamil channel Puthiya Thalaimurai, she emphasises that this current spurt in cases due to the new variant from the Omicron family, the XBB.1.16, is not a wave.
"Compared to three years ago, we have infrastructure, testing facilities and though it is more infectious, we are not seeing people being severely compromised and hospitalised," she observes.
COVID can never become endemic
So, what does this spike in cases in the first quarter of 2023 mean? Are these periodic highs and lows part of the endemic stage?
WHO has not officially declared that the pandemic is over. Swaminathan says, "WHO says the pandemic is still on and views it as a public emergency. I believe the coronavirus will continue to be with us, it's not going anywhere. We will have periodic surges when the variant is undergoing a change. The situation has not become stable as yet but we can continue to lead a normal life." 
She adds that we are in a much better position after learning the lessons of containing the virus in 2020.
Watch: AIIMS-Delhi issues advisory after staffers test positive for COVID-19
This view seems in sync with what an Australian scientist said last year in February. According to a news report, the scientist from the University of New South Wales said COVID will never become an endemic illness and will always behave like an epidemic virus. And that COVID will continue to "display the waxing and waning pattern of epidemic diseases."
More coronaviruses in future
Kang, meanwhile, believes we should not fret over whether we have entered the endemic stage or not. "These are just labels, we had a pandemic. Now, it is more about this virus not going anywhere and becoming a part of our lives. It will keep coming back since it is well established in the human population now," asserts Kang.
She explains that since we now know the coronavirus is well adapted to spread across multiple mammals, there are chances of more coronaviruses in the future.
In her view, there has already been outbreaks of SARS CoV 1 (2002/3), MERS-CoV (2012) and SARS-CoV 2 in the last 20 years. "So, why should we think it won't happen again? This is the part that is unpredictable, when it will happen next and from which animal species we don't know, that's why preparedness continues to be important," she says.
The not-so-deadly SARS-CoV 2
However, as far as this particular SARS-CoV 2 is concerned, Kang feels that we have a "handle on it, we are not dealing badly with it".
"I keep emphasising we got lucky, this is a relatively mild virus, even at the worst, it was killing less than 1 in 10,000 people. It is not a killer virus on the scale that coronavirus can kill," she points out and reels off statistics to prove her point.
The MERS coronavirus killed 1 in 3 people it had infected, the original SARS-CoV 1 virus killed 1 in 10 people, the NIPA virus killed up to 7 of 10 people it infected. "This one is nowhere on that scale. The reason we had so many deaths because of SARS-CoV 2 is because its infection rate is high, while the other viruses are more dangerous but infected fewer people," she says.
In her view, the Omicron variant, which is causing the spurt in cases, is milder and Delta has been the worst in terms of severity in India and around the world.
Also read: Follow COVID norms in court: SC amid rising infections in Delhi
"India had it bad, the Delta came from India and we were unprepared. If it came from somewhere else and got amplified here, we don't know. But the big spike in February 2021 happened in India even before the rest of the world experienced it," she said.
Testing and booster doses
On whether COVID-19 testing and booster doses are necessary, experts feel testing should not be done just for coronavirus but for other viruses causing respiratory illnesses.
They advocate testing and surveillance for the influenza virus, H1N1, adenovirus, etc. "Instead of saying we will only test for only one virus, we should do syndromic testing i.e. when somebody has symptoms of a respiratory nature you should test them for all viruses," says Kang.
Kang is against testing for mild symptoms. "When someone has a severe respiratory infection and they have been immuno-compromised and hospitalised, that's when I need to know what is causing the infection. If it is COVID, I may think of giving Paxlovid to this person. But in the absence of severe disease and comorbidities, it makes no sense to do testing," she says.
Kang does not think it is necessary to take booster shots. The ones who are at risk from the Omicron variant are the cohort in the 60-70 years age group and above, pregnant women, and people with comorbidities like diabetes, heart disease, blood pressure, etc. It is this group that needs to take the booster dose, she advises.
Kang says there is enough genetic sequencing of SARS-CoV 2 being carried out. "We have plenty of information now," she affirms, and wants the results to be shared. But she is upset that we are wasting so much resources on one virus.
Also read: COVID spike: Serum Institute resumes vaccine production
"Why are we not treating TB the same way we are treating coronavirus? Why are we not testing and tracking the 4,000 deaths in TB. Influenza too kills. Can we please get a handle on what matters to our country, why is there such a lot of hype around a relative coronavirus?" asks Kang.
Clinical studies
Kang strongly feels doctors need to be encouraged to do more clinical studies in India. According to her, the impact of long COVID has come from studies done abroad. "We have been asking the government for cohorts for studies on long COVID. There is very little investigation done on people who have had COVID. Unfortunately, India does not do clinical research but if we really want to emphasise on COVID, we should be encouraging our doctors to study COVID in much greater detail," she suggests.
Swaminathan too feels the big need to study the impact of COVID since studies reveal that it can cause heart attack, diabetes, neurological damage like dementia etc.