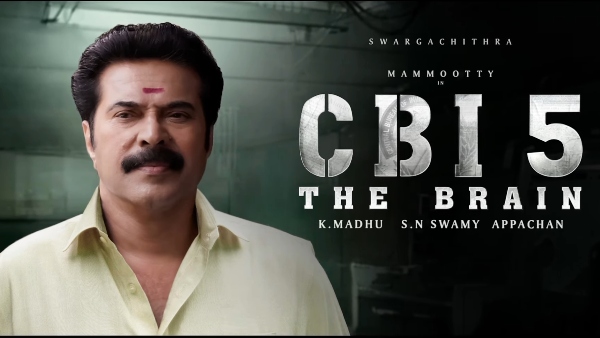 CBI 5: The Brain review: Iyer returns in style, but script goes kaput
Are pacemakers vulnerable to hacking? Just as there are myriad hacking theories surrounding the Electronic Voting Machines (EVMs) used in Indian elections, the vulnerability of pacemakers to hacking within close ranges has worked up a lot of international scientific experts lately.
S N Swamy's latest instalment in the CBI series, CBI 5: The Brain is a result of a spark that got ignited in Swamy's brain-reading about it. But beyond the interesting premise, what unfolds as the fifth film in the CBI franchise is a dampener.
Also Read: Why Malayalam filmmaker Sathyan Anthikad does not get rattled by RRR or KGF
S N Swamy unveiled the CBI franchise in 1988 with Oru CBI Diary Kuruppu based on the Polakkulam murder case when Mammootty was at his prime, soon followed by the equally engaging August 1 (loosely based on The Day of The Jackal) with Mammootty as a cop close on the heels of an assassin. After a not-so-successful CBI sequel in Jagratha (1989), Swamy continued to team up with Mammootty in successful investigative thrillers such as Adikkuruppu (1989), Adayalam (1991), Oru Abhibhashakante Case Diary (1995) and The Truth (1998) with the latter playing a lawyer or cop with different directors helming these films.
It wasn't until 2004 with Mammootty going through a prolonged slump that the CBI series was resurrected with Sethurama Iyer CBI as its third installment, to massive success, giving Mammootty a second wind after Chronic Bachelor (2003) resuscitated his career. The fourth film in the series quickly followed in 2005 with Nerariyan CBI but it couldn't repeat the success primarily because Swamy reinvented some of his tried-and-tested methods which had captured the imagination of people.
Also Read: KGF-2 review: Revenge of big screen with blood, bullets and grandeur
17 years later, in CBI 5: The Brain, Swamy has come up with a film to try and cater to Kerala's youthful audience and changing times, but in the process, he has completely abandoned the old formula. Now, the formula may not always guarantee success as evident in the failure of Jagratha in 1989 but ditching it altogether kills the legend, as it happened with August 15 (2011). Swamy has tried to make things complex, trying to outwit the audience, but dumbs down the plot with endless explanations and theories floated on screen.
The problem with investigative thrillers getting ahead of the audience is that it ends up as a one-time watch, dependent on endless twists and turns to keep the viewers hooked for the duration of the film. Such films have zero repeat value as there is nothing to take home from it. And in that sense, CBI 5: The Brain is a much inferior product to the preceding films, including the middling fourth edition.
Of course, Mammootty continues to defy age and looks the part yet again, his hair neatly combed back and hands crossed behind his back with those old cotton shirts chucked in favour of crisp linen fabric. And there is Jagathy Sreekumar making a return as Vikram in a cameo, with gestures and expressions to boot, adding to the nostalgia. Mukesh too reprises the role of Chacko briefly but it is Ranji Panickar who plays almost an influential John Watson-esque compatriot to Mammootty's Iyer and new faces like Ramesh Pisharody and Ansiba Hassan playing new members of the CBI team in the film. Most of the theorising to unfold the mystery is verbalised here between Mammootty's Iyer and Panickar's Balagopal but it somehow doesn't click.
The talented Saikumar is at his very best channelising Sukumaran's mannerisms and dialogue delivery as the corrupt Dy SP Satyadas, but such exceptional performances are wasted in a film which isn't worthy enough to be a part of the franchise. The other day S N Swamy said how he resisted making more films in the CBI franchise even as he continued to write investigative thrillers in between the long intervals. Perhaps he should have continued it with this film as well, as the story didn't really demand the genius of a Sethurama Iyer. There is also a suggestion here that CBI is being relied upon since the Kerala Police is full of corrupt officials, sort of tarnishing everyone with the same brush, which is a bit extreme.
Also Read: Yash on KGF-2: 'No pressure, it's pleasure. Rocky more vocal, explosive now'
Soubin Shahir, as an eccentric and villainous character, established at the interval stage itself, is more bearable here than in some of his recent outings. There are some logic-defying sequences and even the climax is underwhelming, leaving more questions than answers in the end. Perhaps S N Swamy ought to go back to his old template and reflect what actually made the character of Sethurama Iyer legendary and likeable in equal measure – if he were to sit down to write another CBI film. Jakes Bejoy's remix of the iconic BGM of Shyam is good enough, but it doesn't have much use in CBI 5.
The film should still end up as a hit due to the 'superstar syndrome', as fans keep lapping up mediocre films of superstars in any case. But people who had high expectations from the film would be bitterly disappointed as it was a damp squib at the end. People can go on about Mammootty rolling back the years and so on as there is nothing much to talk about otherwise.