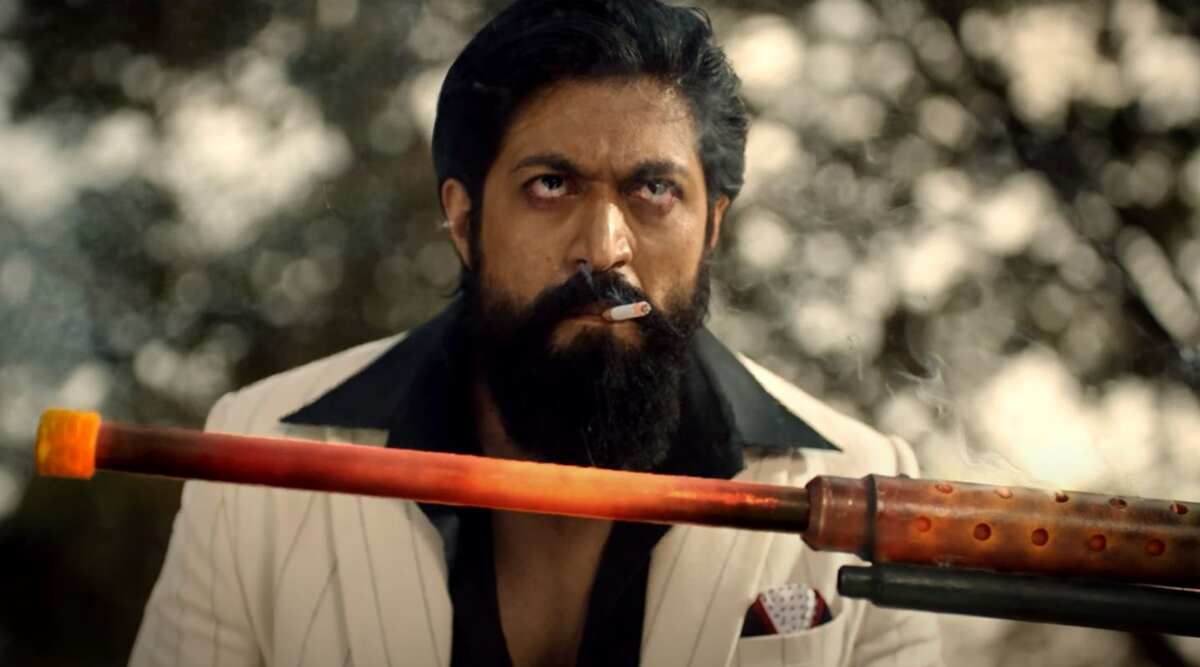 KGF-2 review: Revenge of big screen with blood, bullets and grandeur
"Violence…Violence…Violence. I don't like it. I avoid. But, violence likes me. I can't avoid."
Thus asserts Raja Krishnappa Bairya aka Rocky Bhai (character of the protagonist essayed by 'Rocking Star' Yash) whose name strikes fear in the heart of his foes. These exact words also set up the narrative of the high-octane thriller KGF Chapter 2, written and directed by Prashant Neel.
In this flick touted as world class in substance and execution, Rocky Bhai attempts to prove that "powerful people come from powerful places" is all wrong. Instead, he corrects that; "powerful people make places" (a dialogue from Prakash Raj, who narrates the story as Vijayendra Ingalagi).  Rocky's aim is to rule over an ocean and to know the depth, and he is prepared to dive deep and find it out.
Yes, brutal violence dominates in swift blood-soaked KGF Chapter-2, despite director Prashanth Neel, clarifying that he doesn't follow the path of violence. Yash himself wrote dialogues that suited his character and honed mannerisms such as lighting a cigarette from the barrel of a machine gun, which sprays thousands of bullets on his enemies to present his larger-than-life image.
There is a specific need to view the kind of films (such as Bahubali, RRR, Pushpa, KGF-Chapter 1) from the perspective of big-screen experience when OTT platforms are making deep inroads,  pushing people to stay indoors instead of theatres.
Any film with an eye on 'big-screen experience' makes a desperate attempt to appease the audience, who craves thrill, frills and action with a tinge of sentimentality. That way, KGF-2 is perfectly designed for the big-screen experience.
Have you read our Beast review? Here it's: Vijay's one-man show
Time and again the makers stressed that their responsibility is to match people's expectations (the teaser and trailer of the film raised expectations across the nation), as they pretty well know that the future of the KGF franchise completely depends on their patronage. If the audience watches KGF from this perspective, then it can be 'certified' that this commercial potboiler is a spectacular hit and in all likelihood, it will turn out to be among the top five highest grossers of this year.
Set in the early eighties, KGF is a period drama that narrates the century-old history of the oppressed fighting against the oppressor.
While Garuda, the oppressor (antagonist) in the prequel, gets killed by Rocky, the sequel narrates how Rocky turns out to be an uplifter of the oppressed labourers of KGF. He builds an indestructible empire with his native thinking. It is here Rocky faces his biggest foe, Adheera. In the melee, the protagonist (and the audience) learn more about his past.
There are political undertones as well. The (then) Indian government sees him as a 'potential' threat to law and order. There is a conspiracy to overthrow the elected government as well. Enemies bay for his blood and conspire for his downfall. The road turns red with blood flowing freely while Rocky continues his quest for unchallenged supremacy.
It is hard to be slightly alarmed by the romanticisation of such violence all around. As the narration moves on, the body count increases as bullets hit targets and machetes cut human beings into pieces. (Neel uses all modern warfare in the film).
Rocky makes a mockery of democracy by directly entering the Prime Minister's chamber and threatening her and even entering Parliament session, eliminating an elected representative with the PM deploying the Army to tame Rocky Bhai makes the audience wonder whether the film is set in a democratic society or not.
Of course, audiences and critics are expected to ignore all these 'microscopic' problems. At one point of narration, Prakash Raj says: "Don't dramatize it so much. After all, it's fiction right?. Had Neel understood this at least literally, he would not have pampered the plot to this extent.
Audiences, once seated and started watching, will immerse themselves in the world of KGF of the 70s as visuals, and music will make them travel with the characters. Neel proves his mastery in transforming 'the ordinary into extraordinary". Thanks to his acute attention to the minutest details of sound and visuals, Neel proves himself as a perfect craftsman, Neel's effort in honing the film, is visible in each and every frame and narration. He is also careful not to lose emotional resonance in the enthusiasm for creating a spectacle.
The craftsmanship of art director Shivakumar is the highlight. In terms of sheer scale, his sets are ten times bigger than the prequel. His creation of the KGF mining ambience with the support of Cyanide Hill of goldfields is exemplary. There is a certain finesse to the edgy, moody cinematography by Bhuvan Gowda. Through his perfect frames, he makes the audience get lost in the world of goldfields of the 70s. Ravi Basrur's soundtrack will find an all-pervasive effect on the audience and add to the film's totality. Though the editing of 19-year old Ujwal Kulkarni is sharp, his pattern of blackouts does obstruct the flow of narration.
Neel's strength lies in etching the characters. He leaves no stone unturned to sketch Yash as a symbol of strength and power. The audience gets entranced by Yash's screen presence,  plus his 'speaking eyes' and stoic presence. Sanjay Dutt, playing Adheera, has taken his role to another level. Though he is menacing, he is also humane at times. Despite recovering from illness, he did the climax in the midst of mud, dust and fire. KGF-2 proves Sanjay Dutt as a true fighter.
Ramika Sen is another character (essayed by Raveena Tandon) that shines through. Her commandeering outlook is the hallmark of the character.
Such is the frenzy that KGF-3 is on its way. Surely.
Also Read our exclusive interview with Yash: Yash on KGF-2: 'No pressure, it's pleasure. Rocky more vocal, explosive now'