Why Malayalam filmmaker Sathyan Anthikad does not get rattled by RRR or KGF
The story is what matters; if you are clear about what you want to make, nothing is a challenge, says the 'Makal' maker
Driving through the clogged NH-66 towards Thrissur, you can see vast hoardings of Makal, ace Malayalam director Sathyan Anthikad's latest film. Since 1982, Anthikad made films uninterrupted virtually every year (barring 1998) until the pandemic brought the prolific run to a halt.
Some might say he is an "old bus plying the same route", but few can dispute his stupendous success rate over the decades — his last film, Njan Prakasan, starring Fahadh Faasil, being his biggest box-office churner.  
While most of his peers have disappeared or are struggling to stay afloat, Anthikad has managed to turn the page, or the screen, every time, competing even with new-age filmmakers, or working with young stars like Fahadh, Dulquer Salmaan or Nivin Pauly.  Veteran actor Madhu recently said Sathyan Anthikad is the only director (in Malayalam) who has managed to adapt to the changing times and still be successful.
So what does he do to stay relevant and updated? "I don't want to say I am chasing or competing with the new crop, but I certainly want to walk or stand alongside them, most exploding with talent. For me, it's also an opportunity to improvise my skills. I keep talking to them. And age, I felt, is not a barrier at all," says the director during a conversation at his Anthikad home over lunch.
The simple spread consists of home-grown ingredients, from rice to vegetables to spices. "You know, we have never bought rice from traders/shops. Since childhood, we have had it from our paddy fields," says Anthikad, with a tinge of pride and contentment.
That pride comes from hard choices and his love for the place where he feels he belongs. Some call it roots, some moorings  — the very grain of thought that runs through his films. 
From the conversation:
The last time you made a film (Njan Prakasan), the world was a different place. Also, you never had a three-year gap in your career. What was playing in your mind when you started making your new flick, Makal?
If you take away the two years of the pandemic, then there is only a one-year gap. I was busy working on a Mammootty flick, but no way could we have shot the film with COVID regulations. That's when we dropped the idea, moving on to a relatively smaller film with Jayaram and Meera Jasmine, slated for release next week. I am not worried about "the world being a different place" because changes happen in every cycle. We need to move on and I certainly have.
The dynamics of cinema itself have changed with mass, loud, high-octane films like RRR or even KGF. Are you (who mostly deals with family audience films) terrified of such films?
(Laughs) Absolutely not. In fact, I enjoy those kinds of films and these mass films have always been there in one form or the other. Incidentally, this is my 40th year in the industry and I know exactly what people expect from me as a filmmaker. As a creator, if you are clear about what you want to make, then nothing is a challenge. The problem is when you try to ape others or get carried away by the hype and then make similar films.  If you do that, then you are neither there nor here. I am very clear about my subject, my treatment and, finally, my audience. If the proof of the pudding is in the eating, then people have overwhelmingly accepted my films every decade. To answer your query, never get terrified by what others do. Let me also say I have seen RRR and KGF in theatres and I enjoyed the big-screen experience.
Forty years is a long time. How do you look back?
Challenges pop up every decade, and the only way out is to always play to your strengths. There is a certain trust people have bestowed upon me and the challenge, if any, is to repose that faith back. Many people still tell me they would blindly walk into theatres after spotting my name on the poster. They say if it's an Anthikkad film, it's a safe bet. Having survived in the industry for 40 years, that is one compliment I cherish forever. Just to put it on record, of the 57 films I have made, at least 50 have made money; many are blockbusters. Just two of them failed to make the cut, and five were average grossers.
Which could be your biggest hit?
Given different eras and box-office dynamics/rates, it's tough to roll out the exact figures. If you talk purely about trade, it could be the 2018 film Njan Prakashan, starring Fahadh Faasil. Overall, it has to be either Nadodikkattu or Thalayanamanthram. Perhaps, the most-talked-about film is Sandesham.
Sandesham has achieved cult status over the years, with some slamming the film for "being apolitical".
When we (along with scriptwriter Sreenivasan) made the film, all we wanted was to make a good film that could work at the box office. Yes, art is of course open to interpretations, but in this case I believe it is a political film that drives home a vital point: politics is not for everyone. Only qualified people should be part of the system, and people who can't even manage their own lives or families cannot run the state/nation. So we stand by the film, and it is unfair to call it apolitical by any stretch of imagination.
We live in an era where everything is seen through different prisms, be it political, social or even religious. Even for a 'family director' like you, how tough is it to balance it when you write the script/dialogues?
In any case, I don't deal with complex issues that could hurt someone. Even before the polarised age, so to say, I was careful about every aspect of the film. Yes, of late, given the social media boom, I am being extra careful not to hurt anyone's sentiments. If you write sincerely, I guess such questions won't arise.
Another constant criticism against you is that you deal with almost the same subjects every time you make a film. They say you are like "an old bus that traverses the same route".
(Laughs) I am not sure if anyone can survive this long in the industry if you deal with the same old subjects. If you look at my films, most dealt with contemporary issues (for example, unemployment in the 1990s), which could easily find resonance with the larger society quite instantly. Thalayanamanthram, for instance, I could have placed even in a city, but I chose not to, just because I am more comfortable in a village backdrop and am familiar with the characters. It's not all about where the story takes place; it's about what we tell and how we tell it. This particular dig 'old-bus-same-route' does not hurt me at all because I believe in safely taking passengers through the familiar route, rather than a risky drive through unchartered territories.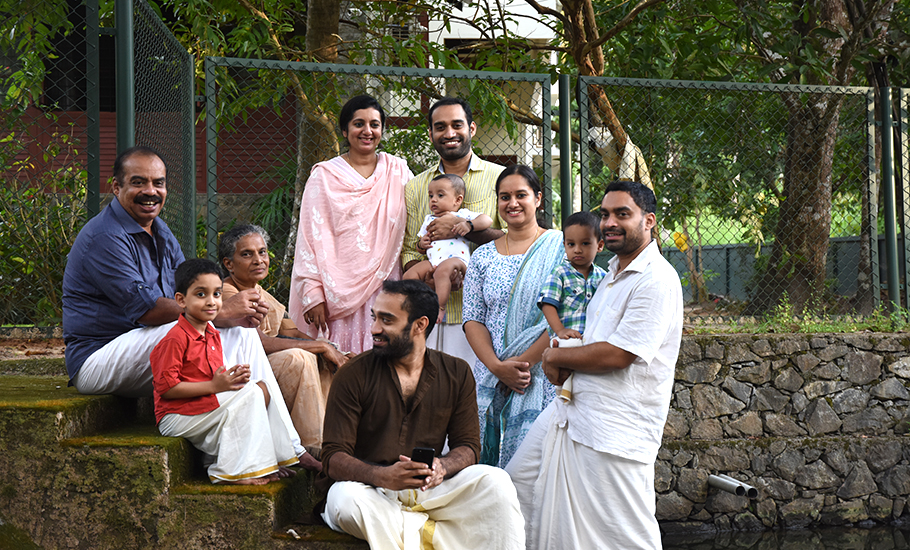 You did try out films in other genres occasionally and the overall response was good. Pingami, for example, has achieved cult status over the years…
Even now, I get random calls from people after watching the film on TV and other platforms. Pingami has definitely grown over the years. Films like Kalikkalam and Artham too have done very well at the box office, but if you see all these films, there is a parallel family thread that runs through. As I said, it's all about the story you are trying to tell.
All of your peers moved to big/small cities, but you chose to settle in your village (Anthikkad) in Kerala's Thrissur district.  Big cities (rather, opportunities) never tempted you?
Never ever. In fact, many friends (including Sreenivasan) kept telling me to shift to Madras (now Chennai) for better opportunities, and better life. I did not even want to move to Kochi, just 75 km away. The "best life" could happen only at Anthikkad, where I was born, where my parents/brothers are/were or where my roots are. Another grouse was that my children would suffer because of the lack of English-medium schools, which too never worried me. In fact, I wanted them [three sons, of who two are filmmakers] to study (in) and master their mother tongue. Now, if they are writing their own scripts in their own language, then it's only because they studied in the local Malayalam-medium school (where I also studied).  Also, they could read all the works of our masters, be it M T Vasudevan Nair or Basheer. For higher education, they moved elsewhere and finally joined Wipro. Later, they quit the firm and decided to make films, again their own choice.    
All this aside, my wife and I are comfortable with village life, with our own farming and food habits. It's a way of life in which we are at complete peace. I am only a filmmaker when I make films. Agriculture is one thing which I really enjoy. Cities stifle me, and I rush back home every time I visit them for shoots and other purposes.  
Two of your sons have turned film-makers though you have not exactly wanted them to be there. [Anoop Sathyan has made Varane Avashyamudu, and Akhil is now shooting a film with Fahadh]. Do you visit their sets, or do they seek your inputs?
I usually don't visit their sets and if they ask for certain inputs, I would chip in. When Anoop showed me the (first-half) script of Varane Avashyamudu, I was not convinced. He never showed me the script again (laughs out) and when I finally watched it on the big screen, I was moved by it. Both of them have assisted me in my films for long; even in Makal, Anoop is the Associate Director.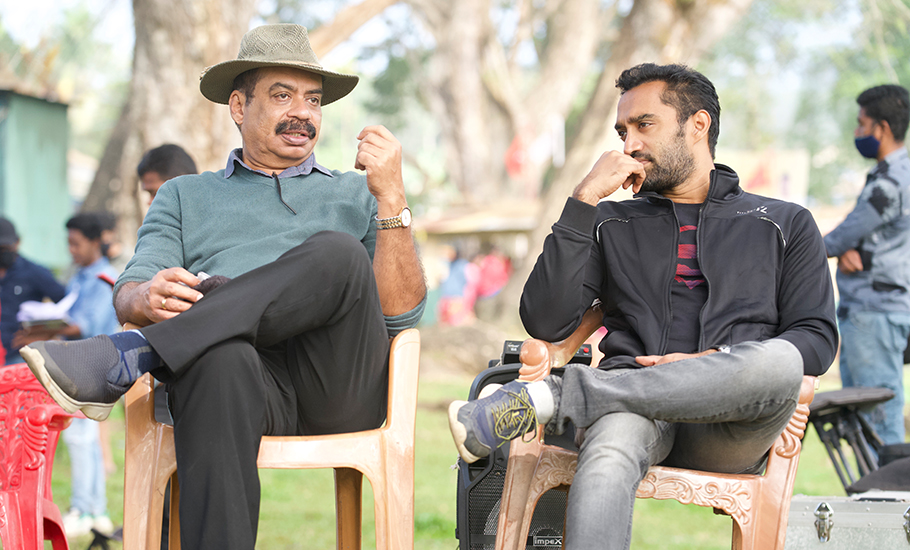 Your new flick Makal could easily have been an OTT release, but you chose not to.  You seem to be averse to taking the OTT route though your kind of films suits the platform best.
Cinema is primarily designed for theatres and it should be viewed on the big screen. On OTT platforms, the audience may get distracted and have multiple interruptions which I believe would spoil the whole cinematic experience. If drama is for the stage, then cinema is for the theatre. If you travel across Kerala, you can see how big investments are being made for theatres and we cannot forget that and make films for just OTT.  However, it does precisely what TV/satellite rights did to the industry – another revenue window. That way, I welcome the trend wholeheartedly.
But you won't make an OTT film.
As of now, not at all. And in future too, I will try my best not to make one. I am against something that disrupts the overall ecosystem, and I believe it's my responsibility.
Finally, many are keen to know if you will revive the Nadodikattu series, along with Mohanlal and Sreenivasan.
We did have serious discussions about bringing alive the iconic Dasan-Vijayan characters again, but I was not convinced. We can easily take it forward and make business (a big opening is guaranteed), but I don't want to dilute the characters. Let it remain evergreen as it's. If it does not match up to the previous films, then it's a lifelong blemish. I am also worried that kind of humour may not work now. It's better to stay away from what I perceive as forced projects. A Mohanlal-Sreenivasan project is in the works, which might happen sooner or later. A top young star from the current crop will also be part of the project.
Also Read: Mangaluru Days: Why Kannada director Raj B Shetty is the talk of the country
Also Read: Exclusive: 'Nayattu explores behaviour, not identity'