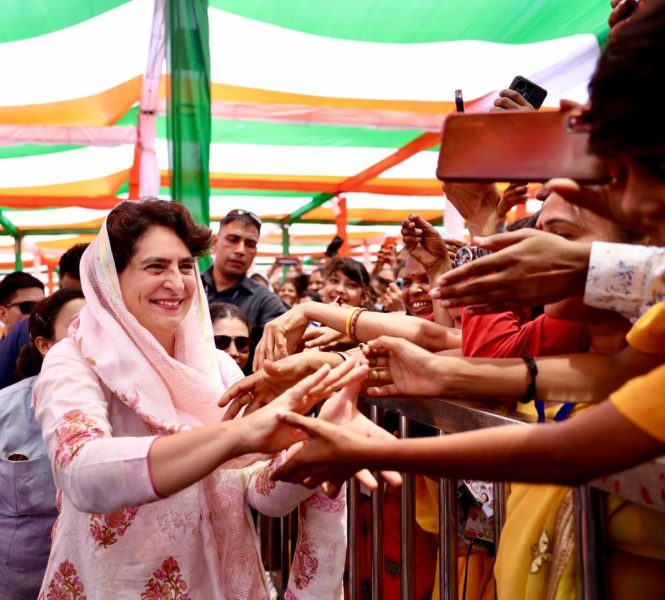 With Rahul's disqualification as MP, is the stage set for Priyanka's electoral jump in 2024?
The Congress launched its campaign for the Madhya Pradesh assembly polls with a massive rally in the state's 'sanskar dhani' (cultural capital) Jabalpur on Monday (June 12). In a break from tradition, doing the honours was not Congress president Mallikarjun Kharge nor even his predecessors Sonia Gandhi or Rahul Gandhi, but party general secretary Priyanka Gandhi.
With the entire top brass of the party's MP unit, including former chief ministers Kamal Nath and Digvijaya Singh, in attendance, Priyanka announced what have now become the trademark of all Congress poll campaigns – five guarantees to the people of the election-bound state if the Grand Old Party, which had its 2018 mandate stolen by the BJP through defections within just 15 months, is voted back to power.
These guarantees, similar to the ones the Congress gave in Karnataka and Himachal Pradesh, include Rs 1,500 monthly payment for women, subsidised LPG cylinders for Rs 500, 100 units of free electricity or a 50 percent rebate on electricity bills for 200 units, replacing the new pension scheme with the old pension scheme, and loan waivers for farmers.
Also read: Priyanka sounds poll bugle in MP, attacks BJP govt with '21 jobs, 225 scams' jibe
What has, however, aroused much curiosity in political circles isn't how the party would deliver these guarantees if voted to power in a state already crippled by an over 3.5 lakh crore debt burden, but the increasingly central role that Priyanka is taking in election campaigns ahead of the 2024 Lok Sabha battle.
Spearheading Congress campaign
Congress sources told The Federal that though Kharge and Rahul will campaign extensively in the assembly polls scheduled for November, Priyanka could be the showrunner of the party's campaign not just in MP but also in Telangana and Chhattisgarh, which will also go to polls simultaneously. In Rajasthan, another state where elections are due in November, the Congress leadership will take a call on the involvement of Rahul and Priyanka with the election campaign once the ongoing turf war between chief minister Ashok Gehlot and Tonk MLA Sachin Pilot is resolved, at least substantially, if not fully.
The octogenarian Kharge, who had surprised many of his doubters within and outside the Congress with his marathon campaign in his home state Karnataka last month, is expected to dial down his canvassing spree a notch. However, this, party insiders say, is on account of the fact that as Congress president he cannot be tied down to just one state when there are three others that go to polls simultaneously.
Besides, barring Telangana, the other three states fall in the Hindi heartland where Kharge's oratorical skills may face limitations of the heavy Deccani influence on his spoken Hindi. He is, however, expected to canvass extensively in several of the 97 constituencies reserved for Scheduled Caste candidates across these four states.
A source close to Nath told The Federal that Priyanka had readily agreed to the former MP CM's request for anchoring the Congress's MP campaign. Priyanka has also received similar requests from Chhattisgarh CM Bhupesh Baghel and Telangana Congress chief Revanth Reddy.
While Baghel has, over the past few years, emerged as a confidant of Priyanka and she is likely to devote a chunk of dates for the Chhattisgarh campaign, party sources say that MP and Telangana are likely to take up most of her time.
Also read: Karnataka verdict is win for politics that unites India: Priyanka Gandhi
Surveys enthuse MP Congress
In MP, several internal surveys conducted by the Congress' strategists and external survey organisations hired by Nath have unanimously suggested that the party is likely to sweep the election. Rahul is already on record claiming that the Congress "will win 150 seats" in the 230-member MP Vidhan Sabha.
In Telangana, though the Congress appeared doomed till a few months ago amid a growing perception that the BJP was emerging as the principal challenger to the ruling Bharat Rashtra Samithi (BRS), more recent assessments following the Congress' stunning Karnataka victory portend better tidings for the GOP. A section of party leaders believe that Priyanka could give an incremental appeal to the Congress in Telangana.
A senior Congress leader who worked closely with Priyanka during her earlier avatar as show runner for the party's successful Himachal offensive against the BJP as well as during her ill-fated UP campaign that yielded the party its worst-ever result told The Federal that the younger Gandhi sibling is slowly but surely taking centre stage in the party's election campaigns.
"If you chart her involvement over the past few years, you will see it is gradually increasing. She is no longer limiting herself to Uttar Pradesh, where I think she began with the handicap of a non-existent organisation. She had campaigned extensively in Assam too but we did not win due to various factors. The Himachal campaign was almost entirely her brainchild right from the drawing board stage and in Karnataka, though the campaign began with Rahul's Bharat Jodo Yatra itself, she got fully involved, especially towards the last two weeks before polling. You will see much more of her in the assembly campaigns due later this year," the leader said.
Also read: On last 2 poll campaign days, Priyanka impresses with mega Bengaluru rallies
Rahul's legal tangle
With Rahul's electoral future still under a cloud due to the eight-year ban on him from contesting polls in light of the two-year sentence he has been handed in a criminal defamation case and Kharge in the process of revamping the Congress organisation, is the party gearing up for a much larger role for Priyanka as the Lok Sabha polls approach?
Party sources say Priyanka has been propelled to the frontline of her party's anti-BJP crusade due to the Surat court's verdict against Rahul in the "Modi surname" case. Obvious signs of this had come soon after Rahul's conviction led to his prompt disqualification from the Lok Sabha when Priyanka led her party's Sankalp Satyagrah at Delhi's Rajghat and launched into a scathing diatribe at Narendra Modi; declaring "the Prime Minister of this country is a coward" and dared the Centre to "send me to jail" for suggesting that "Modi is an arrogant ruler who hides behind power".
With the Surat Sessions court rejecting Rahul's appeal against his conviction and the Gujarat High Court too indicating that no relief would be forthcoming for the disqualified MP (though technically, the court's verdict is still reserved), calls for a greater role for Priyanka within the party have continued to grow louder. The pertinacity that Priyanka has displayed during the Congress' Himachal, Karnataka and now MP poll campaigns suggests that she will no longer be confined to her role as in-charge general secretary of UP, which many in the party believed was a wrong role for her.
Taking centre stage
Much has been written and said about Priyanka being the better of the two Gandhi siblings when it comes to addressing election campaigns or engaging with party leaders. Though her brief stint in active politics, which began with her brother and then Congress president, parachuting her to the role of party general secretary (in-charge UP) in early 2019, has been peppered with monumental setbacks (UP poll debacle) and hare-brained manoeuvres that yielded disastrous results for the party (ensuring Navjot Sidhu's appointment as Punjab Congress chief), the Gandhi family sycophants that populate the Congress believe Priyanka is still a better fit than Rahul as the Gandhi steering the party's election strategies.
Her ability to combine a bellicose blitz against Modi and the BJP with an affable demeanour towards the ordinary voter during campaigns and her much-publicised likeness to her grandmother, the late Indira Gandhi, aside, Congress sources say what makes Priyanka the right star campaigner for her party is her "pragmatic approach" towards canvassing.
Also read: 'Why couldn't omnipresent Modi see loot by BJP govt in Karnataka': Priyanka Gandhi
Priyanka's willingness to unabashedly play the soft Hindutva card is, arguably, one such example; albeit a disconcerting one for those who wish the Congress to be a truly and not dubiously secular alternative. Priyanka, a senior Congress leader from MP, said "speaks openly about being a Hindu and weaves religious tolerance into that narrative… wherever she campaigns, she makes it a point to find out from local leaders if there are any historical, religious or iconic figures from the dominant castes and communities of the region that she can pay her tributes to in her speech and she invariably makes references to Lord Ram, Hindu texts or some shlokas while addressing rallies".
The senior leader added: "In UP, her Ladki Hun Lad Sakti Hun campaign song was inspired by the Mahishasura Mardini Strotam while today, in Jabalpur, she kicked off the campaign by offering Narmada Aarti and she began her speech by invoking Maa Narmada; this blunts the BJP's attack about the Congress being anti-Hindu".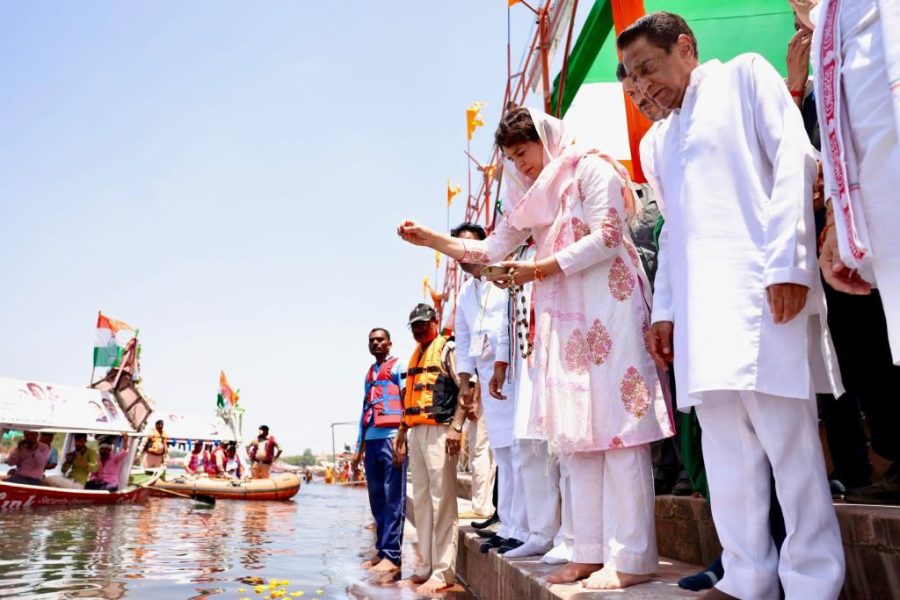 Soft Hindutva push
With Rahul positioning himself as the franchise distributor for his pluralistic Mohabbat ki Dukaan, even when he is hopping from temple to temple or invoking Lord Shiva, Priyanka's unvarnished pandering to 'soft Hindutva', some in the Congress believe, could help the party in the expansive Hindi heartland where it is directly pitted against the BJP in most states and often loses out electorally on account of communal polarisation.
Incidentally, in MP, the party's obvious CM candidate, Kamal Nath, has already been positioning himself as a 'Hanuman Bhakt'. In neighbouring Chhattisgarh, CM Baghel hopes that the Ram Van Gaman Path Tourist Circuit developed by his government along with other schemes centred on cow safety (gau raksha) and welfare will win the Congress favour with the predominantly Hindu electorate. Priyanka's Hindu outreach is, thus, expected to not just compliment but bolster the Congress' oxymoronic projection as a secular but pro-Hindu party.
Also read: Rahul ready to take a bullet for country, learn from him: Priyanka to Modi
Party sources say the impending AICC revamp later this month is likely to give Priyanka a more direct and official role vis-à-vis the Congress' currently ad hoc set up for strategizing election campaigns. The party had, at its Udaipur Nav Sankalp Chintan Shivir last May, resolved to set up a dedicated department for election planning and strategy. Kharge is likely to implement this resolution while effecting the AICC reshuffle or shortly after it.
Speculation is rife on the possibility of Priyanka getting a formal position within this department. Some in the party even suggest an even bigger profile awaits her — one that officially makes her Number 2 in the party hierarchy considering that Rahul, having already served as Congress president, is unlikely to get a position that technically places him under Kharge in the pecking order.
Either way, Priyanka seems set up for a much larger role in the party and be relieved from her charge of UP, glossing over her spectacular failure in scripting a Congress revival a year ago. All eyes would then be on whether she finally moves from being Campaigner Priyanka to Candidate Priyanka, come the 2024 Lok Sabha battle.