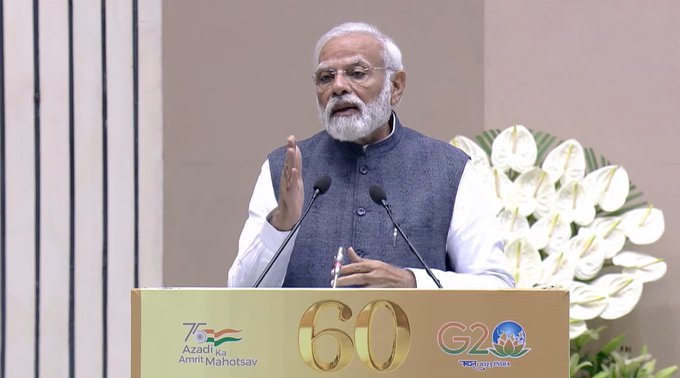 Prime Minister Narendra Modi has been propounding a conspiracy theory — that some foreign powers, in collusion with some internal forces, are out to undercut India's rise as a global power. Why this siege mentality? File photo: Twitter/@BJP4India
The contradiction at the heart of the Narendra Modi government's new policy turn is quite perplexing. On the one hand, the government and its corporate friends have been going all-out to launch a discourse on 'India Rising'. On the other, Prime Minister Modi himself takes the lead in propounding a conspiracy theory — that some foreign powers, in collusion with some internal forces, are out to undercut India's rise as a global power. Why this siege mentality?
What are the acts of alleged "meddling" by foreign conspirators in the internal affairs of India?
Rule of law, judicial independence
First, it was a routine daily press briefing being held by US State Department spokesman Vedant Patel on March 27, 2023. To a query from a press person on the 'expulsion' of Rahul Gandhi from Parliament, Patel replied: "Respect for the rule of law and judicial independence is a cornerstone of any democracy, and we're watching Mr Gandhi's case in Indian courts, and we engage with the government of India on our shared commitment to democratic values – including, of course, freedom of expression."
Further, he added: "In our engagements with our Indian partners, we continue to highlight the importance of democratic principles and the protection of human rights, including freedom of expression, as a key to strengthening both our democracies."
When the newsperson persisted with his question asking for specifics about US engagement with Rahul Gandhi as an Opposition leader, Patel politely excused himself, saying he had nothing specific to offer in that regard. He limited himself to a general comment: "It is normal and standard for us to engage with members of opposition parties in any country where we have bilateral relationships."
On March 30, it was the turn of a German foreign ministry spokesperson to make a similar comment.
Analysis: Why is BJP solely focused on discrediting Rahul Gandhi?
Her comment was even more circumspect and restrained: "We have taken note of the verdict of first instance against the Indian opposition politician Rahul Gandhi, as well as the suspension of his parliamentary mandate. To our knowledge, Mr Gandhi is in a position to appeal (against) the verdict. It will then become clear whether this verdict will stand and whether the suspension of his mandate has any basis. Germany expects that the standards of judicial independence and fundamental democratic principles will apply in the case."
Her comment was telecast on the state-owned DW TV channel.
Anti-national and corrupt 
Well, these words do not sound so subversive or interventive in India's internal affairs. But, at home, the reactions to these seemed a bit intemperate and disproportionate. While addressing BJP leaders during the inauguration of a newly-constructed Delhi BJP office extension, Modi said: "Today, if any country has made its mark on the global stage it is India. It is natural for anti-India forces to unite. These forces want to steal from us the potential of Amrit Kaal, in which we are destined for a fast-paced development."
Who Modi was hinting at was clear as, by coincidence, the same day, 17 Opposition parties — including Mamata Banerjee's TMC and Arvind Kejriwal's AAP — had come together to take out a rally in Delhi to protest against Rahul Gandhi's disqualification as a Lok Sabha member.
Not stopping at that, Modi continued to press on the same rhetoric. Even while addressing a government function organised by the Railways in Bhopal to inaugurate the high-speed Bhopal-Delhi Vande Bharat Express, he targeted the 'first family' of the Congress and dubbed the 17-party (which later expanded to 19-party) Opposition protest grouping as Brashta,chari Bachao Abhiyan ('Save the Corrupt Campaign').
So are India's otherwise 'strategic partners" subversive conspirators? Are the bulk of the Indian Opposition corrupt anti-nationals? Even many neutral eyebrows were raised as to why Modi was losing his sense of proportion in a fit of blind rage. Kejriwal attempted to give an answer to this puzzle by equating Gautam Adani's loss of over $100 billion as a personal loss to Modi. However, he asserted this without any clinching evidence and he took care to say this only inside the Delhi Assembly to cover his flanks.
Also read: BJP may look vulnerable today but Opposition has much ground to cover
Earlier, Parliament was stalled for nearly a week by the ruling party demanding an apology from Rahul for commenting in an event in London that Indian democracy is under threat.
Academia on conspiracy theories
What is the reaction in the Indian academia to these conspiracy theories and disproportionate attacks on the Opposition? To gauge this, The Federal spoke to political commentator professor Ravi Srivastava, Director, Center for Employment Studies, Institute of Human Development, who had earlier been teaching at JNU.
"You can expect all foreign governments to sit up and take notice if the most important Opposition leader in the world's most populous democracy is debarred from Parliament, even though the sentence has been stayed for a month," he said. "Nevertheless, we can justifiably be very cynical about the respect that the Western democracies have for democracy in developing countries as well as for their sovereignty. The US interest in any part of the world is based on its economic and strategic interests and maintaining global hegemony and Europe has tried but failed to develop an independent vision in international relations."
"As far as India is concerned, it is emerging as an important strategic partner of the US, and is steadily opening itself to US capital and trade," he further said. "In this scenario, the Indian government is unlikely to be perturbed by the comments of a US spokesperson. The highly significant issue of Mr Gandhi's proscription from Parliament will have to be dealt with by stakeholders in India, as many have already argued."
The Khalistan factor
This apart, there was probably another reason for the Indian government to suspect that some conspiracy against India was afoot. Even before the critical US-German observations on the Rahul episode, there were some acts of vandalism by the newly-born Khalistani elements among the diaspora. Within a short span of a couple of months, they staged demonstrations against India in some US cities as well as in the UK, Canada and Australia.
Opinion: Modi 'scolding' Albanese on temple vandalism smacks of double standards
Hindu temples were vandalised in Brisbane and Melbourne in Australia. They pulled down the tricolour at the Indian High Commission in London, and the Indian mission in San Francisco was also damaged in their arson. In Washington DC, they issued physical threats to Indian envoy of Sikh origin Taranjit Singh Sandhu, and assaulted senior PTI journalist Lalit K Jha. The sudden spurt in protests and their concerted acts of vandalism did evoke suspicion in wider circles about their backers.
But without waiting for Indian intelligence to do the necessary spade work, External Affairs Minister S Jaishankar jumped the gun and blamed the UK government for not providing enough security at the Indian High Commission. While he only stressed the security obligations of the host governments, BJP leaders started a tirade via the media against the foreign governments supposedly inimical to India, for allegedly reviving Khalistani agitation 2.0.
The media sensationalism over the Bollywood-style potboiler footages over Amritpal Singh, the Khalistani extremist preacher, and the slanging match between the Punjab government and the Centre as to who let him escape and roam free also added to the number of conspiracy theories floating around.
Tarsem Jodhan, ex-MLA and leader of Kisan-Mazdoor Lok Andolan, a left-wing organisation in Punjab, told The Federal: "There are absolutely no sentiments in favour of Khalistan among the general masses in Punjab. Only some fringe elements among the Sikh diaspora keep trying to get some media mileage out of some sensational activities. Only some vested interests who want to create a divide between Hindus and Sikhs would be benefited by their activities."
Crackdown on civil society
Conspiracy theories did not just remain theories. The whole of civil society in India was seen as the Fifth Column; it was strangled by the squeezing of external funding, via cancellation of FCRA (Foreign Contribution Regulation Act) clearances. Ravi Hemadri, a prominent civil society activist working on the human rights concerns of marginal communities, told The Federal, "PM Modi is personally tyrannical in his attitude. That is why the crackdown on the whole of civil society continues despite the inability of his government agencies to come up with a shred of evidence against them."
A Rehman, president of the Tamil Nadu unit of the Welfare Party of India, told The Federal: "Earlier, we thought that Modi was overreacting mainly against Muslim minority rights activists by dubbing them 'anti-nationals'. I even posed RTI enquiries to the Union Home Ministry and the BJP state governments on how they defined 'anti-national activity' in the cases they have filed under UAPA and NSA against Muslim minority activists. I could elicit no answer."
"Now", he added, "all non-BJP mainstream parties are also 'anti-nationals'. Clearly, this is an impulsive and knee-jerk reaction from the BJP to the divided Opposition parties coming together for 2024."
True, electoral politics can at times turn bitter. But, a rising global power and its 'strong leader' cannot afford to appear to be shaky.