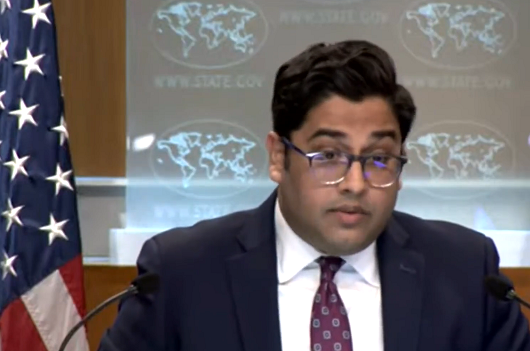 In the aftermath of violent episodes at Indian diplomatic premises in the US, a senior State Department official has said that the government takes the safety and security of diplomats and diplomatic missions quite seriously and is in close touch with the Indian partners over the incidents.
"We take the safety and security of the diplomatic missions that we host in the United States and the diplomats that work in them quite seriously," Vedant Patel, the Deputy Spokesperson of the State Department told reporters at a press conference in Washington.
Also read: UK to respond 'robustly' against attack on Indian high commission: foreign secretary Cleverly
Patel's comment came as there is a sense of worry prevailing after a group of Khalistan supporters attacked and damaged the Indian Consulate in San Francisco this month. Raising pro-Khalistan slogans, the protesters broke open the makeshift security barriers raised by the city police and installed two so-called Khalistani flags inside the Consulate premises. Two consulate personnel soon removed the flags.
Later, the pro-Khalistan supporters also held a protest in front of the Indian Embassy in Washington and tried to incite violence and even threatened the country's envoy.  Timely intervention by law enforcement agencies, however, prevented them from vandalising the property.
Also read: India summons Canadian high commissioner over 'security breach' at diplomatic premises
Patel said the administration is in close touch with the Indian partners over the incidents.
"We are in close touch with our Indian partners on a number of issues, but including on this we made sure to remain in close touch with them as well as the appropriate local entities, depending on where these various missions and consulates were located," Patel said, responding to a question on the recent incidence of violence against Indian diplomatic missions in San Francisco.
Also read: Indian flag pulled down at London mission by pro-Khalistan supporters
"The US values its important relationship with both our Indian partners and Pakistan as well, and these relationships stand on their own and are not a zero-sum proposition," Patel said in response to a question.
(With inputs from agencies)