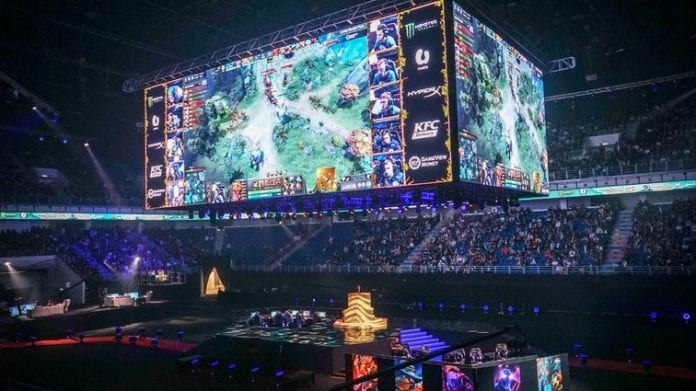 On February 25, the owners of Dota 2, one of the biggest esports in the world, announced the setting up of new professional leagues and the introduction of majors.
These additions, as announced by Valve Corporation, which holds the rights to the game, will come with a complete overhaul of the Dota 2 Professional Circuit (DPC). This new system will come into effect after TI10 (The International 10), scheduled to be held in Stockholm, Sweden in August 2020. The inaugural season for this new system will start in October 2020.
The gaming industry is a massive behemoth that has been growing for quite some time now. According to Forbes, in 2018, the industry generated $138.7 billion in revenue and this figure is expected to rise to $196 billion by 2022. The offshoot of this is the world of esports. Explained in simple terms, esports is the playing of video games against other players as a competition.
According to Business Insider, the esports viewership is worth $454 million and will increase to $646 million by 2023. The total worth revenue generated via esports varies according to different sources. Business Insider gives the most conservative figure at about $700 million while SuperData pegs it as having already crossed $1.5 billion as of 2019.
Advertisement
Watch Interactive | Dota 2 'T19' keeps eSport fans glued to $33 million purse
Industry reports indicate a massive growth by 2022. Goldman Sachs goes as far as predicting the figure to be around $3 billion in 2022. So, the lowest prediction still puts the figure at a healthy amount well above $1 billion.
The most cash-rich game in professional esports would have to be Dota 2. As of today, the total prize pool from all tournaments issued to players in Dota 2 is a whopping $221.6 million, which accounts for over 40% of the total prize pool of the five richest esports in this regard.
The next four esports are Counter-Strike: Global Offensive, Fortnite, League of Legends, and Starcraft with their respective total prize pools having reached $92.3 million, $84.4 million, $73.4 million, and $32.3 million.
Other than this is the fact that out of the ten best paying esports tournaments so far, six of them are Dota 2 Tournaments, two are for Fortnite and the other two are for PUBG and League of Legends.
Need for professional leagues and its benefits
The reason behind setting up of professional leagues is to foster the development of Tier 2 and Tier 3 teams in Dota 2. This new system will do away with the invite system that is currently followed in the professional world of Dota 2 as of today.
Additionally, there will no longer be open qualifiers for Valve sponsored tournaments as all teams will earn their spots at the tournament through their performance in these leagues over the course of the year.
Broadly, there will be a total of six regional leagues, each of which will have two divisions in it. A total of 8 teams will be a part of each division of the league. Each of these leagues will feature a prize pool of $280,000, along with having DPC points on offer. The leagues will run through the year will be split into three seasons.
The games played in these upper-division league will be featured for all to view through a studio broadcast, while lower division matches will be featured on DotaTV.
Each season will feature a major at the end. The Majors have an additional prize-pool of $500,000 each. The top two teams from each region will get an entry into the major. The team which finishes the season in first place in their respective region will be exempt from playing group stages during the major and directly compete in the play-offs.
Related news | eSports in India is turning nerds into millionaires
The third position teams from Europe, China, North America and South-East Asia will gain a shot at entering the major through a round-robin system as a wildcard entry. The fourth position team from the Europe and China regions will also have a chance to qualify as a wildcard entry.
All teams will receive prize money and DPC points based on their performance at the major. After the end of the third Season and its major, the top 12 teams based on DPC points gain direct entry for The International, while the remaining teams will be decided through a final chance regional qualifiers with the best eight teams from each region — that are yet to be selected — participating in them.
The impact of these changes is expected to create waves in not just for the people playing Dota 2 as a professional esport, but for the gaming industry as a whole. The people directly benefitting most would be the professional Dota 2 players, especially playing in Tier 2 or Tier 3 teams.
Unlike players who play for the recognized Tier 1 teams and earn big sums through the prize money and sponsorships, players in Tier 2 teams, unattached to any sponsors, earn little to nothing in either form. Good earnings for this pool would, in turn, encourage more people to pursue professional esports.
Related news | Online gaming addiction: How much is too much?
The other party that is directly affected is the group of people who are often hired as casters, presenters, commentators and analysts for the various tournaments. Till now, these tournaments took place at varying intervals and only a few tournaments like The International were a fixed feature every year. This limited earning possibilities.
Now, with new leagues, the studio broadcasts will require the hiring of many of these people on a more permanent basis, allowing to make it a full-time profession.
These two major changes come at an important time for an esport such as Dota 2, which at one point was considered to have no rival. However, newer games such as Fortnite and PUBG have begun to catch up in regards to either player base or prize-pools offered at their premier tournaments, while Dota 2 had begun to lose its allure as a premier esport for many players. This change in making life easier for people involved with the game should help in persuading many more people to look at Dota 2 as their esport of choice.
This new system is also expected to affect the gaming industry and the various other esports communities as well. Even now, in many countries, pursuing esports as a professional career is looked down on and not the first choice of many. This could change as people begin to notice lesser-known or even unknown players pursuing professional Dota 2 as they find it possible to earn a livelihood despite not making it onto the premier teams.
This, in time, could lead to a cascading effect with many of the other cash-rich esports deciding to take a similar path moving forward and have more regulated competitions and leagues with events at fixed intervals, thus making competitive esports more like traditional sports.