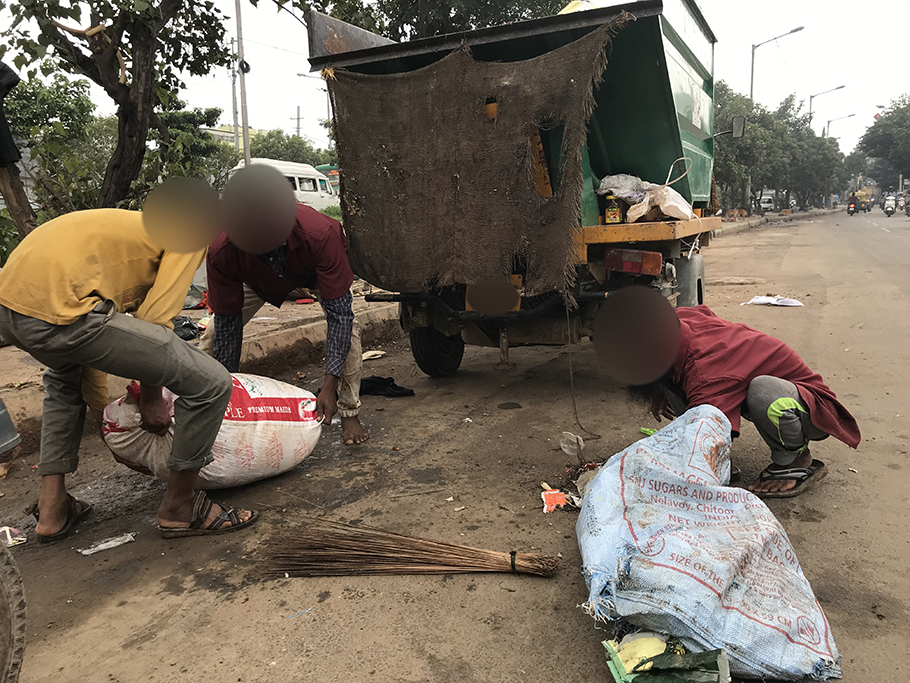 Mysterious case of Bangladeshis: Trafficked, hunted and now missing
The article is the second of a three-part series on the deportation of undocumented Bangladeshi immigrants to their country of origin. It recalls The Federal's interaction with migrants who escaped the raids and are missing ever since.
PART 2
(The article is the second of a three-part series on the deportation of undocumented Bangladeshi immigrants to their country of origin. The first part of the series chronicled the accounts of the Bangladeshi migrants, who after a month of detention, were abandoned near the Bangladesh border, to cross over, unescorted, in the dead of the night. The second part recalls The Federal's interaction with migrants who escaped the raids and are missing ever since.)  
In the month that we have been trying to document the impact of the October 26 police raids on the vulnerable Bangladeshi migrant population in Bengaluru, we have most often come away clutching at bits and pieces.
We don't know, for instance, what happened to the family of Jahangir Hossain (43) from Bagerhat district of Bangladesh. After the raids, they were desperately trying to leave Bengaluru but were stuck because they had no money.
When we met Jahangir, his wife, and 15-year-old daughter at a shanty near Yelahanka in Bengaluru on November 18, the family said they hadn't ventured out of their hut in three weeks. They said they were scared of being nabbed by the police.
Jahangir told The Federal that the traffickers who had brought them to Bengaluru were after them for money to get them back to Bangladesh. "They are asking for ₹20,000 for each of us. We also owe them money from before. Now they are threatening to take our daughter away and sell her," he said.
Also read: Who will get Roshanara Begum and Raziya Sultana home to Bangladesh?
All we could do was to pass on the contacts of some NGOs to the family. The family hasn't yet called the NGOs and we have lost contact with them.
Of the people who also vanished in the sea of Bangladeshis fleeing Bengaluru after the raids, was a garbage contractor hailing from Jessore district of Bangladesh named Shahid.
Shahid first contacted us through a phone call two days after the raid saying his wife and only son had been picked up by the police. He didn't tell us how he got our number but repeatedly asked for details about his family.
We told him that the police planned to send them back to Bangladesh without registering a case against them.
A few days before the group of 59 was put on the train to Kolkata, Shahid called again and made a series of startling claims.
"I am an Awami League activist in Bangladesh. My political work is there and my business is here. I have been framed by my political rivals from the BNP (Bangladesh National Party) who are also garbage contractors in Bengaluru," he said.
"When the BJP mounted the political pressure to oust Bangladeshis from Bengaluru, these contractors conspired with the police and had raids conducted in the godowns of their rivals like me," he said. "There are thousands of Bangladeshis in the city, but why did the police catch only a few? Because they wanted to do all this just for show." He alleged that the October 26 raids were conducted by the police just to keep their political masters happy.
He said the city's Bangladeshi garbage contractors, human traffickers and police had made crores of rupees on the backs of the vulnerable undocumented labourers.
Also read: Bengaluru's Bangladeshi labourers should be proud; the shame is ours
A noxious nexus
We were in for another surprise when we finally met him on November 20. "People in the garbage industry know me as Kutta (dog) Shahid because I once owned two large Alsatian dogs," he said.
The name instantly rang a bell. We had heard about Kutta Shahid from dozens of Bangladeshi labourers since we started following this issue. They described him as a violent man, a sort of slumlord and moneylender who often set his feral dogs loose on people he didn't like. Going by the version of the labourers, he was every bit like the other contractors he was trying to expose through us.
During our meeting, Shahid shared a detailed list with names and phone numbers of Bangladeshi men he said were human traffickers, drug lords, and high-profile pimps.
He rattled off a biodata with each name. Some, he alleged supplied sex workers to politicians and senior government officials; some were pushing brown sugar and heroin by the kilo, and some he said were bringing in hundreds of labourers from Bangladesh like cattle and putting them to work in garbage segregation units across south India.
Shahid also gave us a list of bureaucrats and politicians who he said were providing protection to the mafia which controlled the lives of the undocumented Bangladeshi labourers.
When we asked him about allegations that he too was into the human trafficking business, he made no pretense.
Also read: NRC: Fear and dismay at 'India-Bangladesh border' in Bengaluru 
"How do you think I know so much? I have been running this business in Bengaluru for the past 15 years. I know everybody in the business and everybody knows me," he bragged. "Just call the numbers and ask them about the things I told you. How does it matter what I do for a living?"
When we tried calling the numbers Shahid gave us, they were all switched off.
When we contacted Shahid on Friday to ask if his wife and son had been released, a man picked up the phone and said, "Kutta Shahid has left Bengaluru. He has gone to Bangladesh to meet his family. He said he is not coming back."