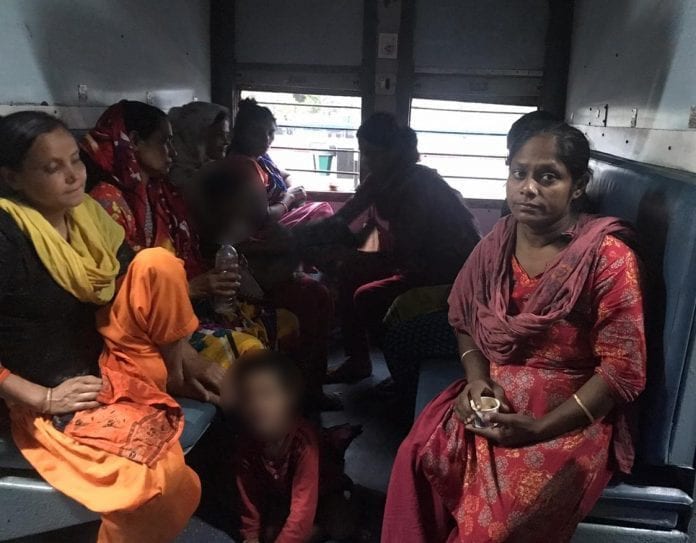 Part 3
(The article is the final of a three-part series on the deportation of undocumented Bangladeshi immigrants. While the first part gave an account of the stealth with which the migrants were coerced to cross over to the Bangladeshi side, the second part narrated the stories of the Bangladeshis who despite escaping the raids have been untraceable so far. The current part pieces together the reporter's journey – from the shanties of the ragpickers in Bengaluru to the Bangladesh border.)  
We had to drop everything on November 22 and make a dash for the Puttaparathi railway station in Andhra Pradesh, when we were tipped off that the Bengaluru police were secretly moving the 59 undocumented Bangladeshis to West Bengal aboard the Howrah Express.
When we decided to follow those on the train, we were in the middle of another pursuit. Undocumented Bangladeshi labourers were fleeing Bengaluru in droves fearing a police crackdown. They had been told by their contractors that the police wanted them out of the city by December 5.
Also read: The dark, long road home: Bangladeshi migrants relive horrors of cross over 
We couldn't get senior police officials to confirm if they had indeed issued such orders, but the workers were not waiting around for confirmation.
They could've been in their thousands. Entire colonies of their tarpaulin tent-houses were vanishing overnight on the outskirts of the city even as we scrambled to understand the scale of what was happening.
When an escape plan went awry
While chasing Howrah Express, we lost track of Nafeesa and Jakirul (names changed), an undocumented Bangladeshi couple who were desperately trying to wrap up their garbage segregation unit and join the horde leaving Bengaluru.
Jakirul couldn't leave without recovering his dues from recycling companies and paying his workers, so he stayed behind and asked Nafeesa to carry on alone to Bangladesh along with an agent.
As our train headed from Puttaparathi to Howrah, Nafeesa and the agent started a parallel journey to the border from the Bengaluru railway station. They were planning to sneak into Bangladesh from Hashimpura.
Jakirul and Nafeesa called several times when we were on the train to update us on her progress, but the line was garbled because of poor network. We lost contact with them altogether when the phone on which their numbers were saved was stolen.
We finally reconnected when Jakirul called us on Monday. He said that Nafeesa's plans to escape into Bangladesh had gone horribly wrong. The agent had abandoned her and she had been caught by Bangladeshi border guards while trying to make it across alone.
Also read: Mysterious case of Bangladeshis: Trafficked, hunted and now missing 
He said that Bangladeshi guards had detained her on November 24 and did not formalise the arrest for one week. They let her go only on Sunday after Jakirul managed to mobilise support from some local Bangladeshi politicians.
"I don't know what they did to her inside the lockup," he said, "You can't speak to her now. She hasn't spoken to me also properly since she was released, she's still very scared."
Whatever happened with Nafeesa could not have been the only such case considering the number of people who've left for the border. Indeed, major Bangladeshi news outlets such as the Daily Star have been reporting that hundreds of Bangladeshis fleeing India are being jailed in their homeland and prosecuted for illegal border crossings. They're clearly being hunted by troops on both sides.
Aboard Howrah Express, but unsettled  
Inside our train to Howrah, we discovered that the 59 being escorted by the police were not the only undocumented Bangladeshis with us. The unreserved compartments of the Howrah Express were also crowded with Bangladeshis workers who were heading to the border.
We could clearly tell them apart from the others in the train because they huddled together in groups led by one or two men. These leaders were always the men who went out to buy food and beverage and gave orders.
The men, we gather, were most likely the agents who were taking them across. The one time we tried to approach such a group, the leader aggressively asked us to back off.
The last time such an exodus along ethnic lines happened in Bengaluru was in August 2012 when people from the North East started leaving the city by the thousands.
But this time there was no mass protests or media coverage. The Bangladeshi labourers, their families and belongings, were vanishing like they had never existed.
Also read: All know we are here, why the drama? ask arrested Bangladeshis in B'luru
With this storm swirling around in the background, it was difficult to concentrate on the 59 who were cooped up separately, watched over by their armed police guards.
The policemen reacted just as aggressively as the agents in the unreserved compartments when we tried to interview the group.
They let us near the compartment only when we complained to the Deputy Commissioner of Police (Whitefield division) saying the Bangladeshis had every right to speak to us.
When they couldn't stop us from speaking to them, the guards tried stopping them from speaking to us. They failed.
Who will answer their questions?
Interviewing the Bangladeshi detainees meant sprinting to their compartment every time the train stopped. Some stops were short and the train would start by the time we reached their coach.
Not one of the interviews could be completed properly because every time we reached the compartment, a crowd would gather at the windows and each person would try to speak over the other to be heard.
There was only enough time for banal questions: 'Where are you from? ', 'how did you come? ', 'where will you go in Bangladesh? ', 'why did you come to India? '.
Fact is, they had more pressing questions to ask us: 'Why are they taking us to Kolkata?', 'Are they taking us to jail?', 'when will they send us home?', 'will they hand us over to our families or to the Bangladeshi guards?', 'how will we trace our families in Bangladesh when we have not met in decades?'
And most often, they asked, 'why are we being treated like criminals?' The question had become a sort of refrain right from our first conversation with the group at the Ramamurthy Nagar police station on the day they were detained. It came up every time we spoke to them in the month that followed.
Indeed, they weren't criminals according to the FIR registered on the day of the raids. They were listed as "victims of human trafficking" who had been "rescued" by the Bengaluru police.
That it was anything but a 'rescue mission' was clear from the harrowing accounts provided to The Federal by the women who were abandoned in a forest along the border in the dead of the night by their Bengaluru police escorts.
Also read: Bengaluru's Bangladeshi labourers should be proud; the shame is ours 
Indications are that anti-Bangladeshi operations in BJP ruled states and secret push-backs through the border districts of West Bengal are only set to intensify.
These illegal deportations, as the case of 59 has shown, need close cooperation from the West Bengal police and government.
It's not clear how long the Trinamool Congress-ruled government in Bengal, which tries to project a pro-immigrant image, will be able to hide their role in facilitating these operations.