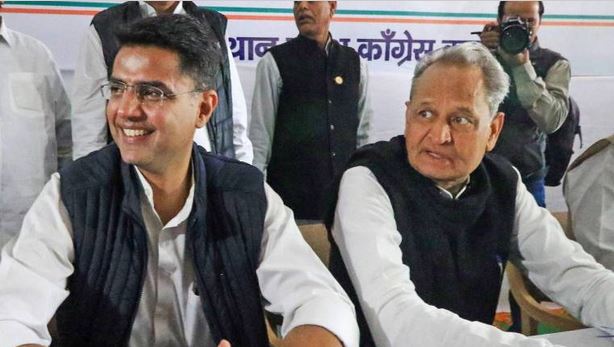 Congress leader Sachin Pilot on Saturday said he will continue to fight against corruption even if "some people" don't like it.
The former Rajasthan deputy chief minister had last month sat on a fast in Jaipur, piling pressure on his own party by targeting the Ashok Gehlot government in the state for inaction in alleged cases of corruption in the previous BJP regime.
Also read: We are all united: Rajasthan Cong chief on Gehlot-Pilot issue
Addressing a programme organised by Forest Minister Hemaram Chaudhary in Barmer, Pilot said, "We have to raise our voice against loot and corruption in the state. I raised my voice against corruption… May be some people did not like it but I do not care. I will keep fighting against corruption. Corruption is like a termite which is making the country hollow."
Gehlot and Pilot are engaged in a power tussle in the state since the Congress formed the government in December 2018. Pilot once again targeted his party's government in the state over the paper leak issue, saying the hard work put in by students goes in vain if an exam gets cancelled.
"Our children work hard for years, their parents pay for tuition to make them study… they give exams but the question paper gets leaked and the exam gets cancelled, don't we feel sad," he asked.
Those who do not feel their pain, those who do not know the value of thousands of rupees (spent on education) are occupying high posts, therefore it takes so long to act against the culprits involved in paper leaks, he said. He said when incidents of paper leaks are happening one after the other, accountability will have to be fixed.
Also read: Pilot-Gehlot fight in Rajasthan a tussle for chair: Vasundhara Raje
Meanwhile, Pilot also backed the protest by women wrestlers at Delhi's Jantar Mantar, saying, "Today, our girls are sitting at Jantar Mantar in Delhi, they have alleged exploitation… for how many more days will we not feel their pain."
(With Agency inputs)