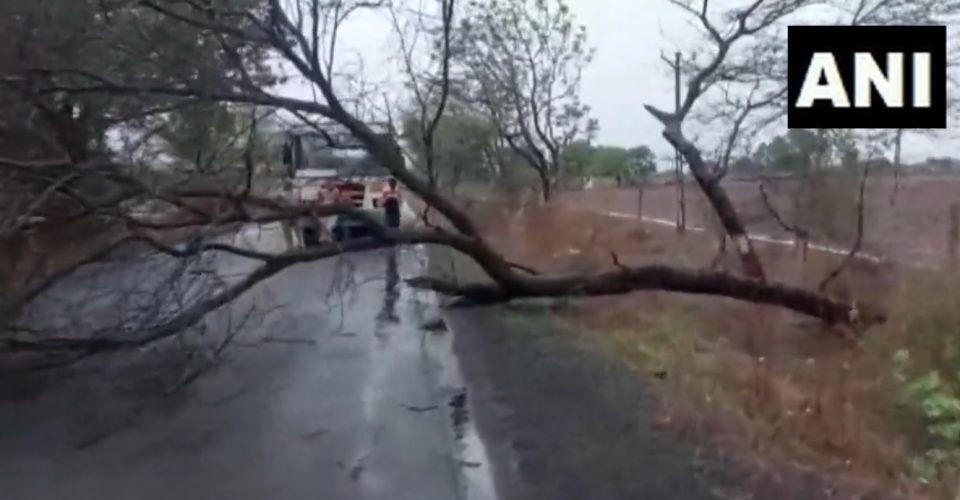 Cyclone Biparjoy wreaks havoc; 1,000 villages go powerless in Gujarat
Cyclone Biparjoy wreaked havoc in the Kutch-Saurashtra region of Gujarat, causing extensive damage. A staggering 5,120 electricity poles were damaged, leaving around 4,600 villages without power. Thankfully, authorities have reported no loss of human life.
Power supply has been restored in 3,580 villages, while more than 1,000 others are still without electricity, officials said on Friday.
#WATCH | NDRF team rescues two stranded people from the low-lying areas of Rupen Bandar in Dwarka district after cyclone 'Biparjoy' made landfall along the Gujarat coast yesterday.

(Video Source: NDRF) pic.twitter.com/OdfDqpjTlN

— ANI (@ANI) June 16, 2023
Nearly 600 trees got uprooted and traffic movement on three state highways came to a standstill due to damages and felling of trees, they said, adding that at least 23 people were injured as a result of the cyclone, which also left many houses damaged.
Biparjoy (meaning disaster or calamity in Bengali) unleashed destructive wind speeds of up to 140 kmph and incessant rains as trees and electricity poles were uprooted, while seawater entered villages located in low-lying areas, officials said.
Also Read: Cyclone Biparjoy: Gujarat's measures to protect endangered Asiatic lions in Gir
Heavy rains lashed the entire Kutch district since the cyclone started making landfall near Jakhau Port from 6.30 pm on Thursday and the process continued till 2.30 am, they said.
"No human death has been reported so far due to cyclone Biparjoy. It is the biggest achievement for the state. This was possible because of our collective efforts," state Relief Commissioner Alok Kumar Pandey told reporters in Gandhinagar.
More than one lakh people had been shifted to safer places before the cyclone's landfall, he said.
Asked about a cattle-rearer duo of father and son dying on Thursday while trying to save their goats stuck in a flooded ravine in Bhavnagar district, Pandey said that since the district was not cyclone-affected, their deaths were not counted as cyclone-related.
"The cyclone caused extensive financial loss to the state power utility – Paschim Gujarat Vij Company Limited – with 5,120 electricity poles getting damaged. They are being restored. As many as 4,600 villages were rendered without power, but electricity supply has been restored in 3,580 villages," he said.
Also Read: Cyclone Biparjoy leaves behind trail of destruction; 2 dead, 22 injured in Gujarat
Work to restore power supply in the remaining villages is underway, but inclement weather is posing hurdles in the task, Pandey said.
"Three state highways were closed as they suffered damages and saw felling of trees. A total of 581 trees were uprooted as per reports. As many as nine pucca and 20 kutcha houses were razed, and two pucca and 474 kutcha houses suffered partial damages," he said.
Sixty-five thatched houses were destroyed, and the government was preparing an order for immediate compensation to those who have suffered losses due to the cyclone, the official added.
Media, social service organisations, administration of eight affected districts and central and state ministers in-charge for different districts campaigned in their respective districts to ensure that rescue and relief operation was carried out with better coordination, he said.
"Inter-departmental coordination was also very good, with all of us receiving the guidance of the chief minister. He visited the State Emergency Operation Centre, interacted with the media and provided us guidance," he told reporters in Gandhinagar.
Also Watch: Ground report: Cyclone Biparjoy begins landfall in Saurashtra-Kutch
It was this collective effort that led to the state achieving one of the highest numbers of over one lakh people relocated to safe places from villages close to the Arabian Sea. With improvement in the situation, the local district administration will begin shifting back those relocated to safer places, he said.
Talking to reporters in Delhi, NDRF Director General Atul Karwal also said that not a single human life was lost after the cyclone landfall, but 23 people were injured and electricity supply was disrupted in about 1,000 villages. There was no loss of human life because of the efforts of the Gujarat administration and other agencies that worked to ensure the least loss of life and property, he added.
"Of the 1,000 villages facing electricity disruption in the state, 40 per cent disruptions were in Kutch district alone as it bore the maximum brunt of the cyclone," Karwal said, adding that except Rajkot, no place is Gujarat is experiencing heavy rains.
A total of 18 NDRF teams, equipped with pole and tree cutters and inflatable boats, are deployed in Gujarat to undertake rescue and relief operations.
Also Read: LIVE: Cyclone Biparjoy: Trees, poles uprooted; power supply hit; two dead in Gujarat
Five teams in Mumbai and four in Karnataka are actively deployed to respond to any situation that develops due to the cyclone on Friday, the DG said.
The cyclone is now headed towards south Rajasthan and the NDRF has already positioned a team in Jalore (in that state) after consultation with the state government as heavy rains may lead to a situation of flooding and people getting trapped, he added.
The cyclone intensity has reduced from very severe to severe category hours after making landfall. The cyclone has moved north-eastwards and has weakened into a cyclonic storm and will become a depression by the evening over south Rajasthan, officials said.