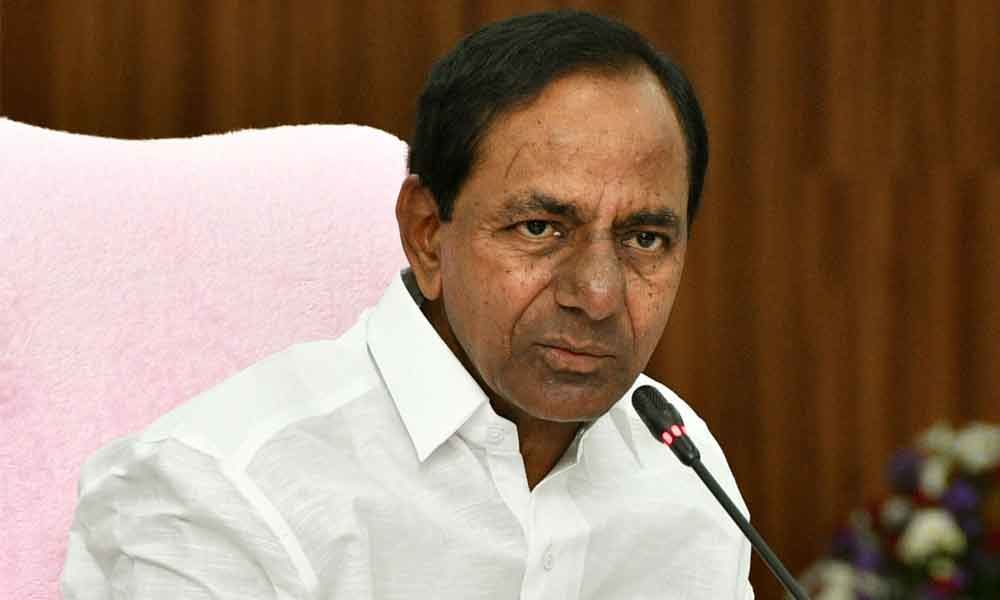 Has Congress's Karnataka win brought BRS, BJP together? KCR U-turn triggers buzz
Telangana political circles are agog with talks that BRS president and Telangana chief minister K Chandrasekhar Rao has taken yet another sharp U-turn regarding his hostile stand against the BJP.
The buzz was triggered by the visits to New Delhi by two important functionaries of KCR's government — IT and Municipal Administration Minister KT Ramarao and state Planning Board vice-chairman B Vinod Kumar — on Friday and Saturday (June 23-24).
These visits are being seen as a goodwill gesture by Chief Minister KCR following the Enforcement Directorate's silence over the alleged involvement of his daughter Kavitha in Delhi excise scam.
The ED, after creating a nerve-wracking ordeal for the first family of Telangana over the possible arrest of Kavitha, has now intriguingly gone silent.
Also read: Opposition 'obsessed with dislodging someone': KCR's son KT Rama Rao
KCR's hostile stance
KCR had been boycotting the Centre for over two and a half years. His last meeting with the prime minister was on December 13, 2020, which led to a U-turn on the Centre's farm laws.
Before his meeting with PM Modi and Home Minister Amit Shah, his government officially participated in the national bandh called by farmers, and KCR announced that he would cobble up an alternative front against Modi's NDA. After his return, he started talking in favour of the farm laws.
Later, when his front failed to take off, KCR announced the formation of his own party. Since then, his anger over the Centre has grown gradually and it culminated in the formation of Bharat Rashtra Samiti (BRS) in December 2022.
In between, he stopped meeting the prime minister in Delhi, refused to receive him in Hyderabad, and boycotted NITI Aayog meetings, calling the agency useless. And finally, he declared that BRS would drive PM Modi out of Delhi.
Also read: IT sleuths search 2 BRS MLAs', MP's properties in Telangana
In every public meeting he addressed, he projected that except for the BRS, none of the parties or fronts could meet the threat of PM Modi. Such a man, while addressing a public meeting in Nagpur, Maharashtra, 10 days ago, said PM Modi was his "friend".
Sudden U-turn
Now his critics are viewing Ramarao's and Vinod's visits to Delhi as attempts to further strengthen the bond.
Ramarao was in New Delhi for two days to meet Defence Minister Rajnath Singh, Union Urban Development Minister Hardeep Singh Puri, and Food and Agriculture Minister Piyush Goyal. His scheduled meeting with Home Minister Amit Shah had been cancelled.
On Saturday (June 24), B Vinod Kumar attended the all-party meeting on Manipur convened by Home Minister Shah. None of the points KTR said he had discussed with Union ministers were urgent or warranted an emergency meeting with Union ministers in the prevailing hostile atmosphere.
Similarly, the BRS's attendance in the all-party meeting over Manipur is consequential.
The Congress threat
The general opinion in political circles is that following the Congress's Karnataka win, both BRS and BJP appear to have recognized the looming threat from the grand old party in Telangana and at the Centre. All these developments, they said, point to a change in BRS's strategy.
Also read: Why KCR chose Maharashtra over Andhra, Karnataka to expand BRS footprint
Prof. Kodandaram, president of Telangana Jana Samiti, says a ceasefire between the BRS and the BJP is possible and these events are indications.
"Telangana is important for the BJP for its foray into South India. Losing Karnataka has upset its gameplan in South India. So, the BJP cannot afford to allow the Congress to stage a comeback in a state it thinks will have a ripple effect in entire India. This eventuality is bad for both BRS and BJP. So, they are likely to set aside their differences and think of facing Congress in Telangana," Prof. Kodandaram told The Federal.
Telangana Congress general secretary Dr Kota Neelima said BRS's opposition to BJP had only been "symbolic" and not real, and they cooperated with each other whenever they faced a threat.
"When the three farm laws were enacted, the BJP sought the BRS's support since the saffron party was cornered by the Congress to repeal anti-farmer laws. KCR turned against BJP when the latter targeted his family members. BJP used his vulnerability to strike a deal. Now, both are facing a threat from the Congress and want to bury the hatchet," Neelima told The Federal and added that this opportunism brings BRS and BJP together in one form or the other.
"BRS-Congress conspiracy"?
However, state BJP president Bandi Sanjay claimed KTR's Delhi tour was only meant to defame BJP and it's a BRS-Congress conspiracy.
Referring to the BRS-BJP friendship buzz, he said in a public meeting that "there have been attempts to bring down the BJP graph. CM KCR is trying to divert people's attention from his government's failures with this kind of gimmick. KCR calling PM Modi his 'friend' in the Nagpur meeting was also a part of it."
Prof. E Venkateshu of Hyderabad Central University also foresees a possible dilution of hostility between BRS and BJP, as both have to deal with the Congress now.
Also read: Telangana: BRS MLA's daughter returns land illegally registered in her name
"We can't predict the form of their future cooperation, but they are bound to divert their attention to Congress in the light of the Karnataka election. Karnataka tremors were deeply felt within both BRS and BJP. Let's wait and watch how they adjust to the emerging scenario," Prof. Venkatesh, who teaches political science in HCU, told The Federal.