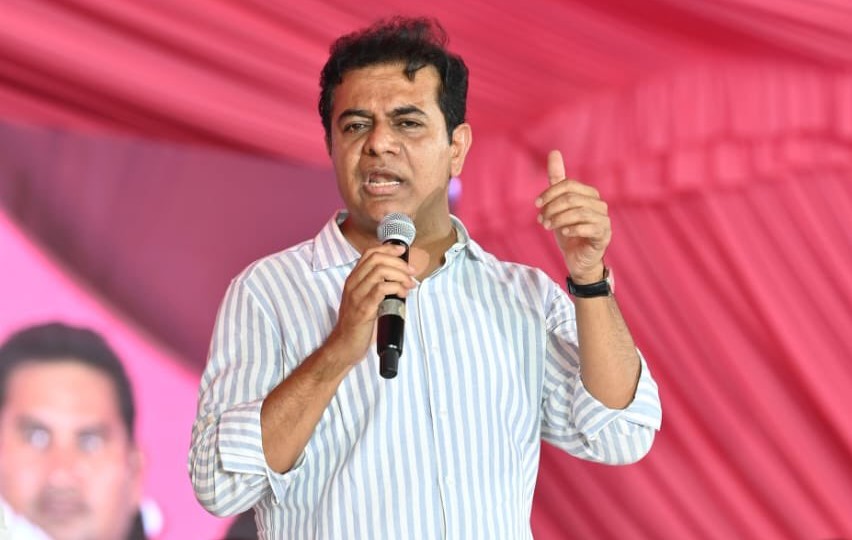 Opposition 'obsessed with dislodging someone': KCR's son KT Rama Rao
Days after a mega conclave of Opposition parties, Bharat Rashtra Samithi (BRS) working president KT Rama Rao on Sunday (June 25) said their fight against the BJP in the 2024 Lok Sabha elections should be based on "principal issues" before the country but unfortunately they seem to be "obsessed" with "dislodging someone" from power.
Rao, who is a state minister and son of Telangana Chief Minister K Chandrashekar Rao, also said his party will never compromise on the issue of core welfare principles for the country, asserting it will form an alliance only with those political parties with which it sees a common agenda for the benefit of the people.
"The fight (against the BJP) should be on principal issues before the country. Unfortunately, we are losing the plot there. We seem to be obsessed and worried about dislodging someone or putting somebody there and that should not be the agenda. The agenda should be how the basic priorities of the country have to be met," he told PTI.
Also read: Telangana minister's barb: Rahul Gandhi should start NGO, not be in politics
"You should not be uniting against somebody. You should be uniting for something. What is that something, nobody is able to figure out," he said when asked to comment on the meeting of 17 Opposition parties held in Patna on Friday in a bid to forge unity to take on the BJP in the 2024 General Elections.
The BRS skipped the meeting that was hosted by JD(U) supremo and Bihar Chief Minister Nitish Kumar to work on an opposition alliance.
Rao also indicated that the BRS was willing to contest the 2024 Lok Sabha elections on its own and try to make an impactful beginning aiming to win a sizeable number of seats.
Telangana Rashtra Samithi (TRS), which won the two previous assembly elections, was rechristened as the BRS in October last and two months later it was registered as a national party. The next Assembly polls in the state are due by the end of this year.
Also read: Oppn meet attendees rubbish AAP charges against Cong over Ordinance
He also reiterated that any united front, with the Congress or the BJP being its fulcrum, will not succeed as these national parties have been a "disaster" for the country.
Rao made it clear that the political parties should align on a principle welfare agenda that matters to the country.
"What matters to the country today is the creation of employment, wealth for farmers, irrigation, and rural livelihood. These are things that matter, not hijab or halal and bakwas around religion."
Also read: Strong buzz: BRS, BJP strike deal in Telangana ahead of polls
Rao asserted that the BRS is opposed to those parties which have hindered the development of India.
"Those two principal parties are the BJP and Congress. The Congress governed for 50 years, while the BJP for 15 years. Had both worked properly, this situation would not have arisen."
Both the Congress and BJP are responsible for the country lagging behind and not progressing as much as it should be in the last 75 years, he claimed.
Also read: Opposition meet | Leaders pledged to defeat 'Fascist forces': Tejashwi Yadav
"On the other hand, Telangana despite being a new state has progressed on welfare fronts in a short span of time," he asserted.
On the participation of regional leaders – West Bengal Chief Minister Mamata Banerjee (TMC) and her Delhi counterpart Arvind Kejriwal (AAP) – with whom the BRS has been in regular touch earlier in a bid to form an alliance at the Patna meeting, Rao said, "You have to understand they have their own agendas and set of priorities and own vision for the country. I cannot find fault with Kejriwal or Banerjee for attending the meeting. I don't think we should."
These leaders want good for the country and if they believe in a certain path, they are free to pursue it, he said and added, "We believe otherwise, we should be left to pursue our own method of growing."
Also read: AAP slams Congress; skips press briefing after Opposition meet in Patna
To a question on efforts by the BRS to cobble an alliance of regional parties, Rao said, "We are not in that mindset. We want to spread our wings. Our party wants to grow at the national stage and where is the question of fighting together or fighting against?"
Asked why the BRSs experiment to form a non-Congress and non-BJP front has not yielded any results, the party working president said: "Rome was not built in a day. Even BJP today is a big force and nobody can deny that. They have 300 plus Lok Sabha seats. Remember they also started with two MPs. Therefore, do not discount us. Even thousand miles journey starts with a single step."
"We are not going anywhere. We are gearing up towards 2024 (General Elections). We will see how much ground we can cover till 2024 and there is life beyond 2024 as well. Our life does not start and end with the 2024 parliamentary elections."
On the possibility of asking Telugu Desam Party (TDP) chief Chandrababu Naidu to join a non-Congress, non-BJP front, Rao said, "I cannot answer this question."
Asked why people should support a regional party like the BRS at the national level, Rao said, "We have been registered as a national party. Hopefully, we get that recognition from the media as well. We have taken a baby step and done whatever we could in Telangana. We believe we come back handsomely in Telangana."
At the same time, the party has enough scope to grow at the national level as it aims to replicate the Telangana model of development across the country, he added.
"If you ask me if we will get a magic number of 272 numbers in the 2024 General polls. I would say no. But I would definitely want to say yes as there is definitely a possibility to win a sizeable number of Parliament seats and we might become important in the scheme of things in Delhi and elsewhere."
The TRS bagged 9 of the 17 seats at stake in the 2019 Lok Sabha elections.
Sharing the roadmap for the expansion of the BRS, Rao said the party president KCR has conducted four public meetings in Maharashtra and all of them were successful. "We are spreading our wings. We are waiting for the Zilla Parishad elections."
The BRS wants to emerge on its own and spread wings in Maharashtra, Karnataka, Andhra Pradesh, Madhya Pradesh, and Odisha, he added.
On reports suggesting that the BRS was going soft on the BJP, especially after the Delhi liquor scam and recent flurry of meetings with central ministers, Rao said he has come numerous times, not once, and met the same ministers several times, but people's memory is short. KTRs sister K Kavitha is facing a CBI and ED probe in the Delhi liquor scam.
"We don't oppose for the sake of opposition. We are in the state and they are the government at the Centre. The government-to-government relationships have to be maintained at some point and at some level. We are trying out best. If they deliver, we will thank them," he said.
(With agency inputs)