As the BJP strives to make electoral gains in the upcoming Tamil Nadu assembly polls, party's national general secretary CT Ravi in an exclusive interview with The Federal speaks about the party's vision to groom state cadres into mass leaders in the next five years, why an 'atheist' DMK is 'wrong' for a state full of believers, and why EPS is a worthy candidate to be the chief minister.
How's the BJP's campaign shaping up in Tamil Nadu?
We have been working towards strengthening the party. We have booth committees in 48,000 of the 70,000 booths in the state and more than 50 per cent of them are active. Right now we are a class and cadre-based party which we want to convert to a mass party. If we achieve that, then everything else is easy. Organisation work is going well and it shows when the prime minister, home minister and other senior leaders participate in our rallies. These people haven't been paid to attend these programmes. That's why people turn up in large numbers. But that doesn't mean we don't have shortcomings. We lack leadership that has a pan-Tamil Nadu influence. We don't have leadership representing all communities. We have BJP leaders but they should become mass leaders. Only then, it will benefit us.
Advertisement
There were talks about the BJP trying to bring Rajinikanth to its fold. Did the actor's refusal to enter politics derail BJP's plans?
We didn't try to get Rajinikanth to the BJP. There has been talks about Rajinikanth building a new party and it has been there for the last 25 years. He himself had declared it. Many people like Gurumurthy may have helped him in his efforts. BJP does want good people to enter politics and Rajinikanth is one of them. We were wishing for him to enter politics. But we didn't try to get him to BJP neither did he express his wish to join the party. We will convert our leaders into mass leaders, although it will take time. Even the DMK doesn't have a mass leader, Stalin is M Karunanidhi's son. He hasn't proven his capacity to be a mass leader yet. Edappadi K Palaniswami (EPS) is a long time politician and a statesman. His clout has grown because of his chief ministerial position. But, there is no mass leader in Tamil Nadu who has emerged from a movement or due to his service to the people. BJP will slowly fill this vacuum.
How do you see EPS as a leader? Do you see the AIADMK winning the election under his leadership on its own?
The DMK and the AIADMK have a strong cadre and voter base. Even in challenging situations, they have managed to retain 23-25 per cent of the vote share. To reach that level, we have to work hard. But we will reach there.
I keep asking people who is Tamil Nadu's 'nanban' (friend) and who is 'ethiri' (foe). For Tamil Nadu, PM Modi is nanban. He respects the state's language and culture more than anyone – and not just Tamil language, he respects all languages and cultures of the country. It is part of the BJP's philosophy, which reflects in the new education policy. We have given the option for people to learn any of the 22 languages in our country. Where was this option available before? Someone in Delhi can learn Tamil now. We have given the highest amount of funds for the development of Tamil Nadu. We have sanctioned projects worth ₹6,10,000 crore for the state.
Related news: Kamal, Sarathkumar rub shoulders in bid to rattle Dravidian parties
And who is the 'ethiri'? It is the DMK, which in the name of Dravidian culture is trying to cheat people. The state emblem, a Raja Gopura (based on the Vishnu temple of Srivilliputhur), represents the deities the state worships. It can be Shiva, Amma Bhagwan or Lord Murugan. Can a party that abuses Lord Murugan have the moral right to administer a state with the Raja Gopura as its symbol? These people are atheists, they don't have the moral right to form a government in a state where people are believers. In the name of Dravidian culture, they are destroying the same culture. There is a big conspiracy behind this. I don't know if it is right to say it during election time. But people who want religious conversion, first attempt to demolish the old beliefs of the people. They try to do it through such people (parties like DMK). They first use atheism to destroy the beliefs of people and then sow the seeds of conversion.
Are you accusing the DMK of doing this?
They are being politically used to do this. What rights do these people have to propagate atheism in a country with a majority of believers? What is their contribution to the language and culture? Tamil Nadu probably has half of all the temples in the world, but despite living in such a state they disrespect gods. How can this be tolerated or they be allowed to come to power? This conspiracy has to be unmasked. Several DMK leaders do 'pooja' at home and then remove their 'kumkuma' and 'viboothi' while going to the party office. Why? You have to remove these to please them? Is it against Tamil culture?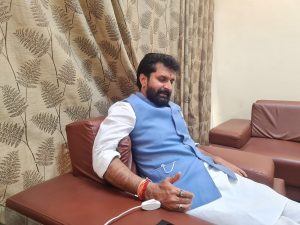 The BJP is once again being accused of using religion for political campaigns. Whether it is Vel Yatra or you carrying the Kavadi, it is being seen as the BJP's attempt to polarise voters…
If abusing Lord Murugan and 'Kanda Sashti Kavacham' is being justified, then the BJP respecting the belief of Lord Murugan's devotees should also be acceptable. This election is not just between the AIADMK and the DMK, this is an election between believers and atheists. This is an election between Lord Murugan and those who disrespect him. It is the responsibility of the devotees of Lord Murugan to ensure that they don't win.
But will this resonate among voters of Tamil Nadu?
Truth will prevail ultimately. In a war between the good and bad, the good will eventually win. Ours is a path of truth, so the ultimate victory will be ours. Our ideology will win. Tamil Nadu's victory is connected to that.
Related news: More allies translate to fewer seats for DMK's older partners
Isn't it necessary for parties to have internal democracy when they function in a democratic country? A cadre becomes a leader if there is democracy within the party. Otherwise an incompetent dynast will become the leader. In DMK, where Karunanidhi's successors like Stalin, Kanimozhi and Udayanidhi Stalin are heading the party, there is no scope for democracy. This is also a battle between those who believe in democracy and dynasty politics. BJP wants the wealth to reach the people of Tamil Nadu and the country, but the DMK and the Congress want their families to acquire that wealth. Have you seen their bungalows? On how many acres are they spread? It is the wealth of Tamil Nadu. It is a fight between the poor versus the Congress and the DMK. This is our campaign line.
The BJP has been traditionally seen as a party that imposes Hindi. Even on the issue of NEET, it was alleged as going against the interest of Tamil Nadu. Can the mention of National Education Policy or increase in allocation of funds counter this criticism?
Our government has never tried to impose any language. Tamil gets preference in Tamil Nadu. We want higher education to be in regional languages. 'Hindi imposition' is a bogey used by the group which wants to spread anarchy. When the new policy allows someone to learn Kannada in Tamil Nadu and vice versa, will you call it imposition or inclusiveness? We believe in inclusiveness and saving all Indian languages.
In 2011, who submitted an affidavit in the Supreme Court, terming Jallikattu as cruelty to animals? Was the BJP in power then? It was the UPA government and Jairam Ramesh. And DMK was in that alliance. Now, if Rahul Gandhi comes to watch Jallikattu, does he have any morality left? The UPA supported the ban on Jallikattu, while our government in 2016 termed it as a cultural sport.
National parties have failed in Tamil Nadu and have largely played a second fiddle to regional parties? How do you see it playing out for the BJP?
That is because of the approach and policies of the Congress. We won't make those mistakes. We want to unite different states, but the interest of those states will be priority. Nationalism is to strengthen individual states and on the other hand unite those states. There is no nationalism minus Kannada in Karnataka or Tamil in Tamil Nadu. Even in north eastern states where many do not consider themselves Indians, our party, which starts every event with the slogan of 'Bharat Mata Ki Jai' (Hail mother India), is growing. People have changed their mindset.
What is the realistic expectation of the BJP in the state assembly election?
Our alliance is being led by the AIADMK. Our party has increased its strength, but to reach full potential we will need time. In five years the results will be different. Cadres need to become leaders, it will take time.
But what is the target in terms of the number of seats you will contest and win?
The AIADMK will contest in a majority of seats and other parties will also get some seats.  Our aim is to win and take the tally to double digits and try to win all the seats we get. I am confident our hard work will pay off.
Are rumours about the AMMK tying up with the AIADMK true? There are talks that Amit Shah held elaborate discussions on this, but Chief Minister EPS was against any such alliance.
Amit Shah did not discuss this. It is just a rumour. I was in that meeting. Who the AIADMK will tie up with is not for us to discuss, it is their prerogative. We don't want to see anyone as politically weak. Similarly we don't see Sasikala and Dinakaran as weak. But we are clear that Chief Minister EPS and his deputy O Panneerselvam know their strengths and weaknesses very well. Whatever decision they take, we will be with them.
But in an ideal scenario what would BJP want?
Our aim is to ensure that the DMK doesn't come to power at any cost and the AIADMK forms the next government.
How do you rate Chief Minister EPS's performance?
EPS has created an image of his own as someone who is simple and accessible. Over the last five decades, there was a gap between those in power and the people. He has tried to get rid of that. When Amma (Jayalalithaa) was there, it was said that even ministers couldn't meet her personally. Similar was the case with Karunanidhi. But, EPS has discontinued that and taken power to the people. We are confident that his simplicity and ability to connect with people will yield results. Let's see. Even Deputy Chief Minister OPS has no arrogance and works together with the chief minister.
Then why didn't the BJP openly declare EPS as the Chief Ministerial candidate?
It is the decision of the AIADMK, which we accepted as soon as they declared. We didn't claim that post or suggest any names. It was their call as a major partner.
Rahul Gandhi is campaigning extensively in Tamil Nadu and even in Kerala. He is interacting with the crowd in newer ways. What would you say about it?
He is not just getting exposed, but is also exposing the whole Congress leadership with his immature statements. He should be aware that our government started the fisheries ministry (alluding to Rahul's demand for an independent fisheries ministry, separate from the current Ministry of Fisheries, Animal Husbandry and Dairying). This country needs a leader not a joker. He is expected to show leadership, but he is becoming a comedian, he is trying to entertain.  He should show his leadership abilities and that cannot be done by doing push-ups or showing your swimming skills. Can he ensure that the country reaches the shore safely? When they (Congress) came to power, they were busy in corruption and scams surfaced every day. If his acts are branded as an attempt to connect with people, then it is acceptance of the fact that he was disconnected with people all these years.
Related news: Mega Dravidian clash with 'BJP subtitles' in single-phase TN polls