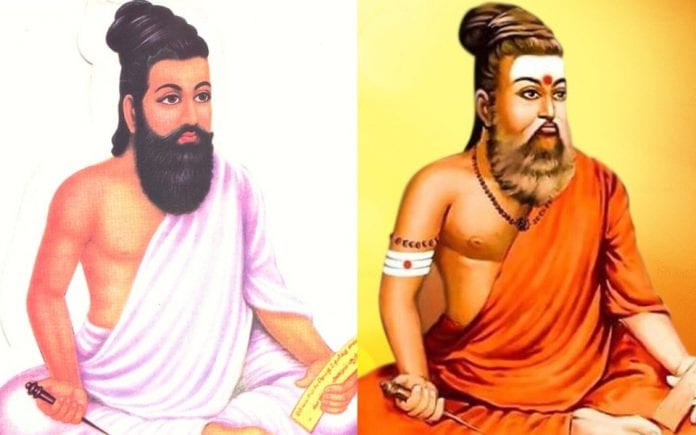 Vice President Venkaiah Naidu sparked a fresh row, when his office tweeted a picture of revered Tamil poet and philosopher Thiruvalluvar in saffron clothes and beads while paying homage to him on his birth anniversary on Thursday (January 16).
In the portrait, Thiruvalluvar, the author of Thirukkural, one of the greatest work in Tamil literature, is seen wearing a necklace and armlets made of rudraksha beads and has holy ash smeared on his forehead and arms. This is a sharp contrast to the usual portrayal of the poet – in white clothes and without any religious symbols – so far.
Also read: Tamil parties up in arms against 'saffronisation' of Thiruvalluvar
After facing heavy backlash on social media for attempting to "saffronise" the poet, Naidu's office quickly deleted the picture, replacing it with the poet in the customary white robe sans religious marks.
Remembering great Tamil Poet, philosopher and Saint, Thiruvalluvar on his Jayanti today.#Thirukkuṛaḷ, authored by him provides guidance to mankind on how to lead a noble life. #Thiruvalluvar #Tamil pic.twitter.com/YETwVVcUlr

— Vice President of India (@VPSecretariat) January 16, 2020
Many on Twitter appreciated the quick rectification, while others wondered what prompted the saffronisation of the saint whose image was so far untouched by any religious mark. Many Twitter users posted pictures of Thiruvalluvar wearing religious symbols, from old books, claiming that it was the DMK government who changed his attire to white.
The incident was reminiscent of a similar goof-up by the Tamil Nadu BJP unit in November 2019 that triggered a huge controversy in the state. The state BJP unit in its twitter page had posted a picture of the poet in saffron clothes, and tweeted a couplet from Thirukkural that roughly meant to convey that 'education is of no use when one defies God and his followers.'
Also read: Scholars allege BJP trying to appropriate Tamil poet Thiruvalluvar
Thirukkural, which is believed to have written 2,000 years ago is an anthology of 1,300 couplets, written as a commentary on ethics, love, politics and economics.