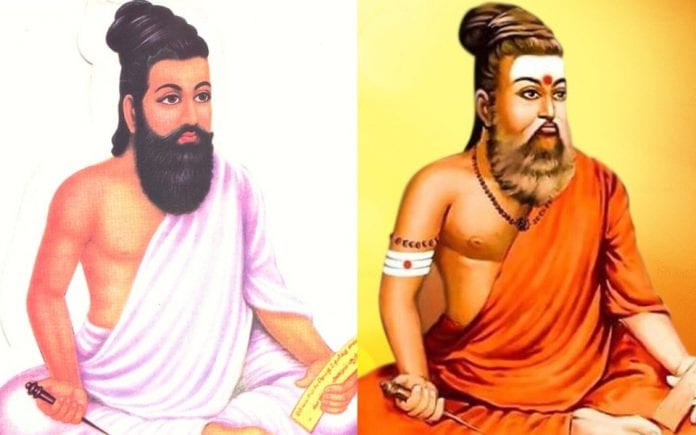 On a day when Prime Minister Narendra Modi released the Thai translation of Thirukkural during his visit to Thailand, the official Twitter handle of the BJP's Tamil Nadu unit released a picture of Tamil poet Thiruvalluvar clad in a saffron attire.
In the picture tweeted on Saturday (November 2), Thiruvalluvar, who is revered in Tamil Nadu for authoring Thirukkural, a collection of 1,330 life-advice couplets, is seen smeared with sacred ash and wearing a rudraksha necklace and upper-arm bracelets. This is an entirely new portrayal of the ancient poet whose pictures has so far shown him attired only in white and without religious symbols.
கற்றதனால் ஆய பயனென்கொல் வாலறிவன்
நற்றாள் தொழாஅர் எனின்

கடவுளை தூற்றி, இறைநம்பிக்கை கொண்டவர்களை பழிப்பவர்களுக்கு, அவர்கள் கற்ற கல்வியினால் என்ன பயன்?

அன்றே வள்ளுவர் சொன்னதை இன்று தி.கவும், திமுகவை நம்பி வாழும் கம்யூனிஸ்டுட்களும், அவர்கள் சார்ந்த ஊடகங்களும் அறிந்து தெளிய வேண்டும் pic.twitter.com/xBeXs9aXHa

— BJP Tamilnadu (@BJP4TamilNadu) November 2, 2019
Advertisement
Also read | Judge asks lawyers to recite Thirukkural daily, says all should know 51 at least

The picture was also accompanied by a couplet from the first chapter of Thirukkural — "Katradhanaal aaya Payanen kol VaalaRivan natraal Thozhaaar enin," which translates to — "What profit have those derived from learning, who worship not the good feet of him who is possessed of pure knowledge?"
Though the scholars (Urai aasiriyargal, in Tamil) titled Thirukkural's first chapter as 'The Praise to God' (Kadavul Vaazhthu), Thiruvalluvar has nowhere in his work mentioned the words 'god' or 'religion'.
The state BJP, it is alleged, has given a new inference to the couplet which has a religious overtone. The inference they provided goes like this — "What is the use of education when one who defies god and his believers?"
Also read | Sitharaman falters while quoting Tamil poet, colleagues correct her
V Arasu, former head of Tamil department, University of Madras said the move is nothing short of appropriation. "Every religion including Christianity has claimed Thiruvalluvar as their own. Since the BJP is in power now, they can do whatever they wish. But we should not worry. Truth will always triumph," he said.
The Dravidar Kazhagam, founded by social activist Periyar, is known for conducting Thirukkural conferences across the state. Its deputy president Kali Poongundran said that this shows the BJP's true motives behind promoting Thirukkural.
"The varnasrama dharma is the base for the BJP's ideology. But Thirukkural is exact opposite. It is habitual for the party to use opposing ideas and then claim they are their own. Conducting more number of Thirukkural conferences will help the public know about the true meaning of Thirukkural and they can understand how the BJP is tweaking it for their own cause," he said.
History behind Thiruvalluvar's picture
The history behind the picture of Valluvar is itself an interesting one. Painter KR Venugopal Sarma picturised him in 1950s and the painting was accepted by then chief minister CN Annadurai as the official picture of the poet.
Before Sarma, several others had attempted picturising the philosopher-poet, however, they were all rejected because of giving Valluvar a religious identity. Annadurai had also ordered to put up the pictures of Valluvar in all state government institutions.