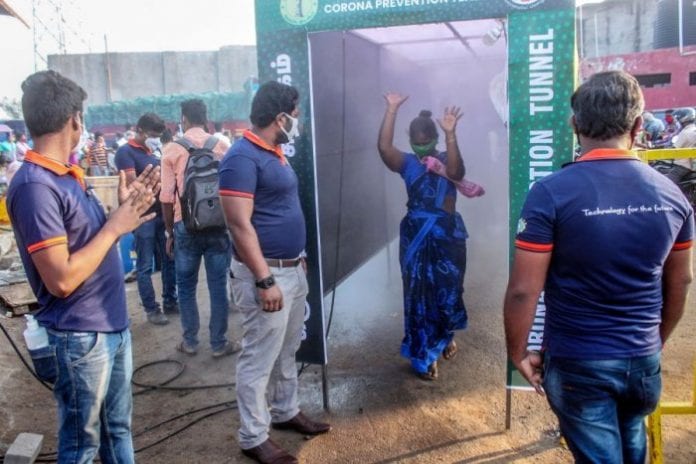 Like every other resident from different parts of the country, people in Ariyalur district, Tamil Nadu too hesitated to step out of their houses during the 21-day lockdown.
Many were afraid to ride motorcycles and go to shops to buy essential items. Those who dared to do so faced the wrath of the police.
However, they do not fear stepping out now, even if it is only on stipulated days, after the implementation of an idea by District Collector D Rathna.
The district administration gave people colour-coded cards and advised them to leave their houses only on days corresponding with the dates on the cards.
There are 201 village panchayats under Ariyalur district, with more than 1.6 lakh families living there. These families were given cards of three different colours on Monday (April 6). The blue colour card-holders are allowed to come out of their houses only on Tuesdays and Fridays. Similarly, green colour card-holders can step out on Mondays and Thursdays, and pink colour card-holders on Wednesdays and Saturdays.
Related news | COVID-19 disinfectant tunnels may harm humans more than virus
Following Ariyalur, Namakkal district too implemented the colour-coded card idea.
Appreciating the districts' move, the State Human Rights Commission wrote a letter to the state chief secretary on Wednesday (April 8), recommending the implementation of the 'colour-coded card movement' across the state.
"It is of grave concern to see that the crowds continue to flock at ration shops to get supplies. Two districts have adopted an innovative way of controlling the crowd. They have given three different coloured cards to the residents and allotted two days of the week to each colour. That way, the numbers at any one point of time can be controlled. This can be implemented in all the districts," the letter said.
However, these are not the only initiatives taken by district administrations. In many other districts of Tamil Nadu, district collectors are finding new, innovative ways to control the crowd in their own style.
In Theni, district collector Pallavi Baldev introduced 'Kaaikari Thoguppu' (a bag which contains 18 different vegetables) for ₹150. These bags will be available at the district's 'Uzhavar Santhai' (Farmers' Market).
In a first of its kind, Tiruppur district collector K Vijaya Karthikeyan set up a disinfectant tunnel. The district administration also set up a COVID-19 sample-collecting kiosk on Wednesday, which is the first such kiosk to be established in Tamil Nadu.
Related news | Kerala moves on plasma therapy for COVID-19, seeks nod for trials
Meanwhile the Tiruvannamalai district administration has asked ex-servicemen to volunteer for lockdown patrolling.
Joining hands with Bharat Heavy Electrical Limited – Boilers Auxilliaries Plant (BHEL – BAP), the district administration of Ranipet has started using disinfectant sprays developed by BHEL for mass disinfectant activities.
Moving on to Kerala, Wayanad district had initially published multi-lingual pamphlets on dos and don'ts related to COVID-19. Within a week or two, it came up with the idea of supplying books to people who are under quarantine.
The Ernakulam district on Mondy set up a 'Walk-in Sample Collection Kiosk' following the footsteps of South Korea. This is the first such facility set up in the country.
The district administration of South Dinajpur in West Bengal has graffitied the streets with drawings that bust the myths surrounding COVID-19 and helps create awareness on the symptoms and prevention of the disease.
Related news | Explained: COVID-19 affects children but they are off danger grid
In Dakshin Kannada district in Karnataka, a team of 483 'Corona Warriors' have been helping the administration tackle fake news.
Speaking to The Federal, former IAS officer M.G. Devasahayam said the initiatives taken by the district collectors should be welcomed without any political prejudice.
"In our times too, we had taken many initiatives. But at the time, we didn't have media or social media to share our activities. Also, in those times, we had freedom and less political intervention," said Devasahayam.
"There were leaders like Kamaraj and Kakkan who entrusted the work to their officials wholeheartedly and never interfered with their work. At that time, the collectors worked independently," he added.
"However, that kind of political calibre is lacking now. Also, the leadership qualities of collectors are intrinsic. So at the time of appointment itself, best candidates should be chosen," said Devasahayam.
When asked about how the administration in the districts can be improved during a pandemic, he said each and every district collector must work collectively in their jurisdiction.